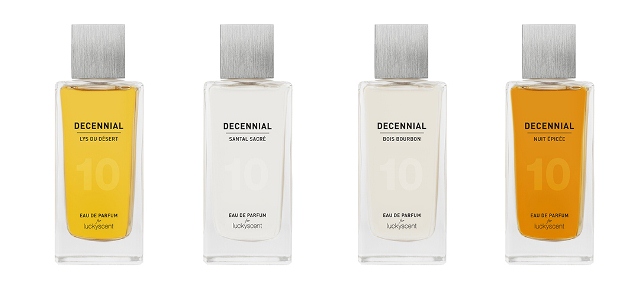 For many of us, Luckyscent was (and is) our gateway to niche perfumes; when they created their online niche perfumery shop in 2002 it was like having a passport to travel the world and experience exotic scents you couldn't buy in department stores. It's the 10th anniversary of Luckyscent.com, and owners Franco Wright and Adam Eastwood are launching Decennial, a collection of four fragrances that celebrate Los Angeles. Each scent in the collection reflects a part of the city's unique culture.
Niche Perfumer Andy Tauer was inspired by the "natural surroundings, which would be nothing but a desert of sand and desert lilies were it not for man's intervention to create "Lys de Desert". Notes: Bergamot, rose, green lily, dry cistrose, iris root, ambergris, dry cedar
Jerome Epinette of Robertet (who is having a very busy year) is the nose for three of the Decennials including:
Santal Sacré which is a relaxing contemplative fragrance meant to evoke the spirituality of a yoga session. Notes of Ginger, elemi, incense, white musks, papyrus, Australian sandalwood
"Bois Bourbon" is a boozy ode to a fragrance that might have been worn by a character out of a Raymond Chandler novel. Notes: Saffron, cinnamon bark, lavender, heliotrope, black rose, cedarwood, beach birch, oak moss
The afterhours scene was the inspiration for Nuit Épicée with notes of Almond, cumin, rhubarb, cistus, violet, blond woods, black amber, praline.
75ml/ $150 and Available on luckyscent.com
source luckyscent
-Michelyn Camen, Editor in Chief