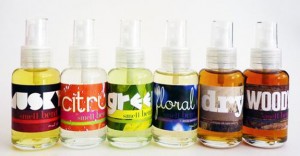 The language associated with scent is complex, largely French, hard to pronounce, and often as overwrought as descriptions of fine wine. Brent Leonesio, a CaFleureBon 2011 Perfumer of the Year, has done all of us a favor with his new fragrance collection, Vocabulary. He has created six perfumes, each representing a basic fragrance category. The scents are Dry, Woody, Floral, Citrus, Green, and Musky. Although the concept behind this line is refreshingly simple, the fragrances are anything but.

One of my favorite Smell Bent Scents is Tibet Ur Bottom $, which was discontinued due to some issues with ingredient availability. Fortunately it has a new brother, Dry. Dry is a crystal clear resinous incense scent that is like a precious tree sap. Airy and bright, with a bit of balsam to add a delectable tang, it's a front runner in the collection.
incense, spicy, woody, balsam, amber, warm (all descriptions courtesy of Smell Bent)
Floral is a huge bouquet of flowers: heady, spicy, and green. One of my favorite smells, the rubbery aroma of big white flowers, wafts up after a few moments of that intoxicating opening, and stays throughout. The whole experience is luscious. I would love to smell this on a man who wears floral fragrances. There are other perfumes on the market that could be compared to Floral, but this is real bang for the buck.
sweet, powdery, glowing, vintage, almond, musk
Woody is exactly that. It smells like a plank of freshly-cut wood, like the sawdust and fresh resins in a lumberyard. It is a fairly linear, but still complex, scent. I found it smooth and comfortable to wear. Of all the scents in the collection, I can see layering this with not only the perfumes in the line, but with fragrances you already have on your shelf. It would add warmth and depth to simple florals and boost the wood notes of an Oriental.
warm, root beer, spicy, resinous, rich, balsamic, amber

One of the standouts of this collection is the delectable Green. It is freshly trodden leaves and grass, fresh without being clean, and slightly sweet, like clover and wood sorrel. Along with the perfectly rendered scents of greenery is a light earthiness in the drydown. This is one fragrance in the collection I would be happy to wear on its own, lavishly, and it would be welcome in warmer weather.
crisp, leafy, natural, fresh, earthy, grassy, woody
You know that wonderful nose-filling spray of oils that bursts from an orange peel when you rip into it to get to the juicy fruit? Citrus does that. It has lots of grapefruit, orange and lemon, with a slightly bitter tang. The fragrance stays delicious and buoyant through its life on skin, just becoming slightly more subdued over time. A good citrus scent is a staple in any fragrance wardrobe, and this is an excellent contender.
bright, orange, lemon, fresh, tart, green, aldehyde
Musky may be my favorite. It has a welcome retro vibe, and I think it will be the one that real perfume lovers will get the biggest thrill from. I was a little worried, because I am anosmic to some musks, but this seems more a conceptual muskiness than a concoction made of actual musk aromas. It's dusty, a little dirty, but also sweet from a compellingly dark honey note. My brain was firing on all cylinders as I kept pressing my wrist to my nose, because this evokes something familiar, like rich baked earth.
delicate, rosy, powdery, fruity, honey, animal

The Vocabulary collection cries out to be layered. I experimented with a couple of fairly obvious choices: Citrus over Woody and Floral over Musky. As expected, Woody brings a richness to Citrus, and seems to sweeten it a bit. The combination of Musky and Floral is spectacular, and it would almost be hard to wear one without the other now that I have smelled the combination. Then I layered Citrus over Musky, and Green over Dry. Those were really good, too. I have decided you pretty much can't go wrong with any combination.
Now that you have read what I have to say, here is a short video of what Brent has to say:
Brent Leonesio: Vocabulary from Mr. and Mrs. Hahn on Vimeo.
We have a draw for a sample pack of all six Vocabulary scents in 4mL sprayers, so you can play, too. Which ones would you like to combine? Leave a comment to be entered and we will draw one winner on March 9, 2012 via random.org.
We announce the winners only on site and on our Facebook page, so Like Cafleurebon and use our RSS option…or your dream prize will be just spilt perfume.
-Tama Blough, Senior Editor