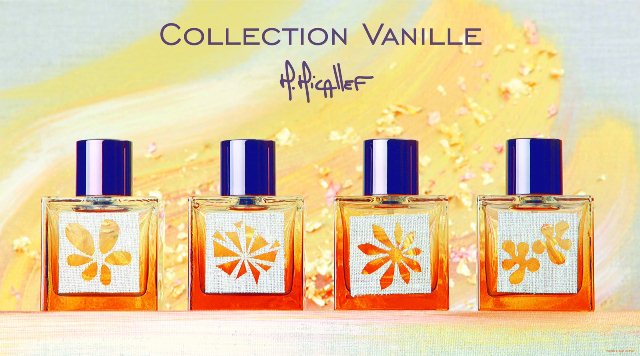 THE ART COLLECTION VANILLE by M.Micallef presents four summer vanilla perfumes and explores different facets of different olfactive fragrance g roups: leather, oriental, floral and aquatic.
VANILLE MARINE: Head note: Lemon, blackcurrant – Heart note: Vanilla, white flowers – Base note: Benjoin, musk, wood.
VANILLE FLEUR: Head note: Peach – Heart note: Rose – Base note: Vanilla.
VANILLE ORIENT: Head note: Vanilla – Heart note: Sandalwood, vanilla flower – Base note: Musk, amber.
VANILLE CUIR: Head note: Mint leaf, bergamot, lavender – Heart note: Cinnamon, cumin, orange blossom – Base note: Tonka beans, vanilla, cedar
M.Micallef uses the finest vanilla from Madagascar. Specially designed flacons were created from gold leaf, copper leaf, paper and linen.
50 ml and 100 ml EDP
Availability: Worldwide July 2012
Retail prices: 50 ml = 115 € ($145) & 100 ml = 175 € ($220)
-via press release