I have worked with quite a few perfumers in developing new fragrances, but have always wanted to collaborate with Laurie Erickson of Sonoma Scent Studio, who is one of the most talented artisan perfumers on the planet. During early spring of 2013, I felt overwhelmed by all the ouds and noirs that kept crossing my desk day after day. It was summer and while I love writing about all types of perfumes, I am pretty picky about those I wear "off the job". So how does my creative process work? In this case, the natural ingredient was first then the name YIN and YLANG. I have always loved ylang-ylang as a star note, but very few perfumers use it in that way. That is when I reached out to Laurie, who had composed two fragrances I had loved dearly… Opal (2007) and Femme Jolie (2009 which was inspired by one of Laurie's and my most beloved perfumes, Shiseido Feminitie du Bois). Opal and Femme Jolie were very different but together they were liquid expressions of feminity. Laurie kept how much I loved them both in mind when composing Yin and Ylang and we spoke about achieving a balance between the soft skin comfort scent of Opal and the bold sensuality of Femme Jolie. Recently in a conversation with Barbara Hermann (who wrote Scent and Subversion), she asked me what do women want in a perfume. For as many women who wear fragrance, there are as many answers but for me it is to smell beautiful and feel joy. -Michelyn Camen, Editor-in Chief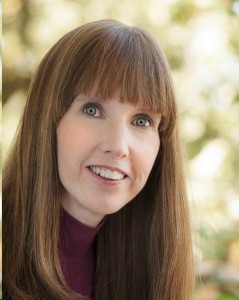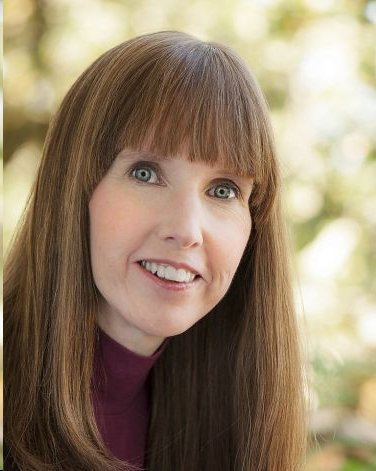 Laurie Erickson has not done a collaboration since Forest Walk (with Mandy Aftel & Nathan Branch) 2012
A little over a year ago, Michelyn emailed to ask if I'd be interested in working on an ylang scent. She envisioned a perfume with voluptuous floral notes and some soft fruity notes in an overall chypre style backdrop, but she didn't want a heady white floral or an edgy challenging scent. She sent me some photos of Monica Belluci, saying that they represented the unabashedly feminine, sensual floral side she wanted the scent to have. We talked about making a perfume that smelled artisan, complex, and sophisticated, but also soft, feminine, and smooth. This description sounded great to me because I had been playing with some white floral experiments the previous year that had not yet coalesced, and I wanted to get back to that theme. My previous experiments would help me know where to start, and I just hoped I could do Michelyn's concept justice. After we talked a bit, Michelyn thought of the name Yin & Ylang because the scent would have yin and yang sides to it.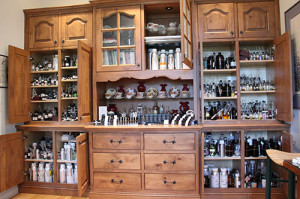 Photo: Laurie Erickson of Sonoma Scents Studio
I rarely take on special projects like this because I blend at too slow a pace given the time commitments needed for filling orders, but Michelyn's idea interested me and she was very patient. I finally got to start the formula about four months after we first emailed about her idea. We had a phone conversation too so that I could learn more about what she was envisioning. I started with only naturals and then added some synthetics as I went along. I was a little worried about working with a prominent ylang note because I've always found the opening of ylang to be challenging, but I hoped to bring out the creamy side of ylang in the drydown and to use some fruity notes in the opening to soften the strong topnotes of ylang.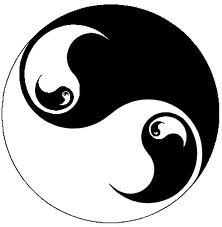 To make sure that the scent would fit the name, I needed to do some reading about the yin/yang concept. Most of you are probably familiar with the traditional symbol for yin and yang, in which yin is the black side with the white dot while yang is the white side with the black dot. Wiki says, "Yin is characterized as slow, soft, yielding, diffuse, cold, wet, and passive; and is associated with water, earth, the moon, femininity and nighttime. Yang, by contrast, is fast, hard, solid, focused, hot, dry, and aggressive; and is associated with fire, sky, the sun, masculinity and daytime." All things have both yin and yang aspects to them; wiki gives the example that shadow cannot exist without light.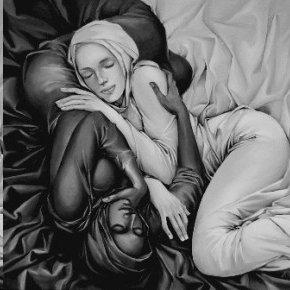 Wiki also says,"Yin and yang can be thought of as complementary (instead of opposing) forces interacting to form a dynamic system in which the whole is greater than the parts." This seems to describe a perfume formula very well, where the ingredients complement one another and combine to be greater than their sum.
I used a hefty dose of citrus topnotes (bergamot and blood orange), both to add some of the fruity, sunny character that we wanted and also to help distract from the difficult opening notes of ylang. I also added some damacones for their bright fruity notes, and I added a very light touch of an aldehyde for brightness, lift, and to support the citrus character.
Monica Belluci Photo inspiration for Yin..
For the main floral accord, I used organic ylang complete oil, jasmine sambac absolute, and a very expensive and gorgeous tuberose absolute. Even people who do not usually like tuberose notes in perfume often enjoy the absolute, which is a rich blend of spicy, earthy, woodsy, animalic, and floral facets. It can be hard to get this tuberose absolute because each harvest sells out, so I was very happy to obtain some. I rounded out the floral heart with some light synthetic floral ingredients (in the lily of the valley and orange blossom families), a tiny touch of a creamy lactone, a generous dose of lovely natural beeswax absolute, and some spicy ginger CO2. I wanted enough of the lactone to accent the tropical ylang and tuberose without adding an obvious coconut note. The ginger CO2 oil enhances the natural spiciness of the ylang and tuberose, while the beeswax absolute adds a natural pollen note to the floral heart.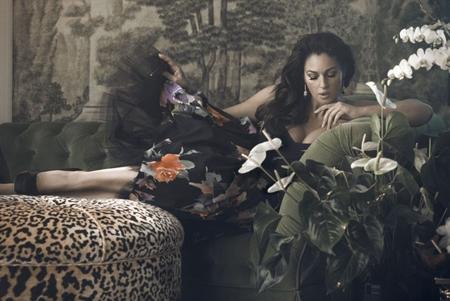 Photo of Monica Belluci that inspired Yang
For the base, I wanted a blend of Mysore sandalwood, patchouli, amber, vanilla, musk, and oakmoss. The base needed to have lasting power and a creamy character without being too sweet. It also needed to add some of the yang notes, since the heart of the scent is more yin. The oakmoss, sandalwood, and a touch of leather from isobutyl quinoline help to add some yang elements. I thought about strengthening the leather note (it is currently just below the radar), but experiments with castoreum, labdanum, and suederal did not please me. I preferred the yang side to be softer than the yin in this scent. The natural jasmine and tuberose add some animalic notes that also contribute to the yang side. I used an organic natural grain alcohol for the base of this scent, like the scents in my all-natural line.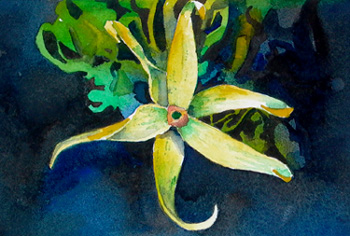 I knew the first sample I sent to Michelyn would need more of the yang side, but I sent it to give her an idea of where I was going with the project. I then added more moss, sandalwood, and leather (though the leather was still nearly imperceptible). I really loved the extra oakmoss in it. I sent several more samples to Michelyn, and we quickly zoomed in on our favorite mod. Then I worked to scale the formula up from those tiny mods of several milliliters to the first little batches of an ounce or two. Some trial and error always occurs in the scaling up process.
Top: bergamot, blood orange, aldehydes
Heart: ylang complete, jasmine sambac absolute, tuberose absolute, beeswax absolute, rose damascones, ginger CO2
Base: Mysore sandalwood oil, oakmoss absolute, patchouli, amber, vanilla, musk
I'm glad Yin and Ylang will debut in early spring because it will make a beautiful spring scent. I am grateful to Michelyn for providing the idea that allowed me to finally make use of the floral experiments I had done before, giving me a perfect theme to work on. I appreciate her artistic direction and her very kind patience while I worked on it. When Michelyn suggested that we incorporate the announcement of Yin & Ylang into Cafleurebon's 4th anniversary celebration, I was honored. I want to congratulate Cafleurebon on four wonderful years and wish them many more years of success.
–Laurie Erickson, Perfumer and founder of Sonoma Scents Studio

Laurie knows we have a worldwide audience but unfortunately cannot ship outside the US. If you are reader with a friend in the US who can send Yin and Ylang to you at your own expense, for this draw only you will be eligible to enter. There are 3 one ml samples that will be part of a random draw. Please leave a comment with why you want to win Yin and Ylang or your favorite Sonoma Scents Studio perfume AND why you read Cafleurebon.com. One 5ml travel spray will go the reader that leaves the most heartfelt comment about what CaFleureBon.com means to them. You don't have to be a poet… just let us know how CaFleureBon is part of your life. PS I love perfume oils and hope one day Laurie will consider Yin and Ylang for a body oil or dry oil. Draw ends March 26, 2014.
Thank you to all of our readers worldwide for your emails, comments and encouragement. To our friends in fragrance,our advertisers, the perfumers, creative directors, publicists and all the wonderful sponsors of our amazing draws; we are looking forward to many more years of working together. Thanks to our talented team-Tama Blough, John Reasinger, Elise Pearlstine, Valerie Lee Vitale, Nancy Knows, David Falsberg, and Kevin Verspoor we post new content (not just press releases to fill space) 365 days a year. Special acknowledgement to our former Contributors and Editors because without all of you we wouldn't be one of the most read perfume blogs in the world. Here is to at least four more years of adventures in olfaction and art.
We announce the winners only on site and on our Facebook page, so Like Cafleurebon and use our RSS option…or your dream prize will be just spilled perfume.