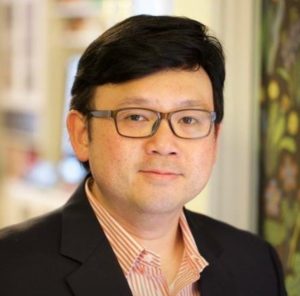 Victor Wong of Zoologist Perfumes (Facebook)
Victor Wong of Zoologist Perfumes, who won a 2016 Art and Olfaction Award for Bat (Dr. Ellen Covey) is introducing two new eau de parfums, Macaque and Nightingale, which as the charming artwork on the bottles suggest an Asian, specifically Japanese theme. Zoologist's staff artist Daisy Chan uses charming and whimsical animal characters dressed in traditional Japanese garb to reflect the playful sophistication of the perfumes within the bottles. The two new fragrances reference the habitat and diet of the macaque and the significance of the nightingale in art, literature and music.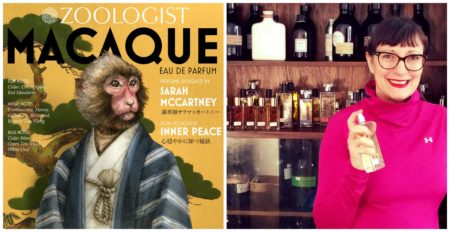 Macaque (Daisy Chan) Sarah McCartney of 416 Tuesdays (zoologist)
Macaque was created by one of my favorite perfumers, Sarah McCartney. I find this new fragrance to be cool, fruity and resinous suggesting high altitude forests, swirling cold fog and the Japanese macaques known as Snow Monkeys.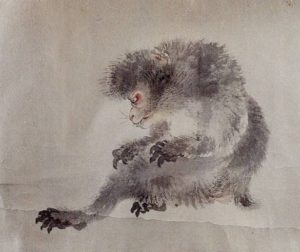 Macaque painting by Watanabe Kazan, 19th century.
The cedar trees, like the macaques themselves, are dusted with crystals of ice. Sarah uses two kinds of tea to cool and "refrigerate" the fruit – a staple of the macaques diet.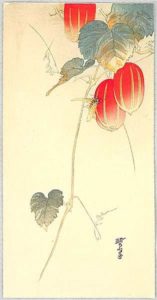 Gyosui Kawanabe 1868-1935 Bee and Red Fruit
The fruit remains fresh and crisp throughout the life of the fragrance, preserved on a bed of resinous green galbanum, frankincense and moss.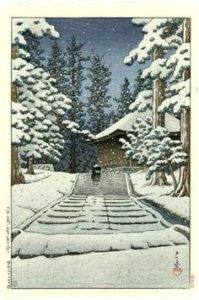 HASUI Japanese Woodblock Print Long Steps to Konjikido Snow Temple 1957
In Macaque Sarah McCartney paints an aura of self possessed, sophistication as the cool fruity scent drifts through a representation of thin, high mountain air accompanied by the muffled sounds of the first snow of the season falling on a Japanese temple. On my skin Macaque opens with moderate sillage and retreats quickly, remaining in place for about four hours.
Zoologist Nightingale by Daisy Chan and Toomoo Inaba
Zoologist Nightingale was created by Japanese perfumer (and perfume writer) Tomoo Inaba. This is my first experience with the work of Tomoo Inaba and I find myself addicted to this new fragrance.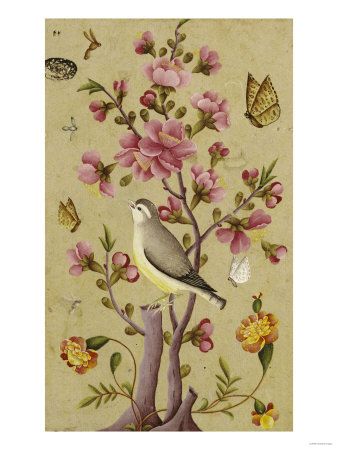 Gul-O Bulbul, Qajar Persia 19th Century
The image of the nightingale is a universal theme in art and poetry. There are several different birds that are called by the common name "nightingale". The Eurasian nightingale (Luscinia megarhynchos), a drab colored old world flycatcher, noted for its extremely mellifluous night song, is the nightingale of Keats, Shakespeare and the famous Persian poets Ferdousi, Sadi and Hafiz. The rose and the nightingale (Persian gol-o-bolbol) is a metaphor for love, longing, obsession and impermanence.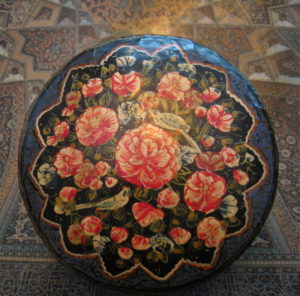 Gail's Persian Laquered Rose and Nightingale bowl
Iran itself has been called the land of Roses and Nightingales.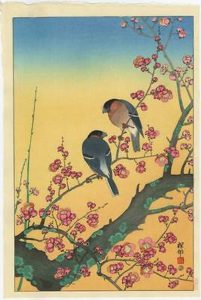 KOSON – Japanese Woodblock Print NIGHTINGALES ON PLUM BLOSSOMS 1931
There are at least two other birds often referred to as "nightingales", specifically Japanese Nightingales. One is the uguisu (Horornis diphone) a type of bush warbler with a beautifully distinctive song. This bird produces droppings that contain an enzyme used in cosmetics to whiten and smooth the skin. The uguisu is often depicted in art and described in poetry associated with the plum blossom as a harbinger of spring. The other is the beautiful red-billed Leiothrix (Leiothrix lutea). I believe this is the nightingale portrayed on the bottles of Zoologist perfume.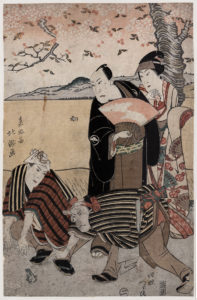 Yakusha no hanami (Actors Viewing Cherry Blossoms), ca. 1819
Nightingale opens with the sweet, fresh and light fragrance of plum blossoms, a breath of spring cut with tart lemon, powdered with violet and spiced with the slightly bitter, dustiness of saffron. On my skin the initial notes dry very quickly, leaving the spring flowers behind and replacing them with an almost Middle Eastern style mukhallat of rose, ambergris, oud, saffron and a touch of smoke. Zoologist describes this perfume as "ruddy" and indeed it is. Even the jus is colored a reddish-pink. Nightingale has a pronounced sillage, reaching out to the edge of politeness, and then lasting and lasting. After 12 hours I can still detect a rosy musk. Despite the feminine "birdie" geisha on the bottle, this Nightingale scent is definitely a unisex, complex and thought provoking fragrance.
Gail Gross, Weekly Contributor
Michelyn Camen, Art Director: I used predominately Japanese Woodblock paintings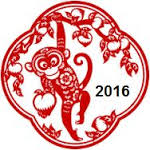 Editor's Note: Macaque and Nightingale will be released in October of. 2016 is the Year of The Fire Monkey….bringing luck and fortune.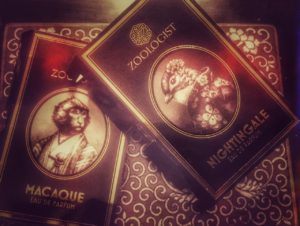 Macaque EDP and Nightingale samples by MC
Thanks to the generosity of Victor Wong of Zoologist we have an avant premiere draw for a registered reader anywhere in the world for your choice of either 11ml of Macaque, OR 11 ml of Nightingale OR a sample set of all six Zoologist Fragrances including Panda, Beaver, Rhinoceros, Hummingbird, Bat, Macaque and Nightingale. Please leave a comment with what you enjoyed about Gail's review of Macaque and Nightingale, where you live your choice of prize should you win. If you have a favorite Zoologist fragrance we would love to know. Draw closes 10/3/2016
We announce winners on site and on our Facebook page- so like Cafleurebon and use our RSS feed option or your dream prize will be just spilled perfume.