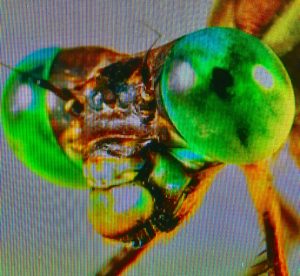 Dragonfly Digital Art by Gail for ÇaFleureBon©
I love watching dragonflies dipping and hovering in the summer garden. These ancient insects, so ephemeral, seem from another time and another world, their beauty almost alien in aspect. The iridescent jeweled bodies and wings of lace and light have been, and continue to be, the subject of art and poetry, myth and legend the world over. Zoologist Dragonfly.

Victor Wong of Zoologist Perfumes, Dragonfly and Juan Perez of Exotic Island aromas Aromas
Victor Wong's new fragrance developed with perfumer Juan Perez of Exotic Island Aromas, Puerto Rico, distills the poetic motion and radiant presence of these magical creatures into yet another beautifully designed and decorated Zoologist bottle.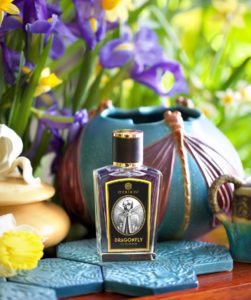 Dragonfly tableau courtesy of Victor Wong
Zoologist Dragonfly is the 9th in a series of animal inspired fragrances that began in 2014 with Beaver, Panda and Rhinoceros. Zoologist perfumes capture "the idiosyncrasies of the animal kingdom and transform them into scents that are unusual, beautiful, fun and even shocking." Creative Director Victor Wong and independent perfumers Paul Kiler, Chris Bartlett, Ellen Covey (2016 A&O Award Winner for Zoologist Bat), Shelley Waddington (2017 A&O Finalist for Zoologist Civet), Sarah McCartney, Tomoo Inaba and now Juan Perez have put together a menagerie of fragrances that appeal to the wild nature in all of us.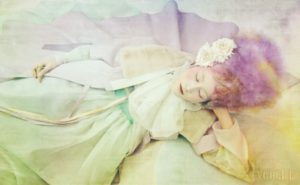 Powdery Flower photographed by Koo Bon Chang for Vogue Korea January 2014©
Dragonfly opens with a breath of translucent, tart lemon, a suggestion of peony and the powdery, sweet almond/cherry of heliotrope. To my nose, the ability to work with heliotrope can define the skill of a perfumer and make or break a fragrance. In Dragonfly, perfumer Juan Perez does wonders with the purple flower. His use of buoyant aldehydes, citrus and the cool freshness of a rainwater accord, lifts and lightens the heliotrope, creating a green and purple iridescent shimmer. This fragile sweetness paints an uncanny olfactory portrait of transparent wings, the dragonfly poised at dawn on a reed, its glistening colors reflected in the still water of a dark pool.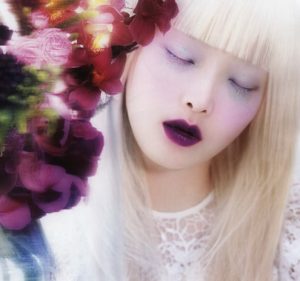 Sung Hee Kim for Vogue Korea February 2014 – Blooming Beauty©
The heart of the fragrance flits and hovers like the insect on an afternoon breeze. The scents of sweet, white clover, azure iris, bright tangy, meadow flowers and the grassy, nutty aromas of rice, color the air for three hours and more. As the perfume dries down the Dragonfly comes to rest again, this time on a pond stone, wings vibrating in sync with the late afternoon warmth, a sensation created by notes of a breathy amber, moss, sandalwood and musk.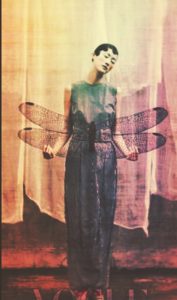 Vogue Korea Dragonfly Fashion Editorial Cover apped MC
Zoologist Dragonfly dances, suspended close my skin for five to eight hours. The exquisite insect and this evocative fragrance call to mind transience and transformation, a luminous brilliance and a throbbing love of love itself; evanescent life and fleeting passion shimmering in the sun.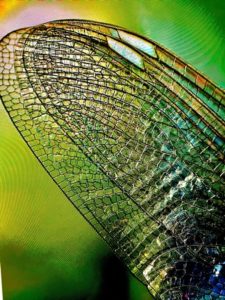 Digital Art by Gail Gross ©
"Dragonfly, green fire quivering on the threshold of a stone which your love cannot awaken.
Still, your restless heart longs to fuse with equanimity.
Your wings throb, knocking on the gate, seeking entrance into the cool stone." – Libelle, Grünes Feuer by Cyrus Atabay (1929-1996)
Zoologist Dragonfly is a fantasy chypre, a verdant floral that trembles with an unearthly beauty, a glowing jewel of a fragrance, sure to fascinate and delight the restless heart.
Notes: Aldehydes, heliotrope, lemon, peony, rainwater, cherry blossom, clover, iris, lotus, rice, amber, moss, musk, papyrus and sandalwood.
Many thanks to Zoologist Perfumes for the generous samples of Dragonfly. My opinions are my own.
—Gail Gross. Editor
Editor's Note: Juan was inspired by Guerlain Apres L'Ondee in creating Dragonfly
Art Director: Michelyn Camen Editor-in-Chief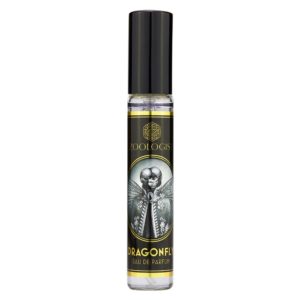 Thanks to the generosity of Victor Wong and Zoologist Perfumes we have three 11 ml travel sprays of Dragonfly available to (THREE) registered readers anywhere in the world. (Be sure to register or your comment will not count here). To be eligible for the draw, please let us know where you live, tell us what appeals to you about Gail's review of Dragonfly, and let us know if you have a favorite Zoologist fragrance. If you would like to win one any of the eight ZoologistTravel sprays instead please leave that in your comment. Draw closes July 3, 2017
We think Victor would be terrific addition to our Creative Directors in Perfumery Series. Agree? Let him know in your comment.
We announce the winners on our site and on our Facebook page so like CaFleureBon and use our RSS feed…or your dream prize will be just spilled perfume.