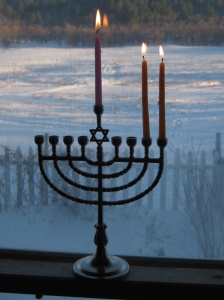 Hanukkah Menorah by Einsof
We're continuing the celebration of The Festival of Lights here at ÇaFleureBon, and I thought I would share my own personal feelings about Hanukkah, (tonight the first night of Hanukkah 12/16/2014) and what the holiday means to me. The story of Hanukkah is the story of enough oil for one night in the Temple lasting eight, a miracle. In essence, we are celebrating the reality of miracles- which means they will happen. Just this change in perspective from hoping a miracle can happen, and knowing it is only a matter of time is miraculous.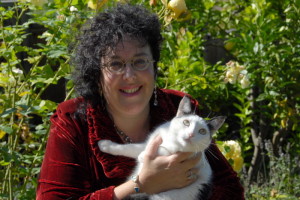 Laurie Stern of Velvet & Sweet Pea Purrfumery
Velvet & Sweet Pea's Purrfumery's Laurie Stern is an example of the "miracles" happening to artisan natural perfumers these days, acceptance as viable commerical perfumers to stockists around the world- she has not only created EdP versions of her line but is launching at her first retail stockist, Tigerlily in San Francisco.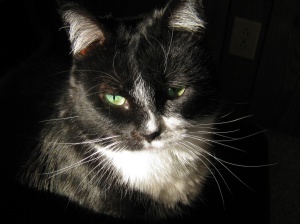 Matilda the Hanukkah Cat
Her feline-inspired brand is hand blended from essential oils, absolutes, and other select raw materials and in part, supports her animal compassion programs. This reminded me of my daily miracle, Matilda, my manx cat who I got on the first night of Hanukkah in 2006.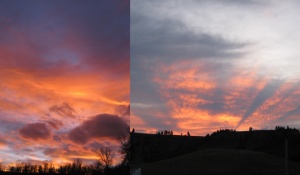 Dawn and Dusk photo by Einsof
Echoing Horst Rechelbacher,who founded AVEDA and was my mentor: "When you wear jasmine, miracles happen." Jasmine Dawn & Dusk (with three jasmines, blooming at different times of day or night) begins with an intense almost purple night-blooming jasmine off set by sunset hued mandarin from the citrus accord.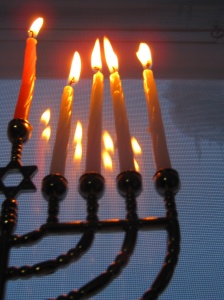 Hanukkah Menorah candles burning by Einsof
Much like the candles burning down, there is a meditative beauty in the unfolding of Jasmine Dawn & Dusk– the narcotic hypnosis of night jasmine sambac giving way to dawn-blooming, fresher jasmine grandiflorum and the satiating sweet of mandarin softens to a softer sunrise hued blood orange and sparkling ruby grapefruit. It is an olfactive chiaroscuro, the play of citrus light on a jasmine grove; moving through different balances between indoles and acidity. The name is true of the perfume as it is of the nature of winter holidays- from the dark, light will come. On into the dry down and daylight of the perfume are indeed, gardenia like notes of flowers in a citrus grove, not quite ready to burst into blossom. Anchored in frankincense and benzoin, the lingering vanilla reminder promises more miracles to come.
Miracle – Matisyahu Hanukkah Song Music Video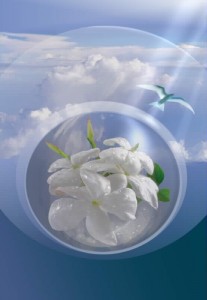 Miracles are innocent complexities, much like a truly natural perfume. It's moments are intense, captivating, transporting and then leaving enough trace for you to want to repeat the experience. This is the message of Hanukkah- we take part in exquisite unfolding of miracles, we remind ourselves each year of their reality, leaving a trace to catalyze the change in perspective which makes them happen. Horst is right, jasmine… perfume does make miracles happen. It changes our thoughts to something beautiful and that moment of solace is a miracle.
Eight notes for eight nights: night, dawn and daylight blooming jasmines, blood orange, mandarin, ruby grapefruit, frankincense and benzoin.
–Einsof, West Coast contributor
disclosure: my sample was provided by Velvet & Sweet Pea's Purrfumery for review.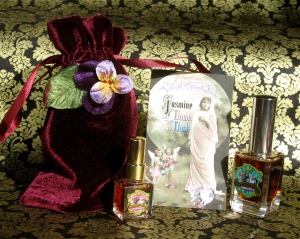 Laurie has generously offered a 4 ml spray Eau de Parfum of her 100 percent botanical Jasmine Dawn & Dusk to one reader in the USA ($50). To be eligible leave a comment with a miracle in your life and what you enjoyed about Einsof's review of Velvet & Sweet Pea Purrfumery Jasmine Dawn & Dusk. Draw ends December 19, 2014.
We announce the winners on our site and on our Facebook page, so Like Cafleurebon and use our RSS option…or your dream prize wil be just spilled perfume
Happy Hanukkah!!!!