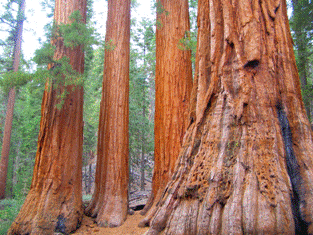 As I mentioned in my review of Mandy Aftel's Aftelier Sepia it was the result of one of the more interesting internet projects hosted on NathanBranch.com and called "Letters To A Fellow Perfumer". This latest and, at least for the near future, last version was between Ms. Aftel and Laurie Erickson of Sonoma Scent Studio. I have been acquainted with Ms. Erickson for quite a while now and she has used me as one of her testers from time to time so I do have an idea of her creative process. What was so compelling about this written intercourse was two talented independent perfumers talking openly about their path from concept to juice in a bottle. Ms. Erickson's finished perfume is called Forest Walk.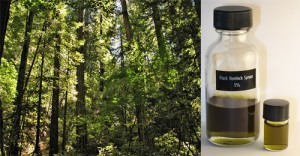 Ms. Erickson was intrigued by two different sources of hemlock; black and blue hemlock spruce absolute. She wanted to create a fragrance using these ingredients which would evoke a walk through a redwood forest and the picture above, taken from the series, show the pictorial inspiration as well as a picture of the hemlock absolute. Throughout the series her balancing of the hemlock versus the other woody and coniferous notes, she was very careful to keep the hemlock from turning Forest Walk into something too reminiscent of Pine-Sol. As I mentioned before this series is a fascinating look into the hard work it takes to create a memorable fragrance.
It is funny that when I wear Forest Walk I am reminded of the same family trip that Ms. Aftel's Sepia reminded me of. Where Sepia took me back to the Gold Rush Ghost Town of Bodie; Forest Walk returns me to my hiking in Yosemite and my first encounter with the great redwoods. For those of you fortunate enough to have walked through the sentinel forest of these majestic tress there is a distinct fragrance in the forest and Forest Walk captures it quite beautifully.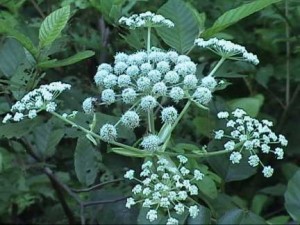 Forest Walk opens up with the hemlock on top to create that unique spruce quality and Ms. Erickson makes a quite intelligent move to sandwich that potentially problematic note with astringent violet and sweet jasmine. In an early mod I tried the floral notes were much more pronounced; in the final product they are the chair and the whip used by Ms. Erickson to keep the hemlock in its place. From here Forest Walk is a wood lover's cavalcade as fir, oak, cedar, and moss dominate the middle portion of our sylvan stroll. For the final act Ms. Erickson uses the familiar sweetly woody sandalwood along with benzoin and amber to add a bit of piquancy to the final steps of our journey.
Forest Walk has excellent longevity and above average sillage.
Forest Walk succeeds as a woody wonderland right out of a hiking trail in Yosemite in the late afternoon and it is as breathtaking in its beauty as any view I had from the trail. Ms. Erickson was able to perfectly re-create her picture in a perfume. Give an assist to Ms. Aftel and Mr. Branch.
Disclosure: This review was based on a sample provided by Sonoma Scent Studio.
–Mark Behnke, Managing Editor