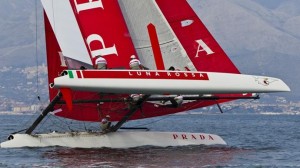 Challenged with creating a fragrance that represents Prada's America's Cup team, the always-capable Daniela Andrier has infused her signature style with the spirit and excitement of world-class yacht racing. In turn, Ms. Andrier has challenged our preconceived notions of what defines a "sport" or "aquatic" scent. Luna Rossa (or "Red Moon") from Prada is a new Eau de Toilette in the vein of their earlier masculine offerings, Infusion D'Homme and Amber Pour Homme (also composed by Ms. Andrier): classy, confident and, of course, clean. Soapy clean. Crisp white shirt clean. Clean clean.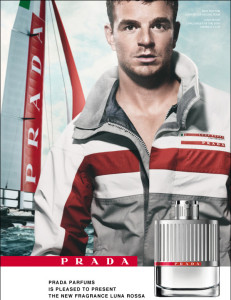 This time around, the French-milled purity is brought to us in the form of lavender and bitter orange which sit atop a heart of clary sage and spearmint. Despite the latter ingredients, the lavender and bitter orange fight neck-and-neck for the cup; the winner chosen only by your own nose and skin chemistry. On me, the lavender dominated. The particular lavender note used in this composition is grayish, camphorous, and realistic. Thankfully, it's obviously of high quality, never letting the scent, albeit soapy, devolve into something reminiscent of a ubiquitous bath product. Before this turns into Infusion D'Lavender, the fragrance takes a few unexpected turns as ambrette and ambrox appear late in the development. The ambrette adds a touch of metallic earthiness which grounds the scent and keeps it from floating away in a soapy bubble.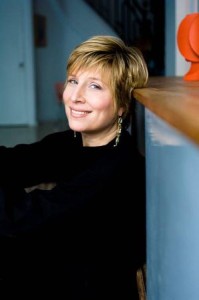 Daniela Andrier
In the marketing for Luna Rossa, Prada proudly lists "ambroxan" among the notes in the description, prominently displayed next to the sea-faring super-model. Thanks to Molecule 02 by Escentric Molecules and Another 13 by Le Labo, who made it hip to wear synthetic molecules, ambroxan is emerging as an "it" ingredient, despite the fact that it's been quietly used as a synthetic substitute for ambergris since the 1950's. Here, the note is deftly blended into the base of the composition, which, while anchoring the balance of the blend, cleverly suggests the salty skin of a man who spent the day at sea. This is when the fragrance travels from clean clean to dirty clean. This is also when Luna Rossa reminds us that an aquatic fragrance need not be soaked in water notes or calone to suggest a deep sea voyage.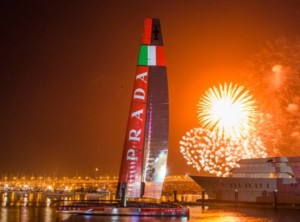 Infusion D'Homme (2008) never fully won me over as, on my skin, the bitterness and dryness made it a bit too "starched" for me. However, Luna Rossa's bitter orange is slightly more relaxed; it's a white polo shirt rather than a white button-down. If you're a fan of Prada's current lineup, or if you're looking for an upscale alternative to the tidal wave of fresh aquatic scents, I'd suggest you check out Luna Rossa. Despite its marketing, I'd say it's comfortably unisex. The fragrance is beautifully packaged in a design reflecting the colors of Prada's America's Cup team. It's widely available in department stores and comes in standard 3.4 and 1.7 ounce bottles which retail for $82.00 and $62.00 respectively.
Luna Rossa has above-average longevity and wears close to the skin.
Disclosure: this review was based on sample provided by Macy's.
–Michael Devine, Senior Contributor