illustration [4] Matthieu Appriou
We finish the set today with scents [4], [5], and [6].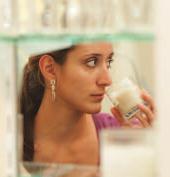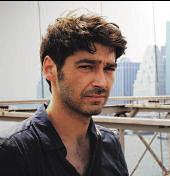 I now wrap up a joyous project – working my way through six scents and six illustrations, created by perfumer Cécile Zarokian and illustrator Matthieu Appriou. (Part One can be found here). Simply entitled 1 through 6, the fragrances and illustrations were created together by the two artists, interpreting each others work. Devoid of commercial intent, the scents and the illustrations are beautiful, and yet – ironically – they are scarily close to commercially viable – if only to those who appreciate beauty outside the norm. Nevertheless, I refuse to wear these scents – not yet. I will not wear them until I am done with my examination. I want to sniff them as I would in l'Atelier Galerie – to sense them as art objects, and not as adornments. I will let wearing my favorites be my reward.
[4]: I am fascinated by illustration [4], but I have no idea how it might be expressed in fragrance. Clearly the picture tells fundamental truths about the beauty industry, and yet it does so in a way that strips its negativity, though not emotion.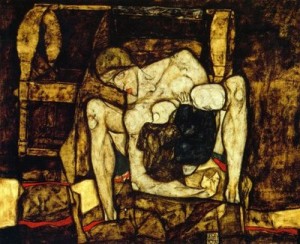 Egon Shiele Klang and Duft
Cautiously, I sniff around the top before opening it. There is a certain sharpness that is both beautiful and shocking. At first I think it's contamination from the other project samples, but then I realize that it's the scent [4], already telling its story.
I look at the notes to see if I'm just imagining things….
·

woody



·

sandal



·

spicy



·

pepper



·

cedar



·

pink peppercorns



·

guaiac wood



·

elemi



·

floral



·

nutmeg



·

milk



·

cumin



·

almondy



·

clove



·

smoky



I see the fragrant words, but the very idea that these can paint the picture is more shocking to me than the picture itself. I am confronted with the true nature of perfumery – the simple but unexpected truth that human ingenuity can tell a story in our nose, using smells that simply do not represent anything like what they represent in unison. I open the bottle and sniff. The scent is quiet – unexpectedly quiet. A quiet which would be wrong in a marketed scent. It's a very intentional quiet, and it says something to me. I sniff more. Slowly, I sense a certain odd but attractive cleanliness that reminds me a bit of Diptyque's John Galliano room scent, though much more subtle. The overall effect is waxed wooden floors – old wood. And the pepper. There is a distinct pepper, but it is very, very, very quiet. The only way to focus on it closely is to sniff it over and over and over again. If you do, the spicy pepper and smoke comes through.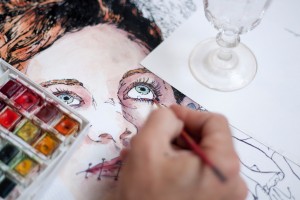 illustration [4] Matthieu Appriou
Eventually, I realize that if I just smell it very casually and briefly, it is more feminine. There is a fresh, but somewhat cosmetic aspect in the initial sniff. You have to dig deeply for the pepper and spices to come to the front, but when they do, they come through strongly. There is a layered structure to the fragrance, just as there is in the picture. There is a depth of focus linked to a change of subject, and it's all there.

My wife, not knowing what this scent is about, takes a sniff. Her response is very interesting. In a voice that is almost a bit angry, she says "I don't like it. Why are all men's scents like that?" Filter out all the artistic theory and interpretation, and I think it's clear that the odd but visceral emotion of the illustration made it into the fragrance. Or vice versa. I realize, as an afterthought, that this is one of the nicer pepper scents I've smelled. Which is – when viewing its illustration – a sobering thought.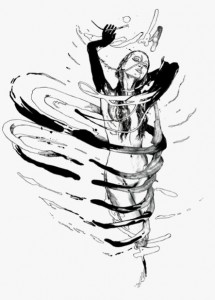 [5]: Cecile Zarokian and Matthieu Appriou
[5]: I had no idea how this would be represented when I saw the picture. So when I accidentally opened number 5 and sniffed it, before I was mentally ready to observe it, my own nose caught me by surprise."Citrus!"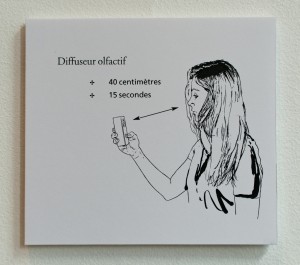 And of course, that's the answer. Topnotes! Sillage! This picture is all about wearing fragrance – the extension of beauty into the space around us, and the time of its being.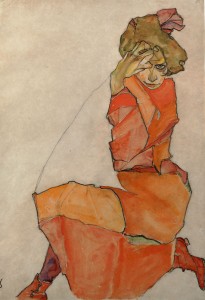 Egon Shiele: kniede im orange
This is not a shy fragrance. And yet it's not boisterous. The self-confidence in its own expanding beauty matches the subject's facial expression in the picture perfectly. There is a citrus fougère effect that resonates and harmonizes with the best of them, recalling the geometry of motion in Matthieu's illustration. This fragrance begs to be worn, and I curse myself for swearing not to wear these fragrances until the gallery tour is over. I reluctantly settle for a better sniff on paper, and break out the blotters. In the meanwhile, I take a look at the notes.
·

bergamot



·

bigarade petitgrain



·

orange blossom



·

almondy



·

powdery



·

floral



·

cinnamon



·

vanilla



·

balsamic



·

amber



·

musk



·

blond tobacco



·

leathery



·

suede



·

dry wood



What do they mean? I try to guess what the words will say, but it's all a jumble. Only my nose is qualified to see the scent, and my eyes to smell the picture.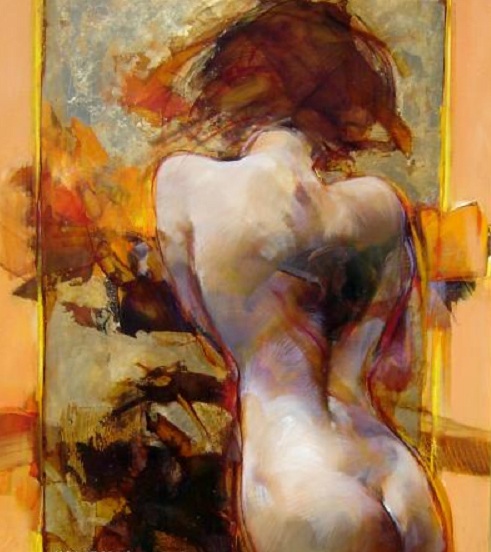 On paper, I understand it better. Compared to similar scents that it reminds me of in the commercial space, number [5] has both an overall restraint, but certain penetrating chypre-like notes that radiate beyond the overall presence. It is also clearly feminine, but in a fascinating way that wanders somewhere between classic chypre, modern oriental, and that intriguing quality which Tania Sanchez noted in Le Troisième Homme, of basically being too pretty to be allowed on a guy.
The scent changes smoothly but rapidly. As it loses the topnotes, the spicy, leathery, and woody notes take their place – though never abruptly. Synthetic fresh notes take the place of citrus, keeping its overall form. And yet it doesn't quite satisfy. I do what I haven't done on any of the other scents. I quickly dip the blotter in again, to experience the beautiful topnotes once more.
Topnotes. Yes. Now the picture makes sense at an even more fundamental level. I realize that what makes the child's top fall down isn't really gravity, though that seems like the obvious answer. It's the same thing that makes the beauty of women and topnotes fade with time. It's the escape of beauty into the universe that longs to observe it until it's gone.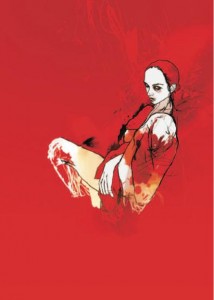 [6]: Illustration by Matthieu Appriou
[6]: This picture scares me a bit. I'm not sure if I even want to understand it.
The fragrance scares me, too, before I've even smelled it. Noticeably darker than the others – this one shows by its very color that Cécile and Matthieu are painting with the same mental palette. This scent promises to be different.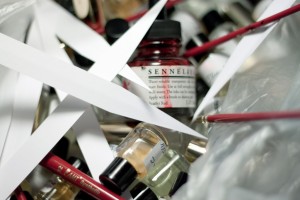 Am I scared of the bloody color of the picture? The look on the subject's face? I sniff around the edge of the bottle's cap. I smell nothing but my own fingers, scented randomly with the evening's various implements. Keyboard, mouse, and coffee cup. Good grief – am I that much of a coward? Fed up with myself, I open the bottle and sniff.
No. I'm thankful. The scent is beautiful and vital and honest. It's the perfect finish. It is as if the authors saved the best for last.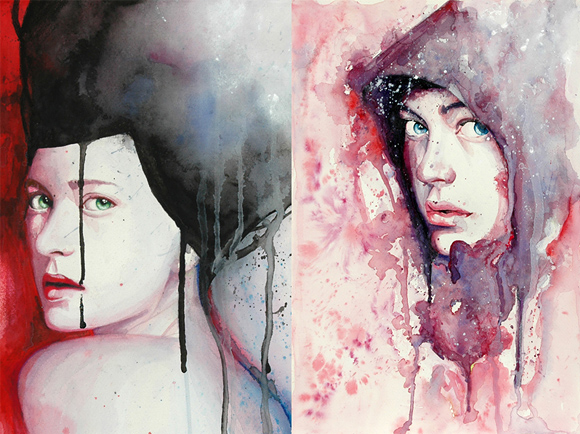 Although it will not tell you the story of the fragrance, here are the notes anyway.

·

patchouli



·

bergamot



·

blood



·

spicy



·

almondy



·

woody



·

lavender



·

cedar



·

flowers



·

oakmoss



·

aromatic



·

dusty



·

earthy



·

musky



·

liqueur



It is not the individual notes – it is how they are combined. The image of the picture is authentically expressed in fragrance – or vice versa. There is a beauty in both, poured out powerfully but wrongly. The degree to which the illustration's overdose of red and the fragrance's unique presentation – best described as "too many channels of beauty, too strongly", support each other, is a testament to the ability of these artists to see into each other's work.
The scent is beautiful and fascinating but it is far, far, far from commercial. I'm not sure that I even know where to begin. It has the beautiful unwearability that begs to be worn. But one would never wear it to please the crowd. Just moments after I was smitten with this scent, my wife smelled it. No. No, no, and no. She does NOT like it. At all. In her words, she says it smells strong, like a guy, and she would not like that kind of guy.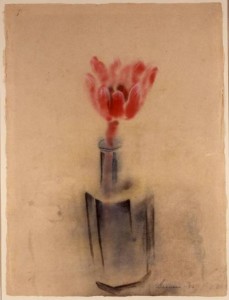 But as a lover of scent, and a lover of art, I can't get enough of it. I know that my fellow perfumistas would be splitting this up at any price. It is rich, beautiful, and so full of character that I can't help but proclaim how great it is. It's everything that was ever taken out of fragrance, put back in. Forgive the analogy, but it's almost the Ghost of Fragrance Past. Go ahead! Clank those oakmoss chenes and terrify the scrooges of IFRA! The lifeblood of perfumery – the lifeblood of the perfumer herself – has come back to haunt those who might have tried to forget their sins.
Imagine that a classic Guerlain had the opacity of a modern Guerlain gourmand. Scent that with every great thing that was ever put into tobacco before they started taking them out, and destroying that, too. Good grief – I feel like I should be smoking this scent, not merely smelling it on paper. Is this the ghost of Tabac Blond, who they say was murdered and left for dead to all those who knew her in her youth?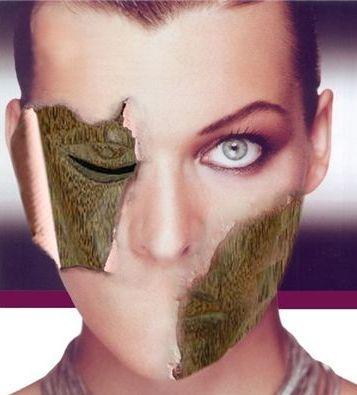 To me, this finale is the best kind of fragrance art. It has both the beauty of diligently creative perfumery, and the controlled, precise ugliness of honest artistic vision. It's as if Cécile and Matthieu found the place where Cuir de Russie and Lonestar Memories meet. There is no more visionary place for the artist to go, than the one that looks into both Shangri La and the Valley of the Shadow of Death.
In honesty, I will always admit a fondness for crowd-pleasing Creeds and Thomas Kinkade 'paintings'. But there are many, many other places that art must go.
Thank you, Cécile and Matthieu, for kindly allowing me to tag along.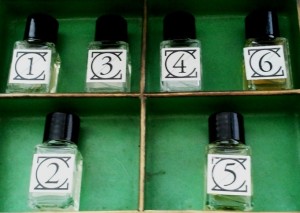 Photo: Didier Cholay
Thanks to Cecile Zakorian we have a full set of samples [1] through [6] to give away. Please leave a comment below on which sounds appealing to you of 4-6. Comments on both parts will be eligible for the prize. The draw ends November 28, 2011. EST
We announce the winners only on site and on our Facebook page, so Like Cafleurebon and use our RSS option…or your dream prize will be just spilt perfume
–Neil Sternberg, Contributor
Art Direction Michelyn Camen EIC
We announce the winners only on site and on our Facebook page, so Like Cafleurebon and use our RSS option…or your dream prize will be just spilt perfume