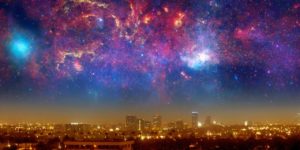 Image taken from the film Earth by the BBC©
Stand on 42nd Street and ask a New Yorker what the center of the universe you will likely hear "look around you." Once the seediest strip of real estate this side of the East River, Times Square, smack in the middle of Manhattan, is still the sun around which the city orbits. Huge billboards, raucous noise, throngs of people – everything about Times Square is outsized. And never more so than in the decades before it got prettied up for the tourists.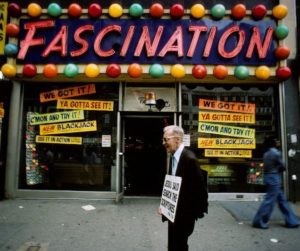 Times Square store, 1980s, stock photo
Masque Milano's Times Square captures the gaudy naughtiness of the strip of sin in the big-haired 1990s, all glossy red lips and noisy stilettos. Times Square bursts onto the scene with a wallop of crack violet: a big, saturated purple explosion – like someone stuck the flower next to the amps at a Van Halen concert. Paired with a neon rose the size of a subway train and some bosomy tuberose, the violet-laden opening notes rapidly tumbles into a Kool-Aid-raspberry sorbet-department store lipstick accord: fizzy, plasticky-sweet, fake-fruity, a bit powdery and immediately addictive.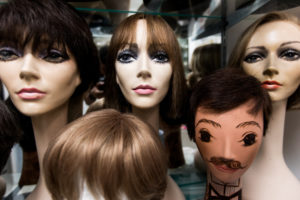 Wigs at Nicholas Piazza's studio in Manhattan, photo by Demetrius Freeman for the New York Times©
Then, somewhere in the middle, everything calms down a bit. A really lovely lipstick rose emerges from underneath the glitz of the opening, and the restraining hand of osmanthus and sandalwood help rein everything in.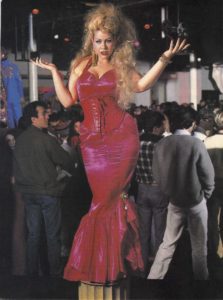 Dianne Brill, 1980s©
Times Square is the Dianne Brill of perfumes: over-the-top, bubblegum-smacking sassy. It is weirdly, artificially delicious in the way pixy sticks were, and as feminine as a pair of hot red Candies slides on a ponytailed blonde. Leave it to Masque Milano to make trashy fun to wear and rather beautiful. Notes: Hazelnut Accord, Glossy Lipstick Accord, Osmanthus, Tuberose, Sandalwood, Gajacwood, Styrax.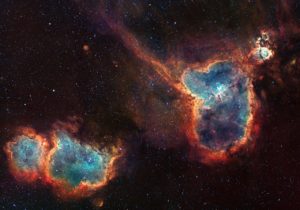 Heart and soul nebula of Cassiopeia, photo by David Lindeman©
Mandala, in contrast, is the universe writ large. A sweepingly baroque fragrance, Mandala fits perfectly into Masque Milano's line of assertive, intelligent fragrances where unusual notes and their well-conceived back stories fit together like the gloves on a slender arm.
Mandala of Amitayus, 19th century Tibetan school©
In Hindu and Buddhist tradition, a mandala is a symbol of the cosmos, often depicted as a square with four T-shaped gates containing a circle with central point. Masque Milano Creative Directors Alessandro Brun and Riccardo Tedeschi were inspired by monastic tonal chanting, where two notes are sung simultaneously by the same voice. Tedeschi and Brun worked extensively with perfumer Christian Carbonnel to develop Mandala, and the concept of two different but complementary strands running alongside informs Carbonnel's composition noticeably; a deep baritone of incense and spice hums in parallel to a tenor harmony of woods and herbal notes.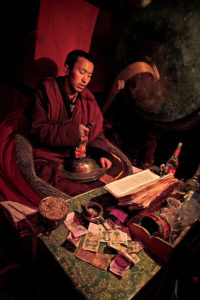 Monk chanting and praying in Samye Monastery, Tibet, January 2011, photo by Erik©
Mandala opens with a big bang of cloves, cinnamon and frankincense that floats outwards like a spiced red nebula. A few moments later, a soft trill of sweet angelica floats above the weightiness of the incense and spice. While ambergris is listed as a base note, I find it very prominent in Mandala's early stages. Its immediate, sharp astringency gives an impression of bitter herbs and lifts the wood notes and oakmoss. It adds a bright counterpoint to the richness of the incense and baking spices of the parallel accord.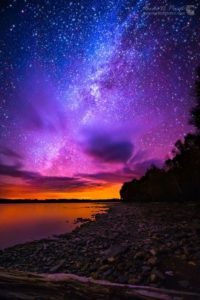 Photo Milky Way over Spencer Bay, Moosehead Lake, Maine by Aaron Priest©
Mandala is a big fragrance; not in the sense of the 80s bombshells like Poison and White Diamonds, which doused their wearers with enough fleshy florals to start a greenhouse, but expansive, opulent, assertive. As it dries down – many hours later – the herbal-woods and incense-spice bouquets marry, becoming a spicy incense fragrance with herbal undertones.
What is the perfume of the universe? It depends on what your universe is.
Notes: Frankincense, Nutmeg, Angelica, Cardamom, Cinnamon, Cloves, Cistus, Cedar, Incense, Myrrh, Sandalwood, Oakmoss, Tincture of Natural Ambergris. The sillage on this one is impressive – Mandala is not something to wear in an elevator at rush hour.
Disclaimer: samples provided by Masque Milano at Esxence 2017. Opinions are my own.
— Lauryn Beer, Editor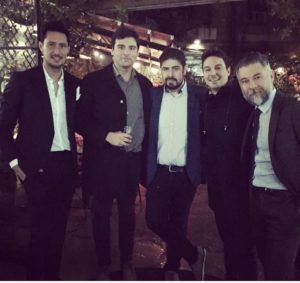 Riccardo Tedeschi,Cristiano Canali, Christian Carbonell, Luca Maffei and Alessandro Brun at Esxence 2017 (via Masque Milano)
Editor's Note: Be sure to watch Sr. Contributor Sebastian Jara's Interview with Alessandro and Riccardo Live from Esxence 2017 here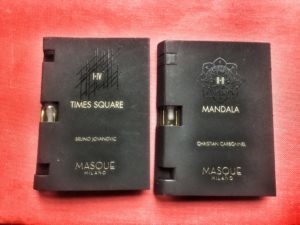 Samples of Times Square and Mandala, photo by Michelyn
Thanks to the generosity of Masque Milano, we have avant premier(2 x2ml) samples sets of Times Square and Mandala to give away to 3 registered readers worldwide. To be eligible, please comment on what appeals to you about Mandala and Times Square based on Lauryn's review, where you live and if you have a favorite Masque Milano perfume. What or where is the perfume center of your universe? Draw closes 06/11/2017.
Follow us on Instagram @cafleurebon and @masquemilano
We announce the winners only on site and on our Facebook page, so Like Cafleurebon and use our RSS option … or your dream prize will be just spilled perfume.