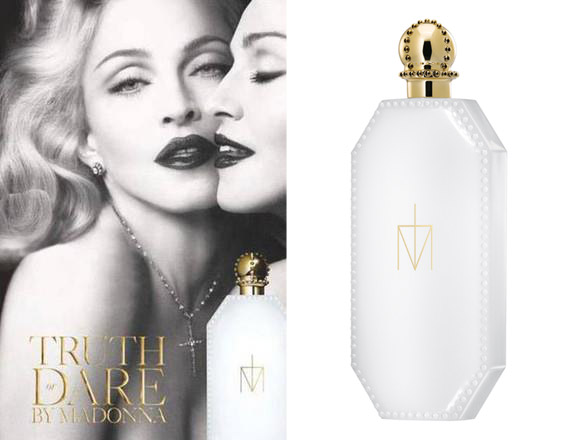 Photo: Coty Prestige
When we reported back in November of 2011 that Madonna has entered the celebuscent arena, I definitely was curious. I admire the work of Stephen Nilsen of Givaudaun, who knows his way around niche (Six Scents and Bond No. 9) as well as mainstream (With Love Hilary Duff with Rodrigo Flores Roux) and Tommy Girl with Calice Becker).
Madonna was quoted as saying "My oldest memory of my mother is her perfume. I carry it with me everywhere. She always smelled like gardenias and tuberose, an intoxicating mixture [that was] feminine and mysterious". Truth or Dare is certainly feminine but in no way to my nose is it mysterious. It's a big white flower scent with a lot of musk that is somewhat reminiscent of Sophia Grosjman's White Diamonds by Elizabeth Taylor, with the additon of a heavy dose of vanilla and an almost caramelized sweetness in the drydown.
I expected the fragrance to borrow heavily from Fracas, (which is reportedly Madonna's favorite fragrance). Or to be as seductive as Carnal Flower. There is one commonality between White Diamonds, Fracas, and Carnal Flower- they are "polarizing" best sellers that have fans (and detractors) of all ages.
Truth or Dare is not a love or hate fragrance. It feels carefully engineered to be the opposite; Truth or Dare is a product of focus groups and marketing. It isn't awful, but it is no "re-invention". The fragrance and its ancillary products are also the first entree into Madonna's Truth or Dare lifestyle brand of clothing and accessories.
On the plus side it has great longevity and above average sillage.
Disclosure: A friend sent me a sample from Macy's (where it is sold exclusively).
You can order Truth or Dare by Madonna online
–Michelyn Camen, Editor in Chief