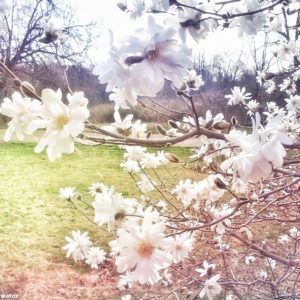 Star Magnolia Tree Digitalized MC
When the Star magnolias (Magnolia stellata) bloom in my garden I know that spring has finally arrived. The fuzzy buds open into masses of glorious, white star-shaped flowers, each graced with a subtle, sultry and at once fresh and flirty fragrance. The deciduous Star magnolia, not to be confused with the much larger evergreen Southern magnolia (Magnolia grandiflora), is a slow-growing shrub or small tree, rarely exceeding 20 feet in height, that blooms here in the Pacific Northwest in early April. The blossoms open before the tree leafs out. The shy perfume of the Star magnolia does not broadcast throughout the neighborhood, as does the scent of its tall, shiny leaved, late blooming Southern cousin. In order to enjoy the fragrance of the Star magnolia I must stand next to the tree, or even stick my nose into one of the blossoms. Also the flowers are more delicate and much shorter lived than the huge, waxy "dinner plates" of the Southern magnolia. Every spring I wish upon my Star magnolia trees, hoping that their enticing scent will linger a bit longer and project a little bit farther. This year my wishes have come true!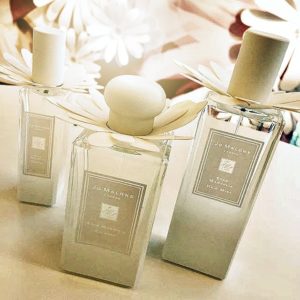 In Spring 2017, as the blossoms fall from the Star magnolias and the scent fades, Jo Malone London and master perfumer Anne Flipo have extended the Star magnolia's blooming season indefinitely with their fresh, flirtatious and realistic Star Magnolia fragrance – the essence of the blossom in a bottle! The new limited edition Jo Malone Star Magnolia Cologne is currently available online at Jo Malone London as well as at Bergdorf Goodman and other stockists worldwide. The fragrance is being offered as a cologne in 30 and 100 ml sizes as well as in a 50 ml Hair Mist (a first for Jo Malone) that incorporates high-shine conditioning and lower alcohol content for fabulous looking, fragrant tresses. Each bottle is adorned with its own frilly Star magnolia. Jo Malone London describes their new fragrance as "Delicate white blossoms bursting with spring's sparkling charm…"
Kate Moss Tim Walker 2012
Star Magnolia Cologne opens with drops of cool rain or dew, a fizzy shimmer of lemon and the honeyed sweet spice of Star magnolia. The effect of this floral bouquet is enhanced with the green, fresh quality of perilla. I cultivate perilla (also known as shiso) in my summer salad garden for its fragrant and deliciously minty/sesame flavored leaves. Perilla leaf lends a unique life-like quality to Star Magnolia Cologne, giving the impression of a vibrant bloom, alive on the branch.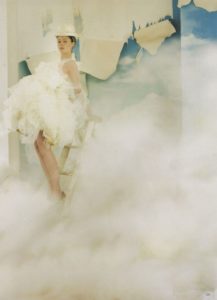 Tim Walker for Vogue UK
This wet, cool, refreshing "intro" warms and expands after ten minutes (or so) into a sultry, humid orange blossom kissed with a zing of ginger, complimenting the magnolia and the lingering perilla. This is the heart of the Star magnolia blossom; the scent that I love so much, the perfume I have to dig my nose deeply into the flower to retrieve. This newly created essence of Star magnolia clings closely to the skin for about five hours and to clothing for at least eight, drying down to a suggestion of sandalwood and hints of the original bloom. Through the life of the fragrance the sillage is more pronounced than that of the real flower, but never overpowering. With Jo Malone Star Magnolia Cologne I can enjoy wearing a translucent veil of Star magnolia fragrance any time of the year. This beautiful scent is perfect for brides and bridesmaids or for anyone wishing for springtime, no matter the season.
Notes: Star magnolia, magnolia leaves, perilla leaves, orange blossom, lemon, ginger and sandalwood.
Disclaimer: I would like to thank Jo Malone London for the charming bottle of their beautiful Star Magnolia Cologne. My opinions are my own.
Gail Gross – Editor
Art Direction Michelyn Camen, Editor in Chief