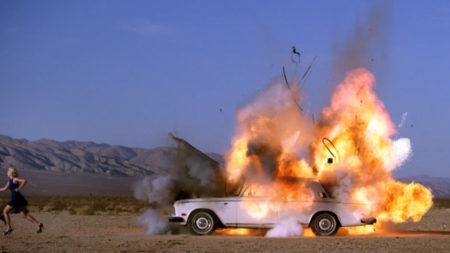 Tyler Shields blows up a Rolls Royce
Slow Explosions! What a fabulous name for a fragrance. The title of the latest offering from Josh Meyer at Imaginary Authors manages, in two words, to convey a myriad of volatile emotions, sensations and scenarios while perfectly describing the nature and the poetry of the fragrance itself. As usual, I don't consult listed notes before trying a perfume for the first time. In the case of Slow Explosions, when I finally did check, I was surprised to learn that smoke was not mentioned. Josh Meyer has done wonders with what I imagine to be smokiness in his Memoirs of a Trespasser and A City on Fire. Perhaps my first impression of his latest fragrance was colored by the name Slow Explosions, as well as by my personal expectations of the line. I immediately detected a burn, a suggestion of exploding fireworks and the scent of sparks and sparklers. The power of words over my nose can be very disconcerting. I sometimes wonder if I am really smelling the fragrance or simply processing the name.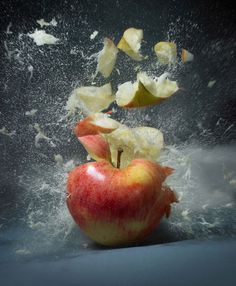 Martin Klimas Apple explosion
That being said, the smoke cleared quickly and was replaced by fresh green apple tinged with the bitter edge of saffron – that first phase of saffron that smells a bit like iodine or some kind of mineral. This initial burst stayed close to the skin and then, surprisingly, moved outward and became more intense, warming into buttery, fruity leather with a rosy saffron heart and hints of benzoin and musk, reminiscent of middle-eastern saffron centric mukhallats (mixtures).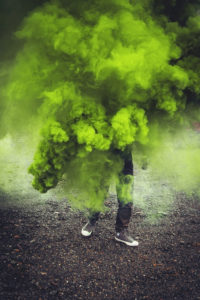 Smoke Explosions By Veronika Gilková
For at least three hours, Slow Explosions seemed to swell, dilate and diffuse (exploding slowly!) before retreating and winding down to a memory of orchards and musk. When I first tested Slow Explosions the fragrance seemed rather weak and so I generously reapplied. After fifteen minutes or so I was leaving a scent trail of about five feet in all directions and received several comments on my beautiful perfume. Perhaps it is a good idea to apply this fragrance discretely and to relax knowing that the explosions will come!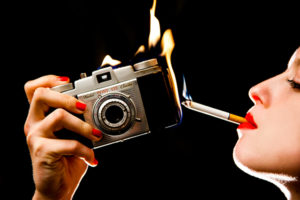 Camera on Fire Tyler Shields
As I understand, Slow Explosions is a development of another saffron based fragrance – a limited edition from Imaginary Authors entitled An Air of Despair. Also, in a recent video interview at Tigerlily Perfumery, by our own Contributor Sebastian Jara of Looking Feeling Smelling Good, Josh Meyer explained that the apple note in Slow Explosions was a by-product created from the combination of the saffron CO2 and other ingredients. The perceived scent of apples, not unlike my imagined smell of smoke, seems similar to the psychoacoustic effect described years ago by my mbira teacher Dumisani Maraire as "the obvious but not present". By this he meant a sound that is obvious to the ear but is never actually played (or is present) on the instrument.
Notes: Saffron, Rose Absolute, Leather, Apple, Benzoin, Cashmeran, Arpora Night Market
Gail Gross- Weekly Contributor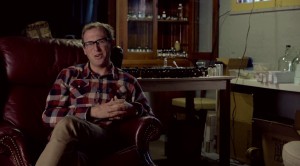 Josh Meyer of Imaginary Authors lives in Portland Oregon (courtesy of Josh Meyer)
Editor's Note: Former Managing Editor Tama Blough "discovered Josh Meyer" in 2011 when a friend sent her samples from the 1st LA Fragrance Salon. To the best of my knowledge we were the first to review his perfumes. I particularly like the photography by Tyler Shields -MC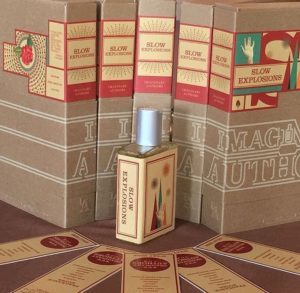 Thanks to the generosity of Ann Onusko of Indigo Perfumery we have a draw for a bottle of Slow Explosions for one registered reader in the USA (you must be registered to be eligible). Please leave a comment with what you enjoyed about Gail's review of Slow Explosions and your favorite Imaginary Authors perfume. Draw closes 9/8/2016
We announce winners on site and on our Facebook page- so like Cafleurebon and use our RSS feed option or your dream prize will be just spilled perfume