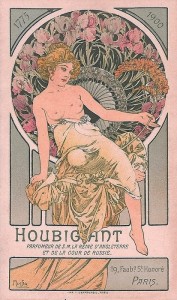 Alphonse Mucha Houbigant
In my house there are very few names that I hold in as high regard as Houbigant. The rich history of the name brings nothing less to mind than aristocracy, revolution, innovation, art and quality. If a product was made that had the name Houbigant emblazoned across it, you could be sure that you are getting a quality product of utmost taste and refinement.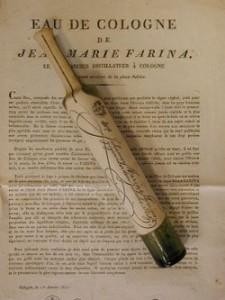 Giovanni (Jean) Maria Farina.
Recently I was lucky enough to test the newest edition to the modern Houbigant collection, the glorious Cologne Intense in both EDP and Parfum Extrait formulation. Like many have done before, Houbigant wanted to revive a classic formula to make it its own. The basic structure of a classic cologne dates all the way back to 1700's Germany as created by Italian Perfumer Giovanni Maria Farina. It is a well known and almost instantly recognizable mixture that gives a pleasant smelling reviving effect to the user. The basics of the fragrance have never waned in popularity across the centuries – the concept is as popular now as it ever was. Amazingly, given its long history, the basics of cologne have changed very little, but changed it has. The addition of different essences of herbs, animalics, and florals to the core citrus can make for a wide variation on the structure whilst still staying true to classic cologne fundamentals. As the popularity of grew of cologne grew, the different nuances of individual creations became more evident and widespread, but it was the core of citrus that was and still is the calling card of a classic cologne.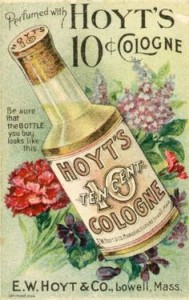 One of the downfalls of the classic cologne formula is longevity. For all the beauty it evokes, it is fleeting. This problem was solved in part by the aforementioned addition of other ingredients that lasted longer on the skin. There are literally hundreds, if not, thousands of variations out there that took on this task over the past 300 years. Each and every one wanting to make their version "the one". Now in 2016 we come to a time when the dream of the past can indeed be retrofit with advances in performance and techniques to intensify the cologne experience 100 fold. With Houbigant a classic cologne is no longer fleeting…yes, that is correct, classic cologne can now be a long lasting fragrance of parfum strength that lasts for hours upon hours. Which brings us to the subject of their newest edition of cologne to the world, Cologne Intense.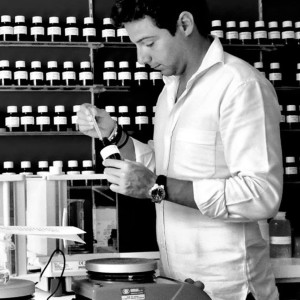 Luca Maffei ( photo courtesy of Luca Maffei)
For this task Houbigant relied upon the nose of Italian perfumer Luca Maffei. Here he marries the classic structure of cologne with the finest of care to his own special touches with a result that is none other than stunning. It does not disappoint from beginning to end.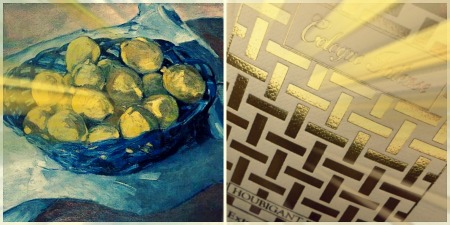 Lemons in a Blue Basket painted in 1922 by Christopher Wood (1901-1930) and detail of Houbigant Cologne Intense Box digitalized mc
Cologne Intense opens as expected with the liveliest of citrus gracing my nostrils with it's presence. It's almost as if the rinds of Bergamot and Lemon are literally being peeled under your very nose. I am imaging a basket full of green Bergamot and yellow Lemons on a table as a gentle breeze moves the trees bringing in the scent of flowers (Neroli) on the nearby trees. When I smell the cap, it is as if the fruit was there in gold metal form. It's here I think that the choice of the classic bottle (reminiscent of a basket) accented in gold is absolutely brilliant.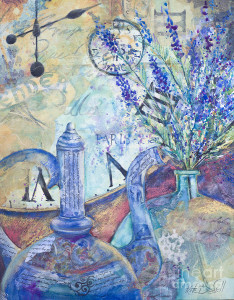 Lavender tea painting Kate Bedell
After a few minutes I begin to sense Lavender and Jasmine doused in tea.. Tarragon is present in a very Anisic form...I love every last bit of it. It's also sort of woody. Not overly so. Frankly, it reminds me of a very, very subdued Sassafras bark! I'm sure many might not get that, but to me I get that nuance. That said, the overall mix is a floral/herbal with slightly spicy/woody undercurrent still augmented by hints of citrus and Neroli that remain on my shirt sleeve. I'm enthralled.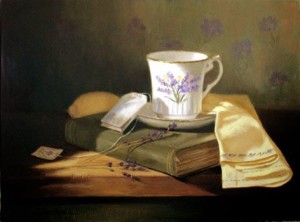 "Lavender Teacup" - Oil painting by Linda Jacobus © Linda Jacobus
As I move into the mid notes (about 2.5 hours in) the aspects of tea become more evident- Yerba Mate Jasmine-Bergamot Tea to be exact. Yes, indeed. It smells absolutely delightful. The spicy/woody aspects I was getting a short time ago have been dissipating into a more sweet/ tangy accord and the first hints of musk and moss. I am at the point now that I am completely absorbed into the fragrance. Its constituent parts are amazing and as a whole this has now passed into the extraordinary.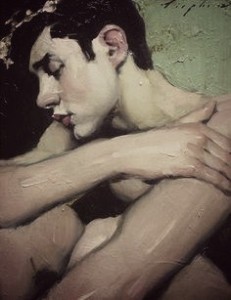 Malcom T Liepke
After 6 hours the fragrance is still evident on my skin and shirt. The fabric has maintained the top notes very well and on my skin I'm left with the impression of powdered incense. This is not a deep rich overpowering incense, but a subdued a classy affair. It is is no way overbearing. There is a hint of moss, yet again not nuclear in strength. In the end, it's this subtlety that makes the fragrance stand out as a derivative of classic cologne. The intended purpose was met and what we have left is a reminder of a fantastic journey.
Houbigant has done it again.
-Aaron Potterman, Contributor and Vintage Perfume Expert
Author's Note: For my test, I wore the EDP on my right and the Extrait on my left. Both performed similarly, but I noticed more pronounced Jasmine notes from the extrait. Overall sillage was more pronounced with the EDP. However, the depth of the extrait was much more evident. Either one are worthy of the name. A job well done.
Michelyn Camen Art Direction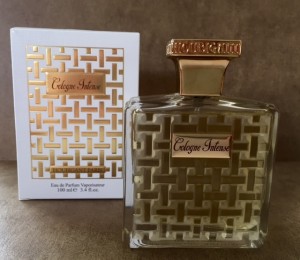 Photo of Houbigant Intense CaFleureBon
Thanks to the generosity of Gian Luca and Elisabetta Perris owners of Houbigant Paris we have a 100ml bottle of Houbigant Intense for a registered reader (you must register to be eligible) in the USA, EU, or Canada. To be eligible please leave a comment with what you enjoyed about Aaron's review, where you live and your favorite Houbigant fragrance. Draw closes 3/10/2016
We announce the winners only on site and our Facebook page, so like CaFleureBon and use our RSS option…or your dream prize will just be spilled perfume.