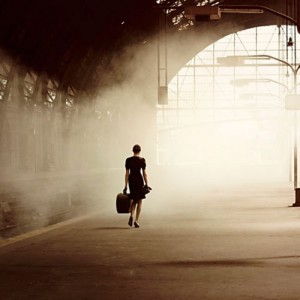 Photo: 1940s via googlesearch
"For my part, I travel not to go anywhere, but to go. I travel for travel's sake. The great affair is to move."-Robert Louis Stevenson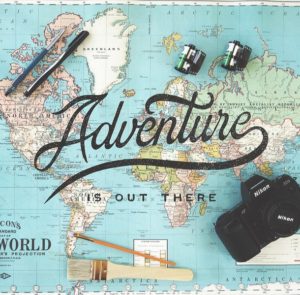 Favim.com
Gallivanting is dictionary defined as travelling around from one place to another in the pursuit of pleasure or entertainment. There is an implied archness, a sprinkling of devil-may-care travel liberty that makes it such a fabulous word. Journeying with insouciance, wonder and a genuine absorbent passion for odyssey and destination, soaking up the tastes, sights, sounds, smells and pleasures on the way to the next beckoning place. Sharing these moments in tweets, Instagram pics, Facebook posts, text messages and snap chats, creating a tapestry of threaded observation and offering.

Cityscapes ChiselandMouse.com
There is too I think an urban implication, gallivanting needs an audience to witness and reflect your travels against a backdrop of architecture, old and new, dazzling and brutal. To gallivant is to be noticed, watched as you wander with joy, puckishly loving the city as a stage, wondering if perhaps this city might be the one that pulls you back. But then you realise that the creeping glee of another place is already in your mind and onwards you go, exploring vigorously.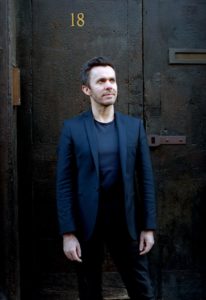 Nick Steward of GALLIVANT ©
With in mind I want to talk about a perfectly timed new indie brand called simply Gallivant, a carefully curated and deeply personal project by industry insider Nick Steward who I know from his former role as product maestro and creative director of cult French perfume house L'Artisan Parfumeur. Nick was very much the essence of L'Artisan Parfumeur at the brand, believing passionately in its heritage and the crafted individuality of the perfumes. He had a great relationship with perfumers like Bertrand Duchaufour, Karine Vinchon-Spehner, Dora Baghriche-Arnaud, Olivia Giacobetti and Anne Flipo. This was always key to the success of L'Artisan Parfumeur, the relationship of nose, artisan, materials and back of house as it were. Nick's role was as a creative director, ambassadorial, he speaks French beautifully and he travelled globally, meeting brand clients, launching perfumes with overseas business partners and doing research, marketing and PR.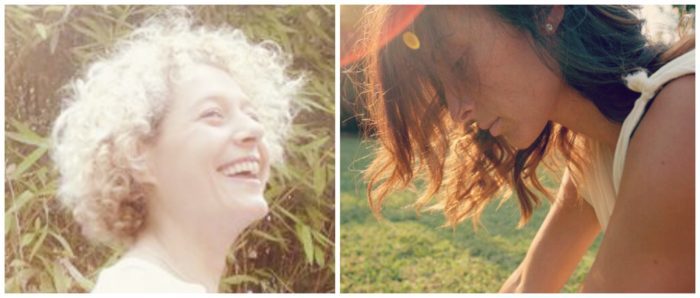 Karine Chevallier and Giorgia Navvara
All of these textured hard-earned things, mingled with Nick's love and knowledge of perfumery has led to this point now with Gallivant, an urbane and sleek line of perfumes created with ISIPCA trained Karine Chevallier, an underrated French perfumer, creatrix of the now sadly deceased Nez à Nez line whose Atelier D'Artiste I absolutely adored and Venice-based Giorgia Navarra, a young Italian perfumer and protégée of niche maestro Bertrand Duchaufour.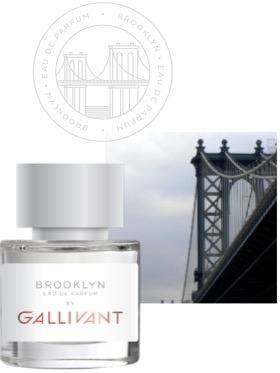 30 ml size… let's go Brooklyn
The perfumes themselves come in beautifully designed 30ml sizes; Nick wanted a size for travellers and folk who change their scent more often then the olden days of 100ml loyalty. I must admit I love a 30ml size, done well, they will find a permanent place in my bag. Each of the perfumes is named after a city. The debut quartet is London, Brooklyn, Tel Aviv and Istanbul. Simple really, maybe not exactly original, however… it is the execution and refreshing mind-set behind the line that makes Gallivant so much fun and simply joyful to wear. They are scents of experience, reaction and movement. There is flow and illumination, they have an alluring sense of polaroid photography, that particular treatment of light and place you get in classic polaroid snaps, a sense of fabulous capture.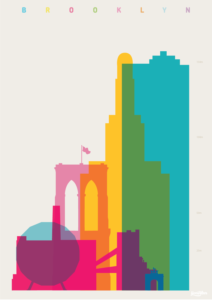 Brooklyn Yonni Alter©
I was kindly sent Gallivant samples by Nick and I spent days sampling on skin and mouillettes, noting observations as I went along. Brooklyn, signed off by Giorgia Navarra, is instantly creamy as it opens on the skin with to my nose a lovely olfactory mix of orange juice concentrate and cardamom kulfi, that addictive Indian frozen pudding, radiate a sunny moreish charisma. Waxy magnolia and iris further enhance this idea of a soft, private dessert eaten in a low-lit booth, holding the hand of a secret love.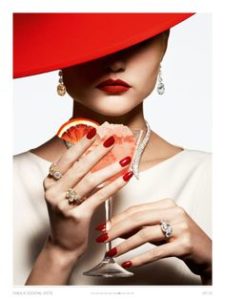 D'été Cocktail. For Vogue Paris By Thomas Lagrange ©
The rather bold element in Brooklyn is the polished waft of ozonics that flow through Giorgia's conjured city, not the usual sea and mist ennui but a genuine lifting of the senses spiked with modernity and juiciness of bright sweet citrus notes, not pithy or bitter, just a little cocktaily perhaps for that loved up couple in the haloed booth. The orris root is slow to appear and cold when it does; a little shivery, imparting sherbet in Brooklyn's lovely fade, bringing you back full circle to that unexpected and alluring creamy dessert note at the start. There is such comfort and nuance to be had here; the notes fade slowly with harmony and illuminated grace. As with all of these Gallivant scents you must sample them on skin; they actually smell good on blotters but skin really opens up the formulae and demonstrates the ease and wearability of the line. Technically too, you will notice how good the longevity is and the journey of the perfumes from zippy head notes down to the reassuring base. This evaporation curve is still all-important for so many perfume wearers despite attempts to restructure, break and rewrite it. The Gallivant scents are textbook structures and perfect for it.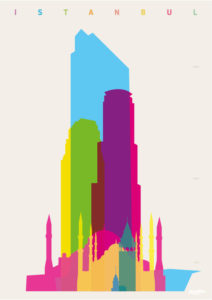 Istanbul Yonni Alter©
Istanbul, created by Karine Chevallier is just delicious, warm and embracing. I love the rounded herbaceous dissonance in the mix, not enough to be off putting but enough to intrigue and draw you in. There is a play of red thyme (a herb with distinctive medicinal edges) and cardamom versus oppoponax and patchouli; this has a thrill of minted, dusted coffee and sweat, fading into a melting base of vanilla and tonka bean. Interestingly I think it is an lavender absolute that is the key to Istanbul, not that it is any way a lavender perfume per se, but this sometimes maligned bruised essence imparts a distinctly rubbed, herbal apothecary note through proceedings.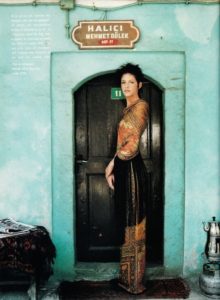 Mario Testino 1993 Glamour France©
Like the dazzling transcontinental city built on many cities and faiths, Istanbul feels like something old wearing below beneath something vibrantly modern and shifting, a sensual collision that provokes a tender, addictive attachment. Of the four this was the longest lasting, descending into a very well balanced glow of spices, herbs and stretched out tactile comfort. Even days after testing on mouillettes, Istanbul clung persistently to the card, ghosted traces of that lavender absolute and hazy tonka still smelling beautiful.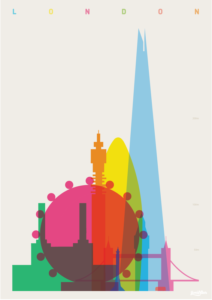 London Yonni Alter©
Karine Chevallier also created London, which turned out to be my favourite, not because it's the capital of the UK (and anyway.. Edinburgh is my capital…) but because Karine's handling of roses is just fabulous and the Fox is a sucker for roses. The burst of wet, Technicolor roses as the scent opens is pure joy. I like the slightly odd background tincture of damp stone and plastic. The rose de mai and rose oil combo with a hint of leather smells mischievously animalic; not the porno, bestial stampede leather we've been smelling so much of in niche recently, but more the addictive personal scent of a well worn accessory like a beloved bag, diary, wallet or belt.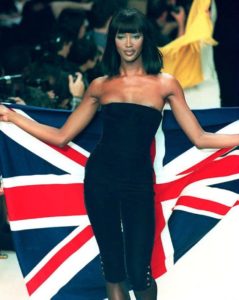 Naomi Campbell London Fashion Week 1994
As I was wearing London, I kept thinking of something, then it struck me, the slippery, glossy coldness of freshly minted fashion tomes, the ones that crush your tables and exhaust your arms. I can smell this under the throaty fanfare of roses and it pleases me immensely. For some reason, despite other cities laying claim to being fashion and style capitals, it is always rebel yell, f*ck you London and its unpredictable clash of streets and moods that for me really embodies true style. I think you can smell gentle suggestions of this in London, the classicism of swooning florality and eccentric swagger.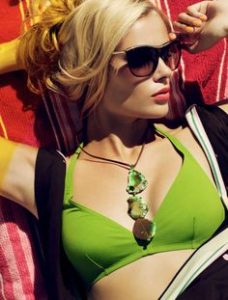 Bar Refaeli For Aqua Benita Spring Summer 2012 ©
Tel Aviv, has an immediacy of glare from Karine Chevallier's sunglasses and gold earrings use of jasmine sambac and a rubberised ylang ylang in the heart of the scent. It smells heated, that walk to the pool from the hotel heat. Not simply the slightly overused white floral salicylate thing, but in a languorous bubble-gum chewing pearl-of-sweat-on-golden-tan way. It is the most unusual of the four and while Nick rightly and proudly proclaims them all as very wearable and they are, this is the most eccentric of the foursome and I love it. I couldn't decide between this and London to be honest, Tel Aviv triggered a lot of travel memories for me; airports, hotel lobbies, cold pools, lounging under parasols, indulgent expat parties, big hair and perfume by pools littered with hot plastic toys. I really like the fruity gum and counterpointing soft soapiness, the two things instantly rising as the skins warms up. The fruitiness is due to blackcurrant bud, not a note I care for terribly, but here it has been deftly handled to showcase the greener/stalkier aspect of its gimlet-eyed personality, complimenting the lush blush of rose oil and peppery glance of freesia. I was very happy to see liatrix in the base, Aliénor Massenet uses it a lot chez Mémo, otherwise it's not a note you see very often; here its imparts a very gracious leathered cigarette waft in the base. I say cigarette because it has a kind of retrofitted glamour of smoking in vintage glossy mags about it.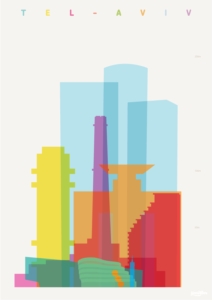 London Yonni Alter©
I admire the puzzlement and brilliance of Tel Aviv, it will have you returning to skin over and over. What more could you ask for from a scent?

Cityscapes ChiselandMouse.com
Gallivant is a refreshingly vibrant launch, all four of these fragrances delighted me in their casual elegance, technical nous and perceptive understanding of wearability. When Nick and I were talking about things we found lamentable in the current state of niche scent, it seemed to me immensely laudable and more than a little scary to launch a new line like this, but he and Karine and Giorgia have pitched this bang on I think with compact, beautiful and interesting scents that will appeal to a wide range of people. Wearability seems to be an oddly shameful thing in perfumery these days, equating to mainstream or god forbid…commercial. But to be honest some of us are wearying of elevated price points, overly ornate flacons and olfactive shock tactics. It all has its place on the consumer spectrum and everyone has the right to buy and wear what they want.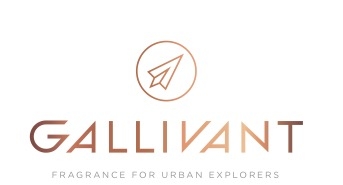 Gallivant is not exactly an antidote to this, but it is an alternative, in design, concept and aromatic direction. There is a city to gallivant in for everyone, an ease of view and scented perspective. So go and explore, take a wander amid Nick's cityscapes, I predict big things ahead for Gallivant.
Disclosure: Samples kindly sent by Gallivant, words & opinions very much my own.
–Alex Musgrave, Guest Contributor and Author of The Silver Fox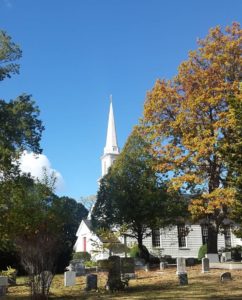 Photo by Nick Steward ("The Black List" fans should recognize this NYC Church and graveyard from three episodes Season 4 )
Editor's Note: Let's Gallivant in Brooklyn. Meet Nick Steward at Twisted Lily March 30, 2017 @7PM for the US launch. RSVP info@twistedlily.com. Special thanks to Nick Steward for allowing me to preview the collection last summer when we gallivanted through a graveyard in Queens, NYC. I agree with Alex, predicting big things for Gallivant.-Michelyn Camen, Editor-in-Chief
Multi Art Directors: Nick, Alex and Michelyn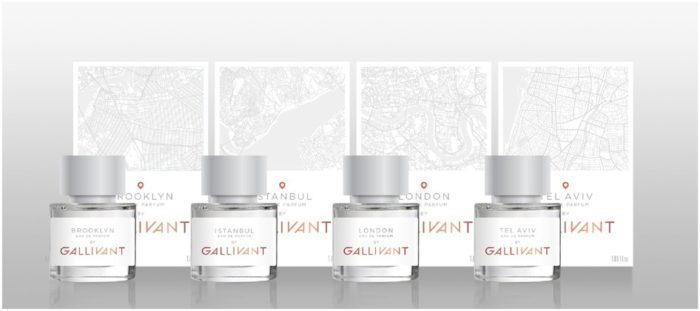 Thanks to the generosity of Nick Steward of Gallivant we have a USA, EU or Canadian registered readers' choice draw for a 30 ml GALLIVANT"City" of your choice: Brooklyn, London, Tel Aviv (Michelyn's favorite) or Istanbul. To be eligible please leave a comment with what you enjoyed about Alex's aka"TSF" reviews, where you live, which city you would like to waft should you win and which city you would like to explore should you have the opportunity to gallivant. You must be a registered reader, (register here)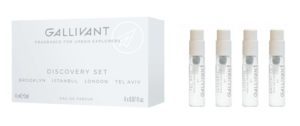 Want to go places? Nick is also offering a sample set X4 2ML as an option. Please leave the name of the fragrance (or travel set) that you hope to win in your comment. Draw closes 3/17/2017.
Like Gallivant on Facebook and your entry will count twice
We announce the winners only on site and on our Facebook page, so Like Cafleurebon and use our RSS FEED … or your dream prize will be just spilled perfume.