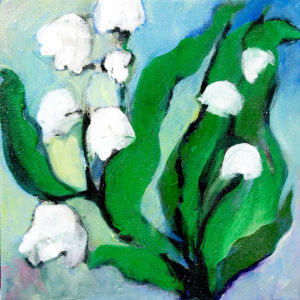 Dreaming Lilies by Dawn Spencer Hurwitz
"Le Premier Mai: the essence of Spring in a bottle. Greens, muguet, and rich animalic nuances in the drydown." ~ Dawn Spencer Hurwitz of DSH Perfumes on French Lily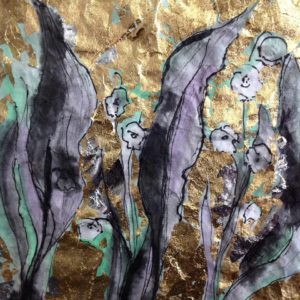 Lily of The Valley with Clochette by Dawn Spencer Hurwitz
Lily of the valley, muguet des bois – call it what you will – is a difficult floral note to replicate faithfully. Yet it is a deeply beloved soliflore attempted time and again by more companies than one can shake a stick at – literally. While everyone agrees that its slender stalks and clochettes are lovely to gaze upon, its aroma, in fact – is a very polarizing one. Very few folk feel indifferent about its scent.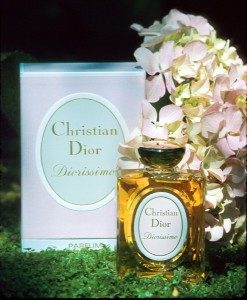 Vintage Diorissimo courtesy of Michel Roudnitska
Schlocky versions are migraine-inducing; poor representations smell like laundry detergent (which can be very nice for laundry – but I don't wish to intentionally smell like laundry). Myriad storied Houses we know and love have composed muguets: Dior, Caron, Guerlain, Coty, Hermès, Yardley, Penhaligon, Floris, Crabtree and Evelyn, Santa Maria Novella, Le Galion, Molinard, Fragonard, Galimard, Oriza L.Legrand, and Annick Goutal. So many, I'm exhausted simply contemplating them all. So why do we need another muguet?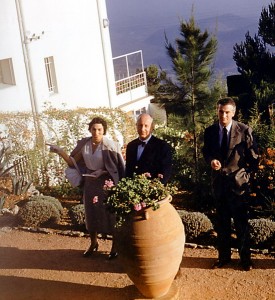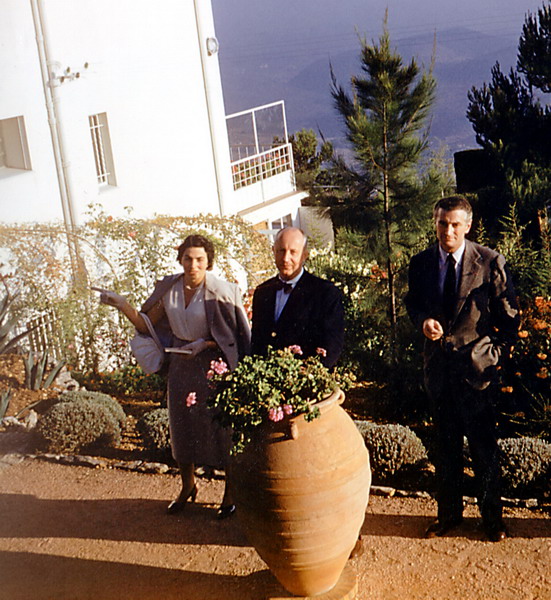 Therese Roudnitska, Edmond Roudnitska and Christian Dior (middle) whose funeral coffin was lined with muguet. Photo: Courtesy of Michel Roudnitska
And what does perfumer Dawn Spencer Hurwitz have up her many-hued sleeve? Dawn garners inspiration (as do we all) from Edmond Roudnitska, who created the glorious Diorissimo in 1956. As an avowed lover and collector of vintage perfumes herself, Dawn knows what a grand soliflore should smell like.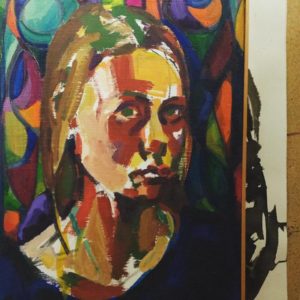 Dawn Spencer Hurwitz Self Portrait from her Boston University Art School Days
While homage is rendered, Dawn has her own voice which rings true: she who loves that which lies beneath, the finespun undercurrent, the veiled thread in the tapestry. Dawn is a creature of substantial subtlety.The perfumer has gone out of her way to interweave delicacy with the animalic, championing an undeniable contemporary freshness underpinned by tender feralcy (Does such a word even exist? It should!).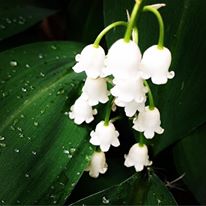 Muguet Photo by Dawn Spencer Hurwitz
French Lily commences with a sappy, leafy fraîcheur: dewy, vivid, verdant. You revel in the moisture of it. It doesn't scream 'green' – it doesn't need to. Unlike many green florals which have been released recently (I love them, by the way), there is no imitation of Germaine Cellier's infamous galbanum overdose.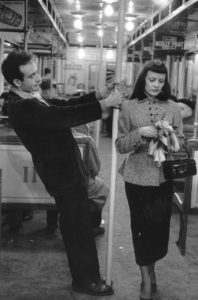 Detail from Robert Doisneau's Le Muguet du Metro 1953,
Then things heat up – a profusion of indolent blossoms awaits, leisurely paced and luscious. Orris provides an earthy, silver-tongued aromatic counterpoint to voluptuous sambac, provocative ylang ylang and honey. Our floral heart is full, round, generous; it makes you sigh with pleasure.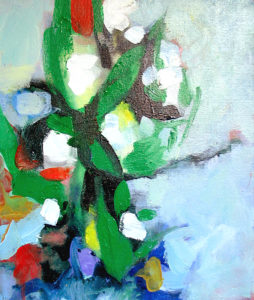 Muguet painting by Dawn Spencer Hurwitz
But we're not done yet. We need a base to anchor, tantalize, to quicken the pulse. Vegetal animalic ambrette is musky, faintly metallic, floral and earthy but never oppressive – that's not how she works, with her echoes of the stable. French beeswax is one of the most fascinating (and expensive) materials: not as sweet as you might think (a bit sweeter once you've managed to work with it in dilution); it's surprising how richly animalic it is, so different from any other fragrant substance. Ambergris is a delight: faintly rose-tinted, saline, warm and cool à la fois. Civet utilized by Dawn is always an art essence, cruelty-free – because we can create beauty without unkindness. Fine quality patchouli has many facets, along with those darker, winey nuances; it's a member of the mint family by nature, and when married to other materials may be able to add that unexpected tone to Dawn's existing palette. My feeling is this: Perfumer Dawn Spencer Hurwitz has furnished us a diaphanous muguet replete with murmuring – not growling – animalics in the undergrowth.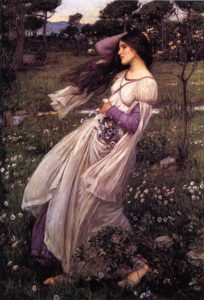 Windflowers, 1902 – John William Waterhouse
It is a graceful fragrance: airy, temporal and fairly close to the flesh. I amplify it by using her body cream underneath, as it is very moisturizing and helps hold this ethereal perfume a bit longer. It benefits from being sprayed liberally – upon one's nape, misted into the hair, etc. In torrid summer it should bloom more expansively upon our over-heated skin.
~ Ida Meister, Senior Editor
Notes: Green rose leaves, bergamot, galbanum, Tunisian neroli, Lily, jasmin sambac, ylang ylang, orris, honey, Ambrette seed, French beeswax, musk, ambergris, civet, patchouli CO2
Disclosure: It should be noted that I purchased my French Lily body cream and perfume bottle blind, before any samples were sent. There aren't that many perfumers I feel comfortable blind-ordering from, but Dawn is one.
Artwork and photos by Dawn Spencer Hurwitz unless otherwise stated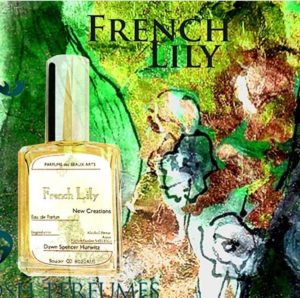 DSH French Lily Painting via Dawn Spencer Hurwitz
Thanks to the generosity of DSH Perfumes, there is a one-dram bottle of French Lily Eau de Parfum for 1 registered reader anywhere in the world (don't know how to register? click here. To be eligible, please leave a comment regarding what you thought of Ida's review, where you live, and your favorite DSH perfume. Are you a fan of muguet fragrances? Draw closes on June 4, 2017
We announce the winners only on site and on our Facebook page, so Like Cafleurebon and use our RSS FEED...or your dream prize will be just spilled perfume.