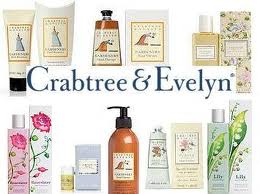 Since the early 1970's Crabtree & Evelyn have been purveyors of fine home, skin care and body products who use and list over 160 natural botanical ingredients in their products. Their newest fragrance release Somerset Meadow takes us for a leisurely walk in the English countryside. The company was founded in 1972 in Cambridge, Massachusetts by Cyrus Harvey and was named for the "crab" or wild apple native to Britain and the ancestor of all modern cultivated apples. Evelyn originates with Englishman John Evelyn who wrote one of the first important works on conservation. Though not completely all natural, this company uses no mineral oil, parabens, or propylene glycol in their perfumes or body products. In a day and age where almost everything is synthetic, it is nice to know there is actual ivy and water lily extracts listed on the label and that something naturally-based can smell so pleasing and be so affordable.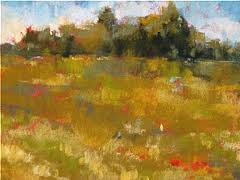 English Meadow by Joan Hellenthal
Crabtree & Evelyn was one of the very first companies that caught my attention (especially my nose's), even before I was a full-fledged perfumista, with their now discontinued Persian Lilac scent. Just as that scent captured the purest essence of the darkest lilac you had ever seen or smelled, Somerset Meadow captures an idyllic day spent leisurely roaming the wildflower covered meadows and soft green fields in the late springtime, after the frosts are over and the earth has come back to life. Ivy, tender yet tenacious, and silken water lily are at the core of this scent, and remain from beginning to end, giving it a slightly soft, yet still invigorating green-tinged floral structure. An opening kissed with zesty citruses adds some sparkle to the green while the tart sweetness of blackberry lends a fruitiness that balances this scent elegantly.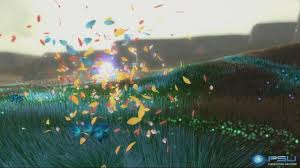 As the sun warms our faces and we continue to walk through the soft grass of the meadow, gentle breezes waft around us and we are greeted with a myriad of floral notes softly carried and woven by the wind. If you close your eyes and sniff you can smell a new yet robust rose bursting from her bud, a soft playful but tired night-blooming jasmine exhaling her last breath and closing for the day accented with hints of lilacs and daffodils. Softer more non-descript floral notes are there as well, things like bachelor's buttons, violets and forget-me-nots. While maintaining its verdant feeling, with floral notes coming and going, this dries somewhat close to the skin; yet is still clearly perceptible throughout the day. It dries to a very sheer slightly musky woodiness yet still has grassy undertones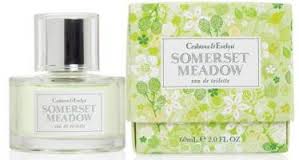 Somerset Meadow is a joy to wear, plain and simple. It is clean, without being soapy, green, without being too sharp or intense, and floral, without being overwhelming. It is also light and refreshing, but lasted longer than I ever expected it would. You could spend a lot more money on a much richer, longer lasting or more complex perfume; but, this release, I believe, is meant to remind us of the simple beautiful moments in life and those experiences that are free. Sunlight on your face, grass between your toes as you look out across rolling grasslands and streams, the scent of flowers on the wind-these are all things that may seem too simple for some folks…but, to me, they are truly priceless!

To be able to own a full size botanically-based body wash and lotion with a full sized eau de toilette for around eighty US dollars is practically the same thing. After more than forty years, including ownership changes and financial difficulties, it is so good to see that this company is still in business and continuing to adhere to its founders' ideals and smelling "eau so sweet" while doing so. Sillage: softer to moderate. Longevity: surprisingly good.
Disclosure: Review based on a bottle sent to me by Crabtree & Evelyn US.
Thanks to Crabtree & Evelyn US we have a full bottle of Somerset Meadow to giveaway to our US readers only. To be eligible leave a comment on your favorite place to take a springtime stroll. The draw will end May 4, 2013.
Editor's Note: Congratulations to Crabtree & Evelyn West India and Lime which won a 2013 Fragrance Foundation Award in the Best Bath and Body Category
We announce the winners only on site and on our Facebook page, so Like Cafleurebon and use our RSS option…or your dream prize will be just spilled perfume.
–John Reasinger, Senior Editor