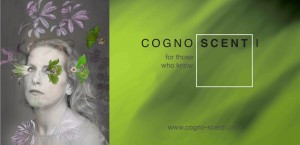 When I went to the San Francisco Artisan Fragrance Salon, one of the vendors that interested me was a brand new line launching that very day called Cognoscenti. I was impressed by the brand's well-thought-out branding and packaging and clean design. The Scent Artist, as her business card title proclaims, is painter, architect, and designer Dannielle Sergent, who, under the guidance of San Francisco perfumer Yosh Han, was encouraged to explore her unique, intuitive take on perfume creation. The Cognoscenti line launched with three numbered perfumes. The scents are designed to be wearable by either sex, and are made with an eye toward the perfume collector looking for something different. The scents incorporate a large percentage of natural ingredients, and are hand-made in small batches.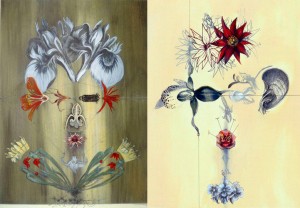 Scent No. 1 is a nicely blended interpretation of a fragrance genre I can only describe as "clean". It doesn't smell like detergent or soap, but has a bright, crisp quality that feels like a freshly pressed cotton shirt. It is businesslike, but far from austere or harsh. The ylang ylang, while not exactly flowery, does impart an underlying shimmer of prettiness that keeps the composition from straying into steely-eyed rigidity. It is the silken underwear under the tailored suiting. As the perfume lingers and ages, it becomes a nearly perfect interpretation of a "skin scent". I don't smell like I just got out of the shower, but I have no animal skank, either. I definitely smell better and more interesting than I would without it, but it's subtle. I think anyone who would like a clean scent in their wardrobe, but doesn't care for laundry scents, would do well to give this a try.
1 notes: Bergamot, Fig, Ylang Ylang, Clary Sage, Pink Grapefruit, Teak, Light Musk, Suede
Scent No. 16 (subtitled Tomato Leather) has a big bold opening of green leather. Mingled with the leather are vegetal, herbal aromas that are intriguing and create sense of mystery and depth. Although the notes list for this would make it seem that the perfume would be thick and dark, the brightness of the tomato leaf and clary sage hold the scent into the light. The leather in this perfume isn't a soft sweet girlie suede, its black motorcycle jacket leather. Far from making the perfume too masculine for a woman to wear, it makes it sexier. The sillage carries the leather perfectly; closer to the skin is where the resinous, smoky, sweeter notes lie. I think I would be more inclined to wear this in cooler weather, like I do most of my more serious leather scents, or in the evening. Leather fans won't want to miss this one.
16 notes: Tomato Leaf, Clary Sage, Lindenblossom, Leather Accord, Black Agarwood, Benzoin, Frankincense, Myrrh, Tobacco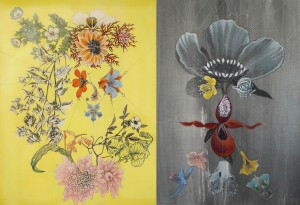 Scent No. 19 (subtitled Warm Carrot) is earthy, rooty, and complex. "Warm" is a good descriptor for it – it is comforting. It has the aroma of fresh garden soil when the nose is against wrist, while a veil of soft flowers shimmers in the air. I love scents that have that magical property of leaving a trail that is so different than what you smell close to skin. There are plenty of roots, woods, and resins to retain the gender neutrality of the scent despite it being the one of the three that I would call pretty. The perfume dries down very nicely, and wraps you like a favorite cardigan. It isn't a winter scent, it's just cozy, and could be worn any time. Of the three, I find it the most versatile. No. 1 and No. 16 have distinct personalities, and almost require a wardrobe to match. No. 19 is perfectly comfortable in jeans and tee.
19 notes: Carrot Seed, Ylang Ylang, Lavender, Vetiver, Labdanum, Amber Accord, Benzoin, Vanilla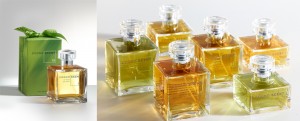 Dannielle has successfully created a line of diverse, sophisticated, intelligent, and aromatic scents perfect for anyone looking for something unique to add to their collection. They are perfectly unisex – I can't see any of them smelling better on any specific gender. They all have good sillage and decent longevity. Although 19 is perhaps my favorite, I would gladly wear any of them.
The Cognoscenti fragrances will be available to order in Early August from the website. Prices are $90 for 50ml, and $160 for 100ml of Eau de Parfum. Samples will be available as well.
All of the mixed-media paintings used to illustrate this article are Dannielle's and they are available as cards and other products in her Zazzle shop.
Product photographs are by Annabelle Breakey Photography.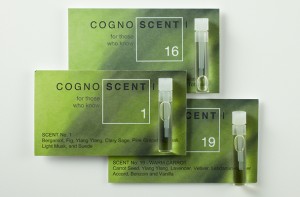 Five lucky readers will win a sample set of all three fragrances! Let us know which scent appeals to you the most out of the line. Draw closes on July 27, 2012.
We announce the winners only on site and on our Facebook page, so Like Cafleurebon and use our RSS option…or your dream prize will be just spilled perfume.
–Tama Blough, Senior Editor