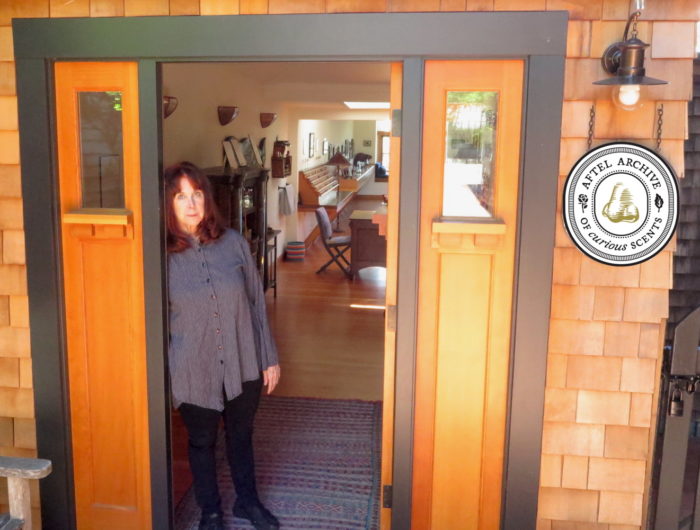 Mandy Aftel standing in the door of the Aftel Archive of Curious Scents (photo for CaFleureBon) June 2017
When the Queen of Green, perfumer Mandy Aftel – decided to create the Aftel Archive of Curious Scents (a fascinating new space next door to her own home where the inquisitive may satisfy their aromatic curiosity with access to over 300 natural essences!) – She also composed a deliciously smoky new perfume to accompany it: Curious.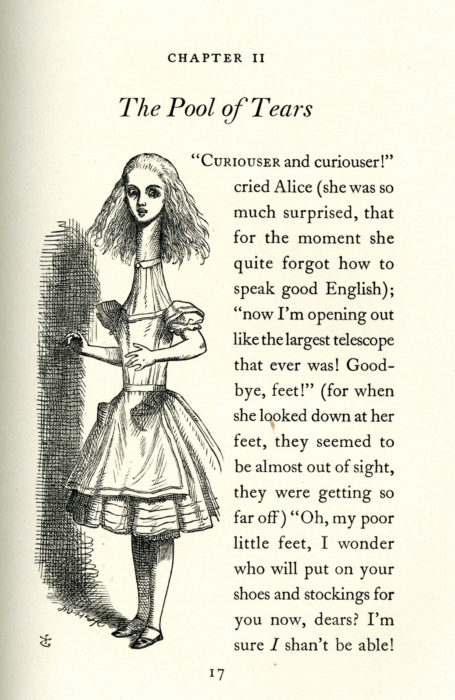 Curiouser and Curiouser! Chapter 2. John Tenniel's illustrations of Alice in Wonderland
CHAPTER II
The Pool of Tears
`Curiouser and curiouser!' cried Alice (she was so much surprised, that for the moment she quite forgot how to speak good English); `now I'm opening out like the largest telescope that ever was! Good-bye, feet!' (for when she looked down at her feet, they seemed to be almost out of sight, they were getting so far off). `Oh, my poor little feet, I wonder who will put on your shoes and stockings for you now, dears? I'm sure I shan't be able! I shall be a great deal too far off to trouble myself about you: you must manage the best way you can; –but I must be kind to them,' thought Alice, `or perhaps they won't walk the way I want to go! Let me see: I'll give them a new pair of boots every Christmas.' ~ Lewis Carroll, from Alice's Adventures In Wonderland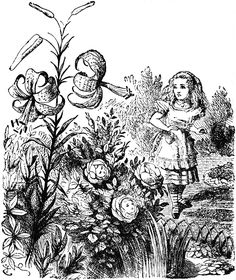 Alice meets the flowers in Lewis Carroll's Through the Looking Glass. Illustration by artist John Tenniel.
Lewis Carroll's Alice in Wonderland may have drunk from that bottle labeled "Drink Me", and shrunk – then proceeded to nibble the little cake which entreated ,"Eat Me" – and GROWN. Neither of these occurrences will one experience when anointing the self with her latest perfumed release, I assure you. There exists a lovely wildness in its beauty with no possibility of harm. According to my dear spouse, Mandy's flacon would be well named as SNIFF ME.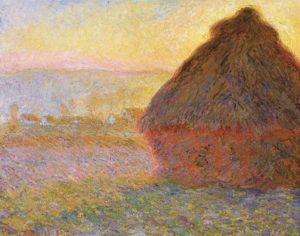 Claude Monet, Haystacks, sunset, 1890
Curious is warm, enveloping and full of the welcome generosity which its fragrant components provide. To describe it simply as a tobacco / hay perfume would be doing it a disservice. I am a tobacco person, although I do not smoke. I'm also very much a hay person, and it delights me to bury my nose in it, roll in it, and recline lazily against a haystack at the height of estival heat – scratchy though it may be.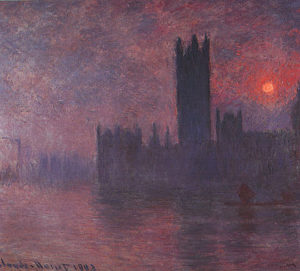 Mist Painting – Westminster Tower by Claude Monet
I adore a campfire and ghostly tales disclosed long after the sun has gone to bed.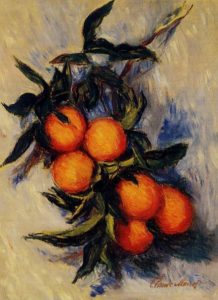 Branch of Orange Bearing Fruit, 1884 – Claude Monet
Mandy characterizes Curious as belonging to the Musk olfactory category because of its multiple animalic attributes. While I see her point, I find Curious challenging to classify: its initial explosive burnt wood smoke note is sweetened by an extraordinary French absolute utilizing every imaginable part of the bitter orange: blossom, twig, leaf.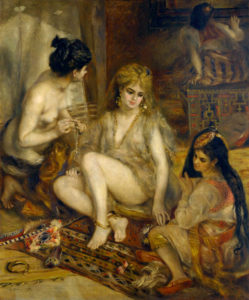 1872, Parisiennes in Algerian Costume.Pierre August Renoir
It feels profoundly Eastern to me at this point in its development, like a dish in which charred fruit is combined with more savory ingredients. Siam wood is so creamy, nutty, and balsamic, and possesses coumarinic aspects one anticipates in a fine hay absolute (not to be had cheaply), commonly imported from France. The herbaceous, jammy sunlit aroma of hay is complex and inviting; dilution is key, as with many materials (aged hay absolutes may fool the less experienced nose because of their intensity: much darker upon first sniff, they bloom when given the capacity to breathe via dilution).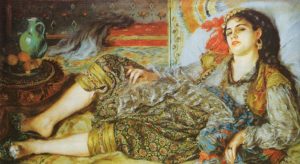 Odalisque An Algerian Woman, 1870 – Pierre-Auguste Renoir
Tobacco shares several olfactory facets, including smoky, balsamic, honeyed tones. For me, a 'dirty orange' would infer that very nature of white flowers – their reminder that we are enjoying the very sex organs of plant life. This pinpoints the approach / avoidance many of us feel towards their indolic aspects. Curious satisfies many cravings – sweet, tart, nutty, smoky, balsamic, wood-singed, wantonly floral. Chiaroscuro comes into play: illumination by means of sun and flame, a cool sip of tart juice commingled with creamy sagacity of unkindled heartwood. The unbridled sensuality of blossoms on the verge of last exhalation.
Such a macrocosm in every tiny drop..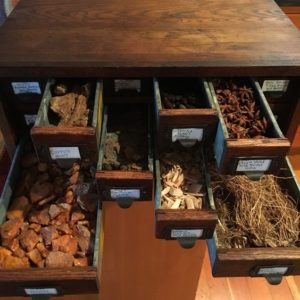 Drawers of Ingredients from Mandy's Archives of Curious Scents (photo Aftelier Perfumes).
Notes: Tobacco, hay, smoke, orange leaf, Siam wood, dirty orange.
Disclaimer: Sample provided very kindly by Mandy Aftel. Opinions are my own.
~ Ida Meister, Senior Editor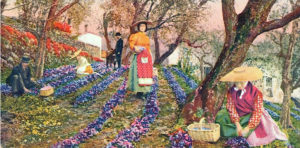 Aftelier Perfumes:The handpainted French Impressionsist Post Card (www.aftelier.com)
Art Direction: Michelyn Camen Editor-in-Chief. In addition to the illustrations from Alice in Wonderland I used French Impressionistic Art as Mandy's site evokes that style of painting.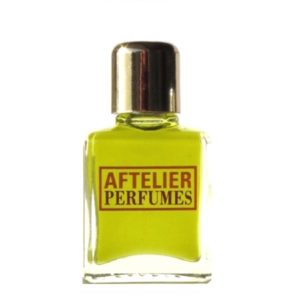 Thanks to the generosity of Aftelier Perfumes, Mandy Aftel is offering a 2 ml mini parfum of Curious (value of $50) to one registered reader Worldwide– in celebration of Mandy opening her new Archive to the public. Don't know how to register, follow the prompt here. To be eligible, please leave a comment about what you found curious and appealing in Ida's review, your favorite Aftelier perfume, and where you live. Draw closes 6/30/2017
We announce our winners only on site and on our Facebook page, so Like ÇaFleurebon and use our RSS Feed...or your dream prize will be just spilled perfume.