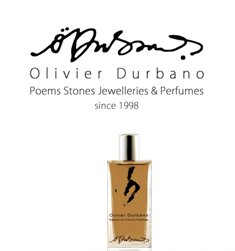 Since 2004, Perfumer and Jeweler Olivier Durbano has been known for his "stone poems", fragrances inspired by semi precious gems that have numerological meaning, as well as mystical and healing powers. Last year Olivier took a different path with his perfume "Lapis Philosophorum", his olfactory interpretation of the legend of the Philosopher's Stone. For his 10th perfume Prométhée, which marks ten years of Olivier Durbano's olfactory creations, Olivier has delved deep into Greek mythology. Prométhée, is the French name for the Titan Prometheus (in Ancient Greek, "He who thinks ahead, and tells the future") who, with the help of Athena, was reputed to have created Man out of mud transformed into rock.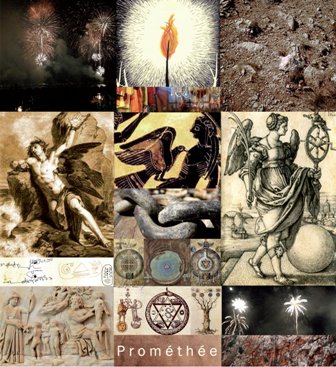 Most of us know Prometheus as the god who stole "divine knowledge", the sacred fire of Olympus, which he hid in a fennel stalk to give it to mankind because without fire humanity would not have been able to embark on discovery or to embrace the spiritual and physical world. Zeus, the King of the Gods, was so infuriated by his trick and condemned Prometheus to be chained to a rock on the peak of Mount Caucasus. The Caucasian eagle, the "winged dog of Zeus", came every day to feed upon Prometheus's liver which regenerated during the night. According to mythology Heracles freed Prometheus after a millennium of torment. With his bronze chains and a rock from the Caucasus, Prometheus fashioned the first ring in the World, which he wore as a reminder of his suffering.
The number ten has many meanings in many cultures and religions; it echoes the figure 1 symbolizes the beginning of renewal, represents totality, completion, and the return to unity. It is a significant number in the Bible and the number of commandments given to Moses by G-d. The Tarot Major Arcana 10 is the Wheel of Fortune, the Tarot heart which holds the secret of Destinies… Unlike the first nine swords, a logical continuation in a spiritual approach, this card no longer represents characters; it becomes one for all, all in one.
Olfactory family: woody, aniseed, amber
Head notes: fennel, pink pepper, nutmeg, myrtle, olibanum, cistus
Heart notes: narcissus, Caucasian lily, lavender absolute, fenugreek, Russian sage, storax
Base notes: cedarwood, vetiver, myrrh, labdanum, ambergris, musk
Prométhée Eau de Parfum will debut at Pitti Fragranze 2014 and will be available in select stockists in September. 100 ml/$205
Via Olivier Durbano Parfums de Pierres Poemes
–Michelyn Camen, Editor in Chief