Etienne de Swardt of Etat Libre d'Orange with Quentin Bisch st the launch of Le Fin du Monde in Paris (photo Etienne de Swardt)
At Pitti Fragranze 2016, Ermano Picco shared that the new fragrance by Etat Libre D'Orange Marquis de Sade Attequez Le Soleil would be launched at the ELdO flagship at 69 Rue de Archives in Paris this week. We had hints (but were sworn to secrecy) that Quentin Bisch of Givaudan would be the perfumer. The new perfume centers around cistus… an ingredient that Quentin has never used in a fragrance before … frankly he hates it.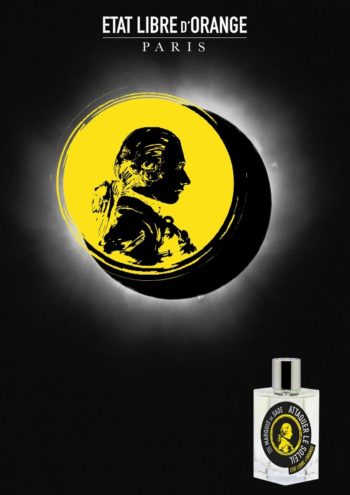 "To read Sade is to take a risk — one is suddenly forced to face one's self exposed. It's a wonderful risk to take if you want to plunge yourself into the heart and the body of humanity. Because Sade liberates. He pushes us to imagine and to desire, far beyond the boundaries which saturate our perspective. "How many times, dear God, have I not longed to be able to attack the sun, snatch it out of the sky, create a general darkness, or use that star to ignite the world. As a creator of perfume, how could I open my perspective, imagine beyond my limitations? A very personal question. The cistus! One of my paradoxes. One of my gray areas. I have always recoiled from the cistus, I've avoided it or hidden it under thick layers of vanilla and amber as a way of escaping it. This is why I have made myself confront a radical formula: the cistus, exposed, and in all its states. My dear Marquis: here's to your suns, to our volcanoes! — Quentin Bisch, perfumer
The cistus is a new essential oil and absolute from Givaudan. It dominates the top, heart and base notes. This new quality of oil was extracted using not only the leaves, but the twigs, roots and flowers of the plant. It is not labdanum which is the resin produced by the leaves.
The company and Quentin worked with the great great great grandson of the Marquis de Sade (Donatien Alphonse François) the infamous French aristocrat, revolutionary politician, philosopher, and writer, famous for his libertine sexuality and non conformity on the formula.
Etienne de Swardt says, "ETAT LIBRE D'ORANGE AND THE MARQUIS DE SADE. IT'S A MARRIAGE MADE IN HEAVEN, OR POSSIBLY IN HELL. EITHER WAY, IT WORKS. TOGETHER, WE LAUNCH AN ASSAULT ON THE SUN. MASOCHISTS EVERYWHERE, HERE IS YOUR PERFUME".
" All human happiness is in the imagination -The Marquis de Sade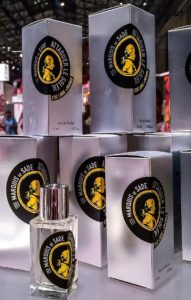 ATTAQUEZ LE SOLEIL MARQUIS DE SADE (photo Ermano)
ATTAQUER LE SOLEIL MARQUIS DE SADE IS AVAILABLE as an EDP 125 €/100ml and 85 €/ 50 ml
Available at select stockists in late September and online at www.etatlibredorange.com
Via Etat Libre D'Orange
Michelyn Camen, Editor in Chief