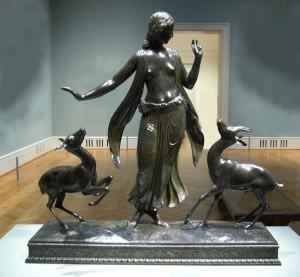 Paul Manship, Dancer with Gazelles (1916)
There are numerous marriages of fashion designers and perfume; some which seem like natural matches others feel like they might be shotgun marriages. Few have been as anticipated as Douglas Hannant de Robert Piguet, which feels like a fortuitous pairing of two names which have clear ideas of how their brand is perceived and who their customer is. Every Mercedes-Benz Fashion Week, Douglas Hannant is among a handful of designers who never disappoints and designs couture which is easy to wear but has an undeniable modern style.
Robert Piguet Parfums are known most commonly through the three landmark fragrances created in the late 40's; Bandit, Fracas, and Baghari. These are big bold olfactive masterpieces composed with large themes; created for someone who enjoys showing off an extroverted side. These fragrances would be joined by others ending with Calypso in 1968. Over the last few years perfumer Aurelien Guichard has taken four of these fragrances and reformulated them for modern audiences. His most recent effort was Calypso which I thought was a beautifully executed rendition of perhaps the least known of the Robert Piguet Parfums. M. Guichard managed to make Calypso feel classic and modern at the same time. When Douglas Hannant was looking for a perfumer to create a signature fragrance he turned to M. Guichard and Robert Piguet Parfums. From a designer who calls his collections "Modern Classics" to a perfumer who has made classics feel modern this felt like the right marriage of aesthetics to lead to something special.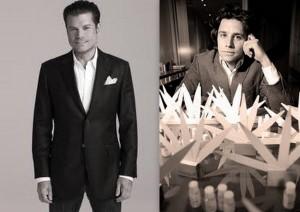 Douglas Hannant (l.), Aurelien Guichard (r.)
For this first new fragrance from Robert Piguet in over 40 years M. Guichard seems to have looked back at the past so as to move forward. The opening notes of Douglas Hannant de Robert Piguet are a lilting slightly indolic orange blossom paired with a pear note reminiscent of Robert Piguet Visa, along with these two notes the heady floral aspects of gardenia pave the way for a slow intensification as this fragrance progresses. The one thing I noticed in this opening was how attenuated Douglas Hannant de Robert Piguet was compared to the other Robert Piguet fragrances.
Don't misunderstand me M. Guichard is composing with some of the boldest notes in the perfumer's organ but he seems to keep the opening movement spritely enchanting. The move to the tuberose heart is where Douglas Hannant de Robert Piguet feels most like one of the previous Robert Piguet releases. Fracas is a reference tuberose fragrance for many perfume wearers. For those who don't care for Fracas one of the most common reasons heard is it is "just too loud". If you are in the latter group Douglas Hannant de Robert Piguet might be the scent that will be just right for you. This is because the tuberose is kept under such a tight leash it never becomes overbearing. It makes for one of the easier to wear tuberoses on the market. As much as I admire the opening of Douglas Hannant de Robert Piguet it is the jasmine in the base that truly enchants me most. M. Guichard uses a beautiful version of jasmine absolute and plays it off a creamy sandalwood. This woody floral ending is joined with a sheer white musk. It is here where Douglas Hannant de Robert Piguet does not feel like anything that came before in the Robert Piguet Parfums library. It is here where M. Guichard boldly places his modern stamp on Douglas Hannant de Robert Piguet and it closes this fragrance, which nods to the past, in spectacular fashion.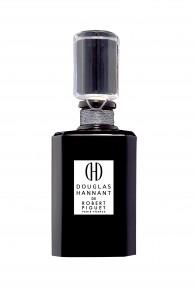 Douglas Hannant de Robert Piguet has excellent longevity and above average sillage. But both are slightly less than the original Robert Piguet Parfums. I think this is what M. Guichard was aiming for and it's not like you won't be enjoying whiffs of this fragrance long into the night; it just might not be there the next morning.
I have always admired Robert Piguet Parfums and I have been especially pleased with the care that M. Guichard has used in modernizing the classics. In being able to take Douglas Hannant's Modern Classicism and translate it into a thoroughly modern fragrance without losing the classicism that is Robert Piguet Parfums he has shown himself to be a perfumer composing classically.
Disclosure: This review was based on a preview sample provided by Douglas Hannant.
–Mark Behnke, Managing Editor