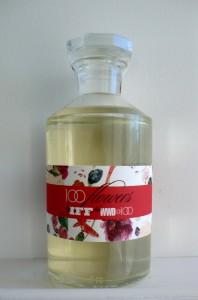 What does hundred years of fashion smell like?
"International Flavors & Fragrances (IFF) announced that it has created a one-of-a-kind fragrance to commemorate the 100th anniversary of WWD (Women's Wear Daily). The scent — 100 Flowers — is created by Master Perfumer Carlos Benaim. Carlos collaborated on the inspiration for the scent with WWD Editor-in-Chief Edward Nardoza. This was Mr. Nardoza's first foray into creating a fragrance. 300 gifts of the scent were provided as gifts for guests attending the opening night cocktail party for the WWD CEO Summit / Apparel & Retail at the Plaza Hotel on Monday, November 1st in New York City.
At the opening night cocktail party guests , industry leaders from around the world had the opportunity to enter to win one special 500ml bottle of 100 Flowers. The winner was announced at this morning's session of the WWD CEO Summit. The 500ml bottle was won by Sylvan Desjonqueres, President and chief executive officer of Redcats, a PPR company.

Key ingredients include: Red Velvet Accord, Rose Turquish Oil, Narcisse, Jasmin absolu Sambac India, Hyacinth, Tuberose, Violet Leaves and Sandalwood.
Carlos Benaim is widely considered one of the living legends of modern perfumery. He is a recipient of the American Society of Perfumers Lifetime Achievement award and the winner of numerous FiFi's. Benaim often finds inspiration in recalling the scents and flavors of the many parts of the world in which he's lived, but he feels anything can be a source of a great idea—a color, a flower, or even a memory. He has been involved in the development of many fragrances, often in collaboration with other IFF perfumers. He has created some of the world's most beloved scents from Polo by Ralph Lauren to Jasmin Noir Bulgari."
-Via Press Release
– Editor-In- Chief, Michelyn Camen