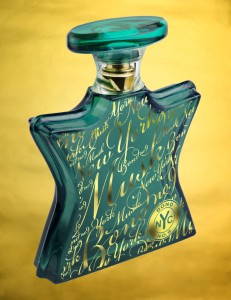 With a repertory of 60 scents and counting, Bond No. 9 is best known for its New York-centric empire of eaux de parfum with a distinct urban edge—sophisticated, elegant, up-to-date, ahead of the curve. Most Bond No. 9 perfumes capture the spirit of, and are named for, specific locales, from Riverside Drive to Coney Island (we loved Bond No.9 Manhattan so much it was included on CaFleureBon's Top ten fragrances for Fall 2012). The New York Notes collection is something different; each scent was named for its key ingredient. First came New York Oud, (which won the Fragrance Foudatiion FIFI Perfume Extraordinaire in 2012), followed by New York Amber. Debuting November 2012, New York Musk by perfumer Laurent Le Guernec of IFF (the nose behind the award winning New York Oud).
Musk comes with a longstanding reputation for being animalic, perhaps even an aphrodisiac or a pheromone. Indeed, this costly ingredient was originally derived from the nocturnal male musk deer that dwells in the upper reaches of the Himalayas and produces this powerful, pungent aroma to mark its territory during mating season. Highly diluted, musk can be quite versatile, sometimes evoking the honeyed aroma of freshly bathed skin, or a garden being tended in springtime, or chocolate, spicy curry, or intense passion. That chameleon quality is one of several reasons it is universally used in perfumes. Another is the balance, warmth, and sensuality it brings to the mix. In fact, musk is a uniquely able fixative, relied on to hold a scent together—particularly the volatile top-notes—and keep it from fleeing. For that reason, it typically operates as a base note.
But designing a perfume with musk as the key ingredient posed a challenge: How to foreground this ancient staple, propel it into the 21st century?
New York Musk is surrounded by contemporary fruit and spice accents. It opens with a blend of sparkling grapefruit flower, tart and tangy blackcurrant, and galbanum—a pine-like aromatic gum resin from Persia. For the heart notes, Asian osmanthus flower redolent of apricots, are combined with lemony-green lilies (yes, flowers that smell like fruits) with the addition of spicy nutmeg. Musk dominates the base notes, along with patchouli, sandalwood, and vetiver.
Displayed on the bottle is the signature New York Note optics: The words Bond No. 9 New York Musk, repeated in looping cursive script, rendered in a simulacrum of gold ink and on a slant—suggesting old-fashioned, pre-digital handwriting. This is both a reminder of musk's historic importance and an allover decorative graphic design element—uniting the eaux de parfum in the Notes series. Each bottle, however, has its own translucent gemstone color, in this case emerald green–for vitality and hope; and more importantly, this, appropriately, is the sacred stone of the goddess Venus.
Bond No. 9 New York Musk will be sold at Bond No. 9's five New York stores, Saks Fifth Avenue, Nordstrom and bondno9.com. Price: 100ml, $330; 50ml, $260.
–Michelyn Camen, Editor in Chief
Source: Bond No.9