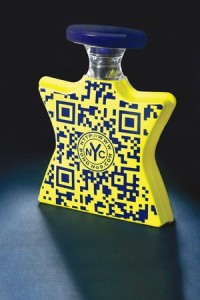 One of the savviest Creative Directors in the fragrance Industry is Laurice Rahme of Bond No. 9. Not only did she make "scents out of New York', she has been using social media for years, amassed 66,772 friends on Facebook, blogs and tweets daily.
Bond No. 9's new fragrance named HTTP://WWW.BONDNO9.COM is Bond No. 9's newest fragrance and bottle doubles as a three-dimensional QR code. Ms. Rahme recognizes that the way we buy perfume has changed; many of us buy online. According to an interview with WWD, "The fragrance business is always doing the same thing and the same thing and the same thing," said Bond No. 9 founder and owner Laurice Rahme. "We wanted to really capture what is going on in the world. Everybody is online. Everybody is mobile. So we have to do a fragrance for that world. It's a different world."
Here is how it will work; customers can snap their smartphones to purchase on the Bond No. 9 site, through ads, in person or via the Bondmobile, which will be covered in the design and buy it virtually.
So what does a fragrance designed to appeal to the "largest village, "the Internet", smell like?

Laurice Rahme and Michel Almairac of Robertet created a shared scent designed to appeal to the digital generation, and is a new direction from the New York Centric perfumes that the Company is known for. The result is a "fresh, fruity, woody" blend of bergamot, pineapple and juniper berry top notes, a heart of apple, blackcurrant and cedarwood and a base of patchouli, moss, musk and amber. "I wanted to create a fragrance in tune with the times," said Almairac of the scent. "A fragrance which looks like [a] digital wave which [is] surfing on bright, contemporary and powerful notes," she said in her interview in WWD.
With 66,772 LIKES on Facebook, there is a built in customer base.

HTTP will launch June 30, 2013, will sell for $250.00 and will be the first in a digital collection which will include two new scents a year.
–Michelyn Camen, Editor in Chief
Source: WWD