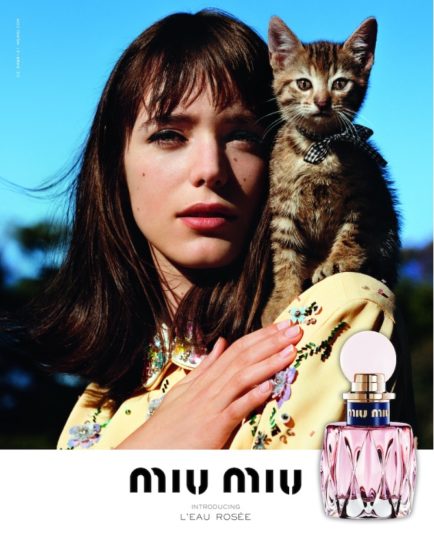 Stacy Martin is the Franco-British muse for Miu Miu / Ad Miu Miu L'Eau Rosée by Alasdair McLellan©
Miu Miu fashion and perfume is the younger and more daring offspring of the Prada range. Miu Miu L'Eau Rosée is an early entry for spring 2018; perfectly timed for Februarys' upcoming "day of love". L'Eau Rosée is a lightened-up Eau de Toilette with a unique aquatic riff on newly blooming roses and black currant buds.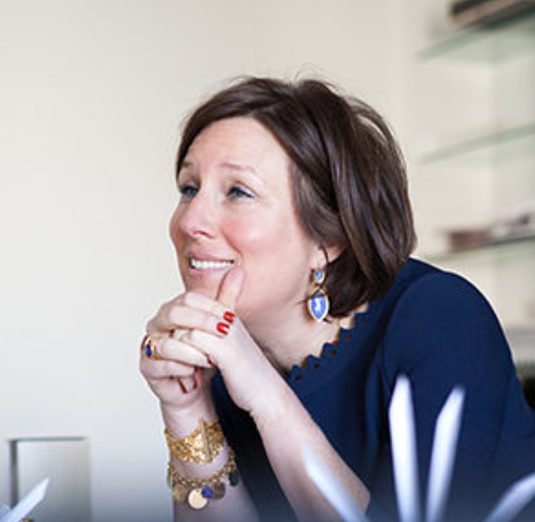 Daniela Andrier is the perfumer (who signed all the Infusions de Prada perfumes among many others for Prada, as well as 2017's mega-smash Tiffany & Co and the uber-sexy Un Amourette Roland Mouret for Etienne de Swardt of Etat Libre D'Orange) and the nose behind all three Miu Miu fragrances including the first in the series which debuted in 2015 simply called Miu Miu (a fine Lily of the Valley).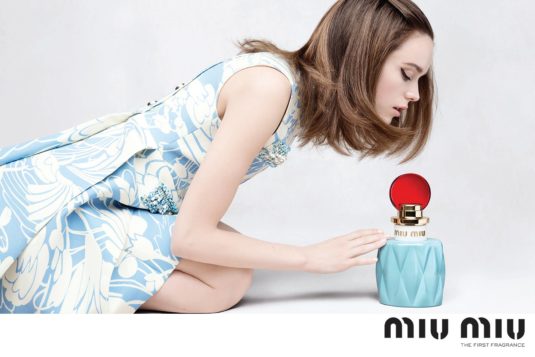 Ad for Miu Miu the first fragrance
The opaque blue bottle designed to resemble quilted Matelassé fabric and topped with the red-banded cap. The flacon is a study in on-point contemporary/mid-century design, and I love that bottle with all my heart. It wasn't until Daniela Andrier's L'Eau Bleue, a "Legere"-style sprightly lightened up version, that I fell hard for the range, and it looks as if the new Miu Miu L'Eau Rosée will be getting a fair amount of wear as well.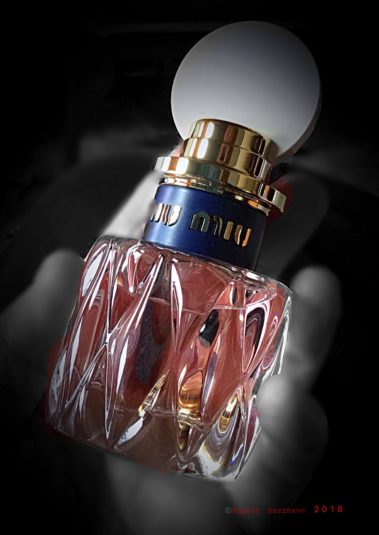 Miu Miu L'Eau Rosée -Robert's bottle
For Daniela Andrier's Miu Miu L'Eau Rosée, the bottle colors have been reversed, so the Matelassé-quilted glass is made clear to better feature the rosé-colored jus, and the red-band around the neck is now navy blue with the house logo in gold. The bottle is hefty, and sits very comfortably in my hand. The word rosée is the first hint that this won't be a run-of-the-mill rose perfume. Rosée means "dew" as in dewdrop, so the focus is rightly so on the bright shimmering early spring vibe; the sparkle of morning mist being hit by early morning sunbeams. It is innocent and decidedly jeunesse.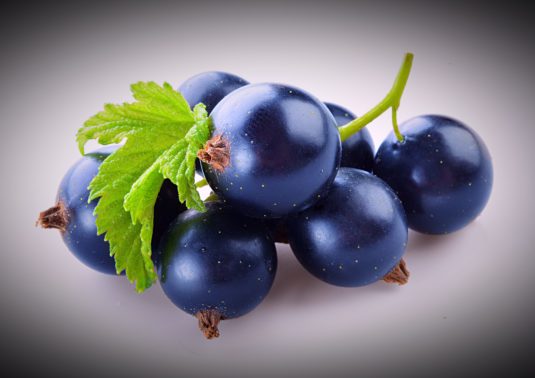 Black Currant/cassis by Robert H
Daniela Andrier's Miu Miu L'Eau Rosée centers on cassis/black currant, which is present from the very first hit of green accord, like the tiny glossy black currant berries on the shrub, peaking through the leaves.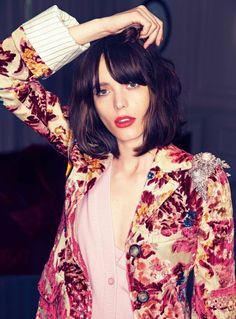 Stacy Martin In 'Siren Call' By David Bellemere For ES Magazine Aug. 5, 2016©
Black currant fruit and juice has been found to relieve depression and angst, and the scent is a fizzy pop of happiness, elusively simple and cheery. The tiny first early rosebuds of the spring add a sweet floralcy and the very slight lily of the valley creates a scent that would be perfectly suited to an Easter Sunday brunch. Miu Miu L'Eau Rosée is in not a complex or sophisticated fragrance, but rather a prime example of a perfume that exists purely for enjoyment and fun. If you are someone who loves deep and complex florientals, this won't be a scent that you would reach for after-dark assignations, but it will be perfect for those days when, finally weary of the long winter months you can at long last throw open the windows and let the sunshine in. Notes: Lily of the valley, cassis buds, rose buds, green accord, musk.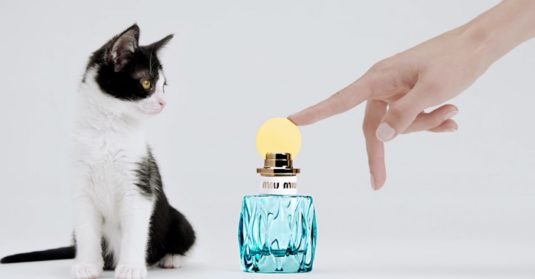 Ad for Miu Miu L'Eau Bleue
My favorite of the three Miu Miu releases still and all would be 2016's Miu Miu L'Eau Bleue, a viviacious interpretation of Lily Of The Valley with added pizzaz and sparkle. Bubbly and fun, L'Eau Bleue is the classic representation of the Miu Miu style of "It" girl, the madcap trustafarian who is always at the epicenter of the newest, coolest, chic-est events and venues in town.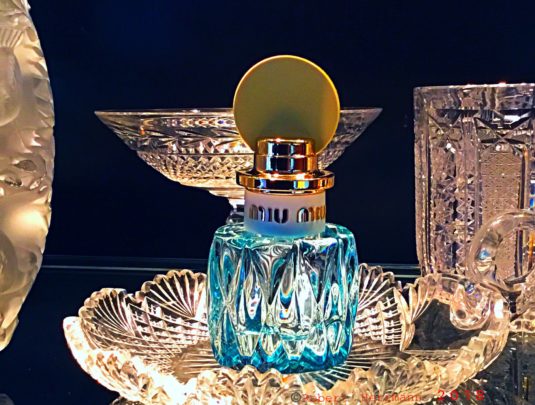 Robert's bottle of Miu Miu L'Eau Bleue
If Miu Miu L'Eau Rosée is an cassis aperitif on the rocks then L'Eau Bleue is an arctic-cold-teeth-chattering flute of Veuve Clicquot Brut Yellow Label chugged, and don't forget to smash the glass on the floor. An almost aldehydic shimmer is what provides the young at heart feeling of L'Eau Bleue, a likely effect of Daniela Andrier's use of Akigalawood©, a proprietary Givaudan fractionalized patchouli molecule that provides an uplifting spicy, peppery feeling. When blended with the muguet, sweet rose accord, and white florals the effect is an electric jolt of happy-juice straight to the brain. Notes: Lily of the valley, wild rose, white floral accord, Akigalawood©
Disclosure: The perfumes and opinions are my own.
–Robert Herrmann, Senior Editor
-Art Direction: Michelyn Camen, Editor-in-Chief
Hsve you tried any of the Miu Miu perfumes by Daniela Andrier? Do you have a favorite?