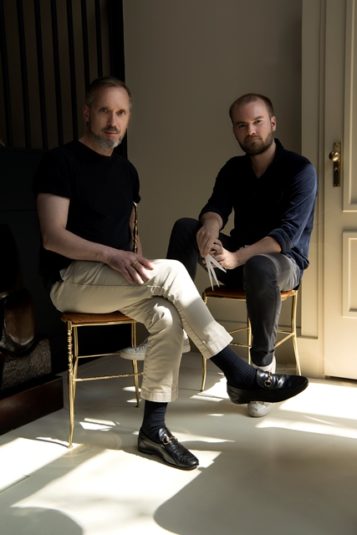 Jeroen Oude Sogtoen and Fredrik Dalman©
Whenever a new artistic collaboration transpires between Maison Mona Di Orio's creative director Jeroen Oude Sogtoen and in-house perfumer Fredrik Dalman, we at ÇaFleureBon feel very honored to be able to share the experience with you, dear readers. Much like any creative marriage, mutual understanding unfolds over the fullness of time and it's thrilling to experience. Their latest perfumed inspiration is an historical and archaeologically significant one, which Jeroen refers to lovingly as "a multi-layered work of glowing olfactive archaeology": an ancient kingdom sought out by many cultures, well-known to adventurer and author T.E.Lawrence (aka Lawrence of Arabia), said to be the place where Moses struck water from stone with his staff, and the burial place of his brother Aaron (Moses' mouthpiece, as he did not suffer from the halting speech which bedeviled his older brother). This is the legendary Nabataea of Mona Di Orio Santal Nabataea.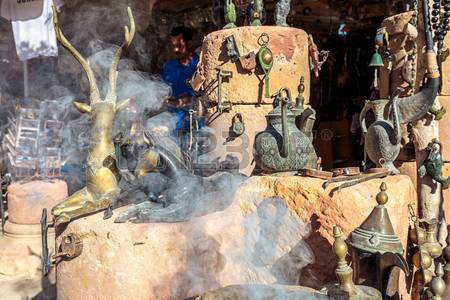 Burning Incense in Petra stock photo
The city of Petra (originally called Raqmu, located in southern current day Jordan) was once a wealthy trading center whose locus was the fortuitous convergence of several essential trade routes – in particular the Incense Route via which aromatics were distributed throughout the Mediterranean. A network of land and sea linking the Mediterranean with the eastern and southern sources of luxury goods (spices, incense) across the Levant and Egypt throughout northeastern Africa and Arabia to India and onward. Petra lay equidistant between the Gulf of Aqaba and the Dead Sea, fatefully poised as the capital city of the Nabataean Kingdom founded by nomadic Bedouins by approximately the 4th century BC.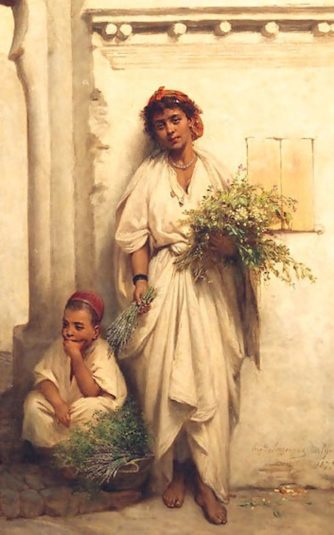 Jean-Raymond Hippolyte Lazerges ~ The Flower Seller via Wikipedia
Chromatic and olfactory counterpoint: astringent, scintillatingly tonic blackpepper prevents honeyed dry Levantine apricot from cloying without cacaphony; each voice is clear and distinct. Black currant leaf imparts a spicy/fruity/woody profile, tea-like in nature, perhaps a fragrant nod to the bounty of ambrosial rarities which were carried and traded at great risk along the Spice, Silk and Incense Routes. Our journey following the caravanserai would feel incomplete without the marvelous shock value of intense desert-blooming florals. Poisonous beauty abounds in the natural world where plants such as oleander freely reign. Certain oleander plants may mimic the aroma of apricots with their lush, intoxicatingly fruity bouquet (white oleanders are said to be the most fragrant among the species). They contribute an astutely accurate and historically appropriate floralcy to Mona Di Orio Santal Nabataea in that they are native/naturalized to the region.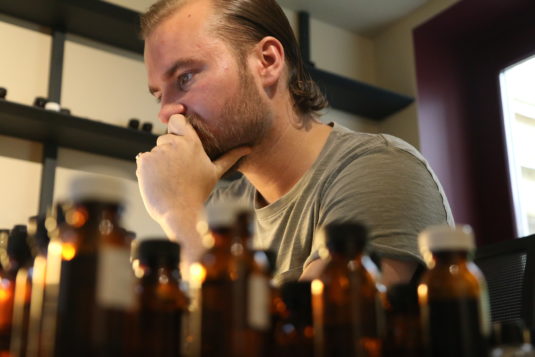 Fredrik Dalman, in-house perfumer for Mona Di Orio©
"The whole of Mona Di Orio Santal Nabataea rests on my attempt at recreating the texture and colour of the sandstone that makes this ancient city so unique. It was important for me to make something modern you see and getting this effect right was something I believed would bring the fragrance and the Nabataeans into the 21st century"-Fredrik Dalman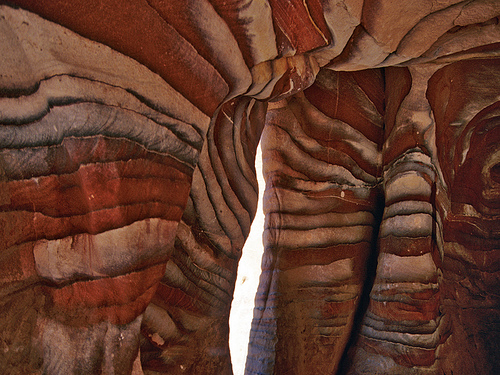 Petra Sandstone via wikipedia©
Per our creative duo, the famous sandstone and its myriad earthy hues are evoked via legerdemain of the perfumer, as coffee absolute lends its characteristic depth and sweet myrrh(aka opoponax) amplifies the plenitude of fine quality sandalwoods which were as precious then as they are now – suave and creamy, voluptuous in texture. If they were a comestible, their mouth-feel would be sinful or sacred. Or both.
Mssrs. Sogtoen and Dalman have given us something contemporary and timeless to contemplate at length, and the odyssey is captivating. Notes: black pepper, black currant leaf, dried apricot, oleander, opoponax, sandstone, sustainable santalum album Australia, santalum album India, coffee absolute
Sample generously provided by Jeroen Oude Sogtoen; many thanks! My nose is my own…
~ Ida Meister, Senior Editor
~ Art Direction: Michelyn Camen, Editor-in-Chief:It is with great pleasure that we introduce Mona Di Orio Santal Nabataea to the world. I can think of no writer who could capture its beauty the way Ida did. Thank you to Jeroen and Maison Mona di Orio…you honor us
Mona Di Orio Santal Santal Nabataea will be available in 75 ml EDP/195,00 euro in September 2018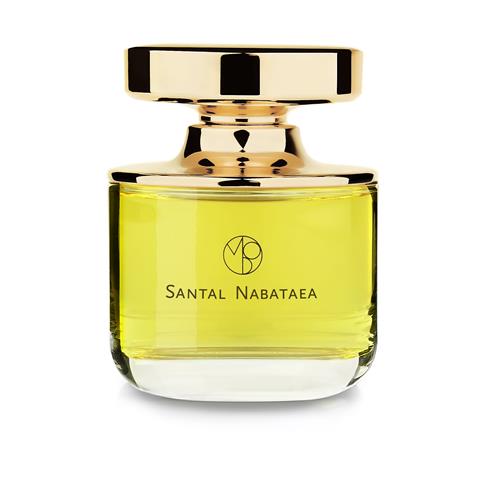 Thanks to Maison Mona Di Orio, we have an avant premier sample of Mona Di Orio Santal Nabataea for one registered reader worldwide. To register click here. To be eligible, please share with us what appeals to you about Ida's review and where you live. If you have a favorite Mona Di Orio perfume please share it with us!!! Draw closes 6/9/2018
We announce the winners only on our site and on our Facebook page, so Like Cafleurebon and use our Site feed…or your dream prize will be just spilled perfume