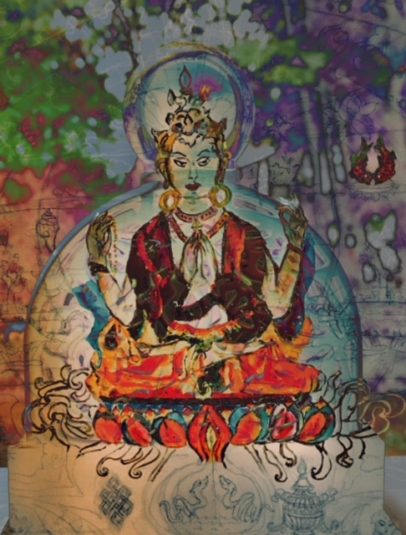 Avatamsaka Art and M. Micallef Secrets of Love Spiritual flacon by Gail Gross©
"…being a perfumer symbolizes the combination of …noumenon and phenomenon, nirvana and samsara, the ideas of defilement and purity, all into one…" – from Li Tongxuan's commentary on the Avatamsaka Sutra, translated by Thomas Cleary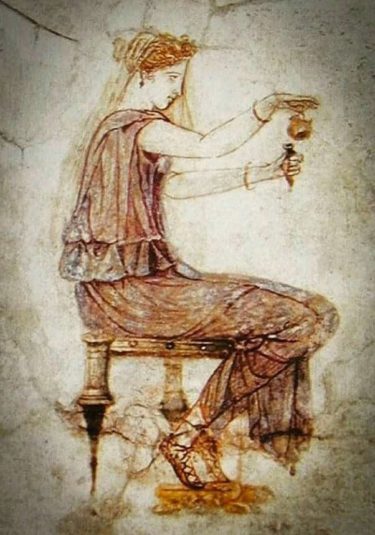 Villa Farnesina Girl pouring perfume into a bottle
For countless eons, the material world and the "otherworldly", the concrete and the spiritual, have been revealed to sentient beings by means of natural and created scents. Perfumes, incense, balms, chrisms and fragrant anointing oils were formulated not only for pleasure and ritual, but also to entice, arouse, calm and otherwise create altered states of consciousness. As "perfumisti", many of us experience the essence, the spirit of the ineffable, every time we direct our noses toward a favorite fragrance. I find it an intriguing paradox that olfaction, perhaps the most primal and basic, the most grounding of the senses, reveals and encourages its opposite – the spiritual and the ethereal.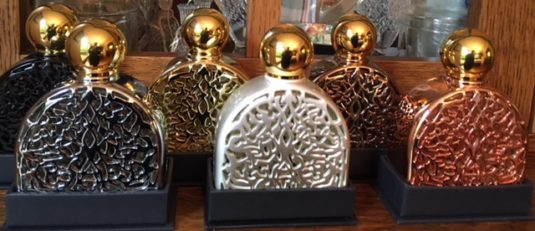 Gail's collection of M.Micallef Secrets of Love
I have been reviewing and enjoying the M. Micallef Secrets of Love series of fragrances since they were first offered in 2016. M. Micallef Délice, Sensual, Passion, Glamour and Gourmet (2017) are each spectacular perfumes, housed in heavy, ornate cutwork bottles, artistic celebrations of the five senses, spotlighting the joy and love of life.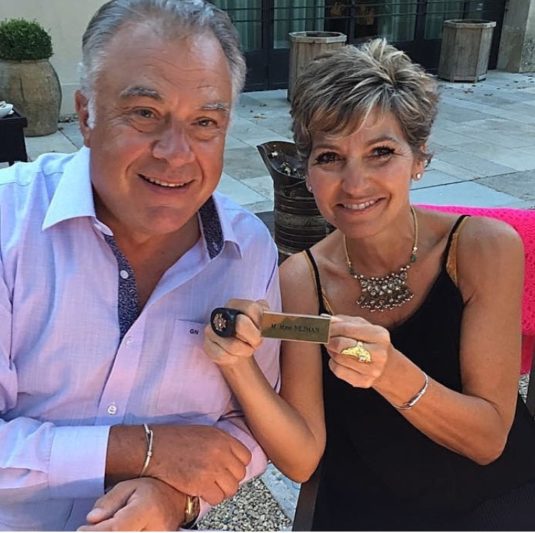 Geoffrey Nejman and Martine Micallef of Parfums M. Micallef via Instagram
With the new M. Micallef Secrets of Love Spiritual, Martine Micallef, Geoffrey Nejman and Jean-Claude Astier venture into an unseen landscape, an "imaginal" world.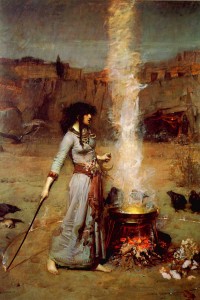 The Magic Circle by John Williams Waterhouse©
Love of perfume might seem more an "affirmation of the profane" than an invitation into the realm of sacred reality. But as humans, residing in mortal bodies, negotiating this universe of desire, our first powerful connections with the spiritual can only be made through the physical, by way of the senses. M. Micallef Secrets of Love Spiritual is a perfume that features the sensibilities and polarities of feminine and masculine, darkness and light, melded into one transcendent olfactory vision.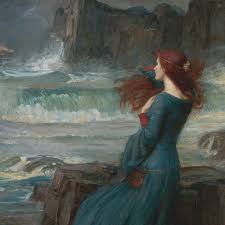 Detail of MirandaThe Tempest John Williams Waterhouse
M. Micallef Secrets of Love Spiritual greets me with the bright fizz and "spritely" pop of pink pepper. As tendrils of bergamot and jasmine weave their way through the red berries, the deceptively fragile opening – a Shakespearian Ariel perhaps – magically shifts from one sparkling form to another. Within moments the darker, deeper base, a shadow of the Tempest's Caliban, makes its presence known.
John Singer Sargent Fumee d'Ambre Gris Smoke of Ambergris
The heavy sweetness of benzoin, smooth vanilla and the earthy funk of ambergris begin to infiltrate the bright spirit, uniting body and soul in marriage of opposites. As W.H. Auden put it in "The Sea and the Mirror" (his poetic commentary on Shakespeare's Tempest): "…Elegance, art, fascination, fascinated by …mortality…" In M. Micallef Secrets of Love Spiritual, fragrant wraiths of pepper and jasmine melt into the rich deep body of earth, imbuing the perfume with a unique vibration, a fragrant message of unity that resonates with men and women alike. The spirits of the air, the earth and the sea dance for hours on my skin, dissolving at last – a dream of cedar wood evaporating into one final, unearthly sigh of vanilla and ambergris.
From the Avatamsaka to the Tempest, from Buddha, to Shakespeare and thence to Auden, M.Micallef Spiritual guides me, by association and metaphor, on an amazing transcendental ride, a spiritual journey revealing, in scent, the 6th Secret of Love. Notes: Rose berries (pink pepper), bergamot, jasmine, cedar, ambergris, vanilla and benzoin.Disclaimer: I would like to thank Parfums Micallef for my cherished bottle of Secrets of Love Spiritual. My opinions are my own.
Gail Gross – Senior Editor
Art Direction: Michelyn Camen, Editor-in-Chief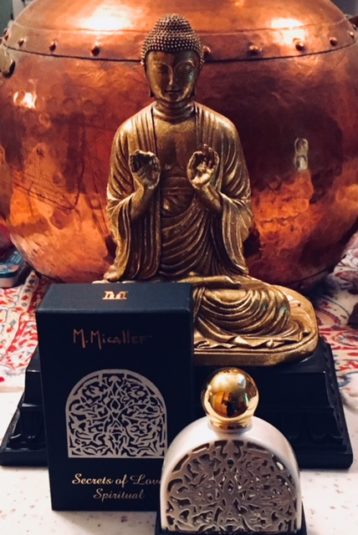 Photo of M. Micallef Spiritual by Gail©
Thanks to the generosity of Parfums M. Micallef we have one 75 ml bottle of M.Micallef Secrets of Love Spiritual for one registered reader anywhere in the world. Be sure to register or your comment will not count). To be eligible for the draw, please let us know where you live, tell us what appeals to you about Gail's review of Secrets of Love Spiritual and if fragrance has ever altered your state of consciousness or if you have a favorite M. Micallef perfume. Draw closes 9/14/2018Follow us on Instagram @cafleurebon @parfumsmicallef @azarsmith7
We announce the winners only on site and on our Facebook page, so Like Cafleurebon and use our RSS feed…or your dream prize will be just spilled perfume.