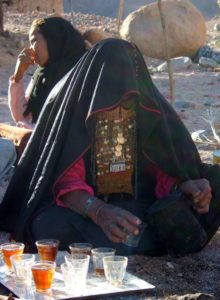 Bedouin Woman Pouring Sweet Tea Photo by Annigje Franssen — National Geographic©
"Unlike water or wine or even Coco-Cola, sweet tea means something. It is a tell, a tradition. Sweet tea isn't a drink, really. It's culture in a glass." – Allison Glock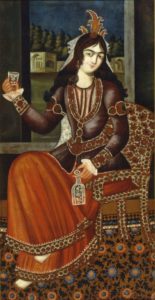 Iran, Tehran painting of a Seated Woman, oil on cotton, late 18th century
I have a very large collection of beloved M. Micallef perfumes. Whenever a new Micallef comes into my life, I savor every visual, tactile and scented element. Parfums M. Micallef Ananda Tchaï, the fourth addition to the "Ananda Collection" (including Ananda, Ananda Black and Ananda Dolce), was introduced this year at Pitti Fragranze 2017 and recalls the "chai shirin", the spiced, sweet tea of my past; tea carefully sipped from tiny glass cups through pieces of white, powdery cone shaped sugar.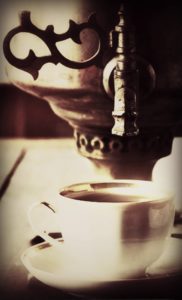 Samovar photo via The Silver Fox©
Eleven years ago, when we moved from our 100-year-old house to a "new" 50-year-old house, I gave our daughter the functioning antique samovar (older than both houses put together). We replaced this old charcoal burning water heater with a new 4 liter Japanese electric water pot. Despite the fact that I had rarely used the samovar and that the new device was fast, easy and totally practical, it didn't take me long to realize that I missed the old beast.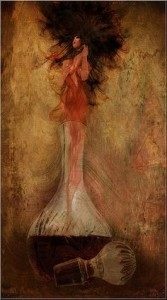 Genii in a bottle via flickr
I missed the shape of the samovar and the gleam of brass that promised more than just hot water. There seemed to be a genii or some kind of enchanted spirit that resided in that old vessel, a presence that called forth countless memories of family gatherings, the colors of magic carpets and the scent of sweet spiced teas.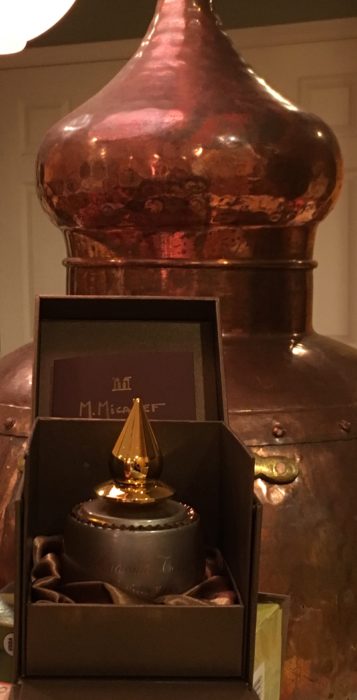 Ananda Tchai photo and alembic still by Gail©
My first experience of Ananda Tchaï was the carefully constructed bronze colored presentation box lettered in gold, opening to a glowing tea colored satin. Snuggled into the warm and gilded linings of the box I found an alembic shaped flacon, pearlized and colored in sugared tones of tea, adorned with sparkling coppery/bronze Swarovski crystals and crowned with a golden cap.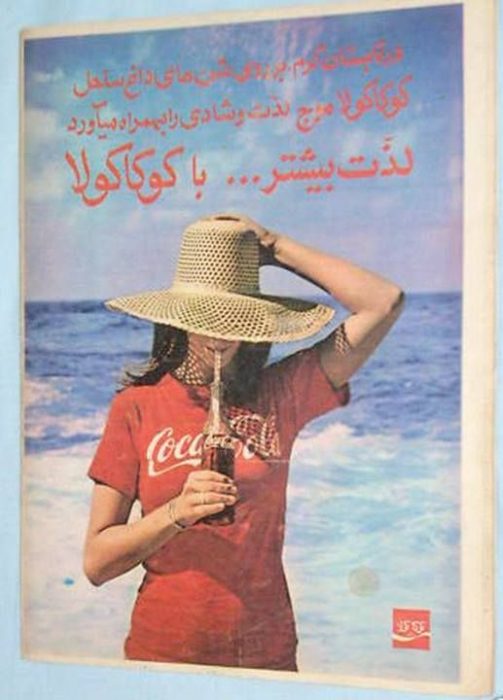 Coca-Cola advertisement in Iran (1970's)
Ananda Tchaï is a tea lovers dream. I find I am immediately refreshed by the slightly fizzy, "cola"-like, tannic aromas of Russian or perhaps Persian tea infused with a breath of bergamot and citrus, spiced with nutmeg and what I perceive to be cardamom.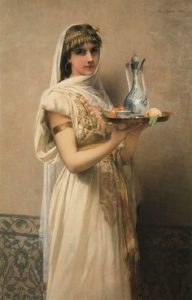 Jules Joseph Lefebvre – Serving Tea
This is the tea I remember brewing in the teapot that perched on the crown of the old samovar. At about ten minutes a milky, almost nutty presence begins to swirl through the scent, eddying in fractal patterns like the foam on a cup of chai latte. A sheer veil of powdery heliotrope coupled with fresh, green herbal elements add yet another dimension to the heart of Ananda Tchaï.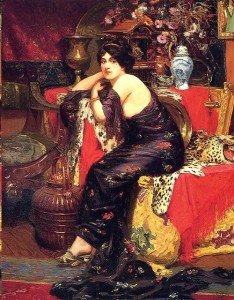 Frederic Louis Leve: Harem Beauty seated on a leopard skin
The next hour reveals the lush florals, deep red rose and ylang-ylang embraced by golden, ambry woods. The long dry down, including vivid and pronounced facets of cedar, woods and spices, quiets after 24 to 48 hours, to a calming whisper of vanilla, nutmeg and the sheerest of musks. The sillage, at first, is quite bold but quickly melds with and suffuses the skin, radiating a golden aura that lasts for the entire long life of Ananda Tchaï.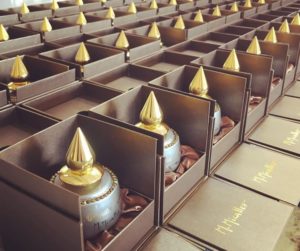 Ananda Tchai via Instagram @boutiquemmicallefme
The word, "Ananda", means bliss or serenity in Sanskrit. The presentation, the stunning flacon designed by Martine Micallef and the fragrance created by Jean-Claude Astier and Geoffrey Nejman come together to recreate my memories of spiced tea, the serenity of Ananda and the aromatic bliss that is Ananda Tchaï.
Notes: Bergamot, lemon, tea, heliotrope, nutmeg, thyme, fern ylang-ylang, rose, precious woods, vanilla and amber.
Disclaimer: I would like to thank Parfums Micallef for the much-treasured bottle of Ananda Tchaï. My opinions are my own.
Gail Gross – Editor
Art Director: Michelyn Camen Editor-in-Chief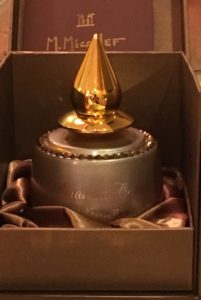 Photo:Ananda Tchai by Gail©
Thanks to the generosity of Parfums M. Micallef we have one 50 ml bottle of Ananda Tchaï available to one registered reader anywhere in the world (be sure to register). To be eligible for the draw, please let us know where you live, what appeals to you about Gail's review of Ananda Tchaï and your favorite M. Micallef fragrance. Draw closes 9/22/2017
We announce the winners only on site and on our Facebook page, so Like Cafleurebon and use our RSS feed…or your dream prize will be just spilled perfume.