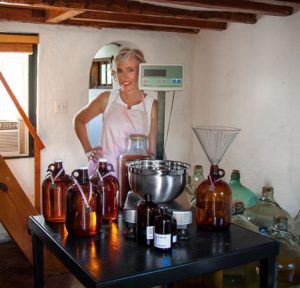 Isabelle Ramsay Brackstone
Once upon a time, long ago and far away, the first snowfall of the season found me prepping for skiing adventures on the slopes of the Alborz Mountains of Iran. Today when the early flakes drift from the grey skies of the Pacific Northwest I have much warmer climates in mind. As the snow falls on the maple leaves I long for the tropics. One dream destination, the Island of Bermuda, latitude 32º N and longitude 64º W, promises balmy breezes, comforting sunshine and glimmering seas. This winter I don't plan to travel and will probably be getting my tropical fix from the exotic plants and flowers that bloom in my greenhouse. But even if I can't make it to Bermuda, I know that I can indulge in a tropical experience with perfumes created by Isabelle Ramsay-Brackstone at her Lili Bermuda Perfumery located in historic Stuart Hall in St. Georges township, Bermuda. Lili Bermuda 32º N and 64º W magically reset my olfactory coordinates.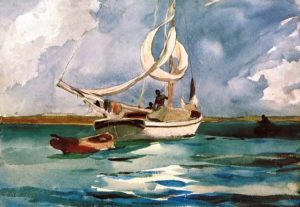 Winslow Homer Sloop
Lili Bermuda 32º N represents the sailing side of the island. A translucent fougere, it opens with a brisk, minty citrus and a gust of cool, wet sea spray, suggesting ocean breezes refreshed with basil and neroli. For an hour and more I imagine the ocean air, wind in my hair, green seas and the bluest of skies. The ocean adventure that is 32ºN gradually calms as a subtle zephyr of lavender, geranium, green herbs and white musk replaces the citrus and mint.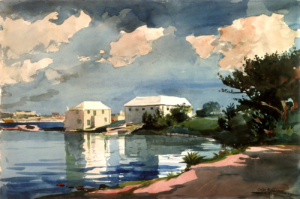 Winslow Homer
Smooth sailing continues for another three hours until the dry down returns me from the sea to the island and to the dry juniper aromas of the native Bermuda cedar (Juniperus bermudiana). The invigorating experience of 32º N enlivens my spirit with fragrant optimism, the perfect clean scent for a hot summer day or a happy "pick-me-up" on a dreary winter afternoon. Notes: Mandarin, basil, green mint, lavender, neroli, marine notes, Bermuda cedar and white musk.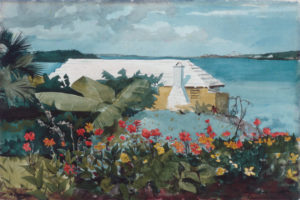 Flower Garden and Bungalow, Bermuda Winslow Homer
While I imagine 32º N perfume as an early morning sail, the complimentary fragrance co-ordinate, Lili Bermuda 64 º W, is an exploration of the native and introduced flora of the gardens of Bermuda. Both perfumes have aquatic elements expressed in very different ways.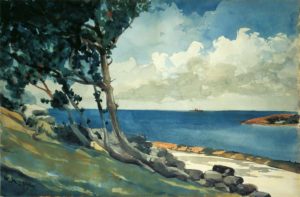 North Road, Winslow Homer
From my first moment with Lili Bermuda 64º W, I experience the green spicy aromatics and wetness of crushed leaves. The resinous, fruity qualities of Surinam cherry leaf are enriched with the pungent camphor-esque odors of sage and the sweet herbaceous pepper of Elemi. I imagine rubbing a variety of green leaves together in my hand – dusty grey-green wild sage, glossy dark green leaves of Surinam cherry (known to me as Florida cherry – Eugenia uniflora) and Bermuda cedar needles filled with resinous, woody sweetness. The scent remains close and it is often hard to tell where the perfume of one leaf ends and the other begins. There are also elements of ginger, coriander and black pepper in the mix, buoyed up by a sparkling, pointed grapefruit note. The effect is, once again, invigorating and full of optimism, lasting a good five hours before beginning a dry down to yet another facet of green – vetiver with just a hint of patchouli. After eight hours I finish my walk through the gardens of Bermuda, taking with me unforgettable memories of herbs, amber and musk. Notes: Surinam cherry leaves, ginger, grapefruit, Bermuda cedar, wild sage, elemi, vetiver and patchouli.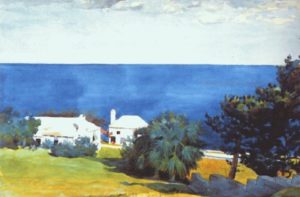 Shore at Bermuda, c.1899 – Winslow Homer
The olfactory coordinates of 32º N and 64º W are vacations in bottles, two fragrances that recall the contrasting and complimentary beauty of the sea and the land, the spirit of the ocean and the wind playing with the floral children of the island of Bermuda.
32º N and 64º W as well as the other perfumes in the Lili Bermuda line, can be ordered at lili bermuda.com or purchased at the Bermuda Perfumery: Stuart Hall, 5 Queen Street, St George's, Bermuda.
Disclaimer: Many thanks to Isabelle Ramsay-Brackstone and Lili Bermuda for the comprehensive Scent Libraries for both Men and Women which make fabulous holiday gifts. My opinions are my own.
–-Gail Gross, Editor
Art Director: Michelyn Camen, Editor-in-Chief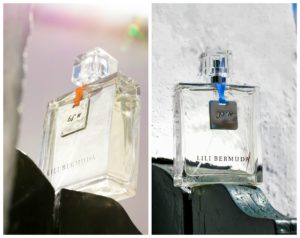 64ºW and 32º N
Thanks to the generosity of Isabelle Ramsay-Brackstone and Lili Bermuda we have a choice of one 100ml bottle of 32º N OR one 100ml bottle of 64ºW available to one registered reader anywhere in the world. Be sure to register or your comment will not count.. To be eligible for the draw, please let us know where you live, tell us what appeals to you about Gail's review, choose which of the two fragrances or if you would prefer to enter for a scent library either Men and Women you would like to win and let us know if you have tried any Lili Bermuda perfumes. Did it snow this week where you live?
Follow us on Instagram @cafleurebon and @lilibermuda
We announce the winners only on site and on our Facebook page, so Like Cafleurebon and use our RSS feed…or your dream prize will be just spilled perfume