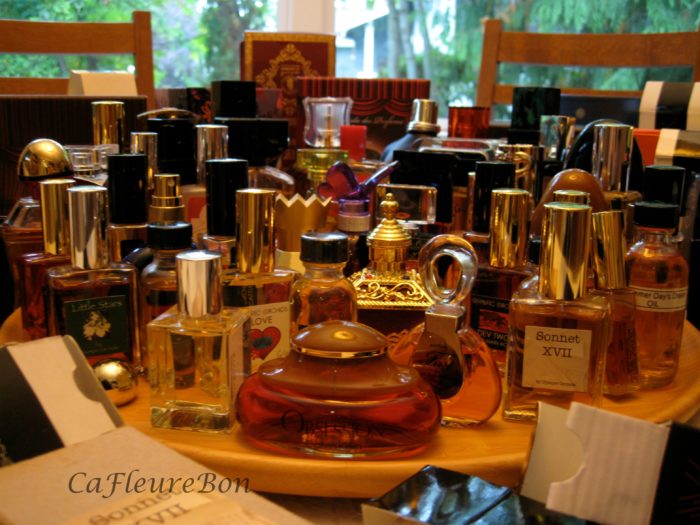 Vintage Guerlain Samsara EdP, Monasterium Ettalense – Ettaler Bonus Odor No. 1 EdC pour femme (one of my favorite colognes) – top left center, Van Cleef & Arpels vintage parfum – lower right center, Haramain Attar al Kaaba – center, Todd Oldham vintage EdP – center to the left, Obsession vintage cologne – center front, Olympic OrchidsSonnet XVII
A bounty can be a blessing – or a burden. How much perfume is too much? I've been wondering about this of late, as my collection seems to be multiplying exponentially, spreading from its original location in the cellar storage room to every nook and cranny of the house.
Amouage Memoir Women – center,Opium vintage EdT – last row center, Bal a Versailles parfum vintage – left of center, Viktoria Minya Hedonist – center right, Aramis Calligraphy Series, Femme Rochas, vintage – top center left, Bourbon French Oriental Rose – center
In order to bring some sort of order to the chaos, I recently photographed my fragrance cache. I did not include the countless 3 ml attars, mukhallats, ouds and essential oils. I also did not photograph most of the commercial minis and totally ignored all decants and samples of 10 ml or less. (I will leave those as grist for another mill.)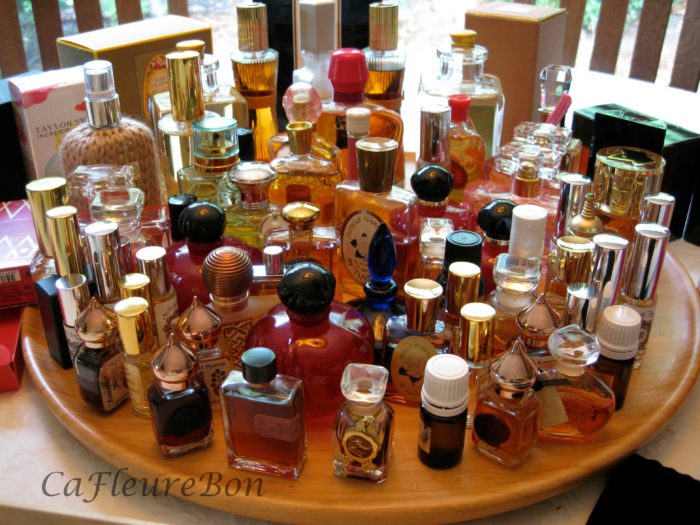 Red Moscow, vintage – upper left of center, Vero Mito EdP – left of center, Kenneth Corey Rosa Ardiente – bottom center left, Dior Hypnotic Poison, early vintage EdT – center, Rosarium Blends The Rosarium – bottom center left, Anat Fritz Tzora – upper left, Paco Rabanne Calandre vintage parfum – center left, Estee Lauder Amber Nude – back row
Even with these exceptions, the count topped out at close to 600 bottles of fragrance, roughly 10% are duplicates. Is this too much of good thing? Possibly…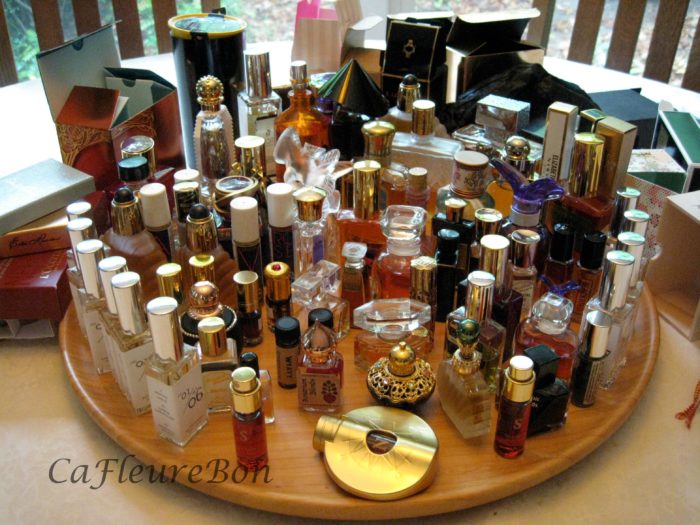 O'Driu Peety – center top, Note Fragrances Blood Orange Chocolat – top center left, Coty Emeraude vintage parfum – center, L'Occitane Notre Flore Neroli EdP – center, L'Air du Temps vintage parfum – upper center, Micallef for Her Jewel for her – right back, Boucheron Trouble vintage EdP – center left, Elizabeth Taylor Black pearls vintage
I know, all too well, how I ended up with this stash, I still find myself wondering when "enough" crosses the line and becomes "too much". Are there some serious psychological issues that I need to address or should I just go with the volatile flow, jettison the guilt and make sure to store this stuff as far from open flame as possible?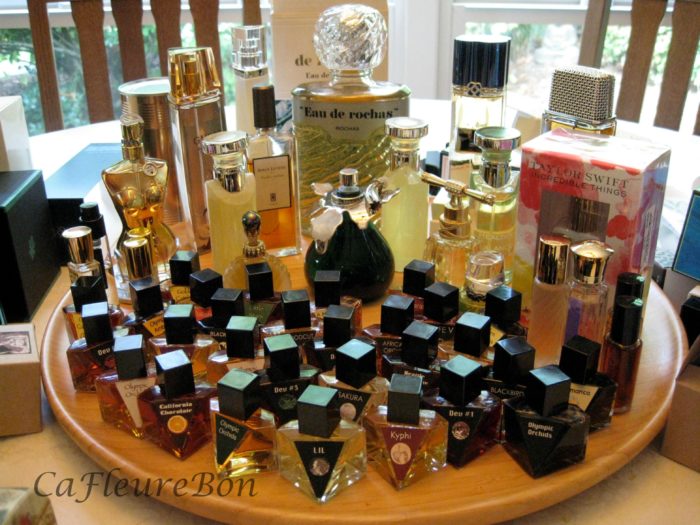 Collection of Olympic Orchids 15 ml – front, L'Artisan Parfumeur Premier Figuier Extreme – center, L'Artisan Parfumeur Mure et Musc – far right, Serge Lutens Ambre Sultan – upper left center, Jean Paul Gaultier Classique Intense – upper left, Lancome Climat parfum – mid right center covered
Although I have been accumulating fragrance for more than half a century, this recent attempt to organize has me wondering about the difference between a socially acceptable "collection" and an out of control "hoard".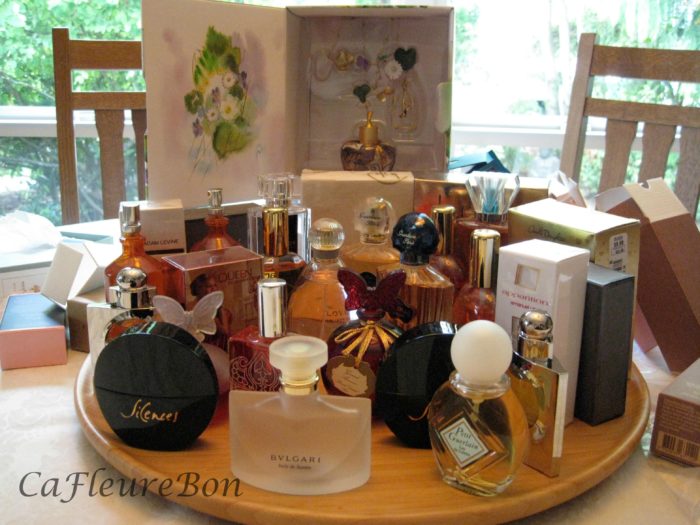 Curve Kicks – left top, Annick Goutal Grand Amour EdP – center, Jacomo Silences vintage – left and center, Guerlain Shalimar colognes – center right, Sarah Horowitz Perfect Gardenia – center left, Guerlain Petit Guerlain – center right
Hoarding, from what I understand, is often the manifestation of neurosis, the result of an irrational fear of scarcity, of not (or never) having enough. In the case of perfume, perhaps a dread of discontinuation fuels a fear of running out.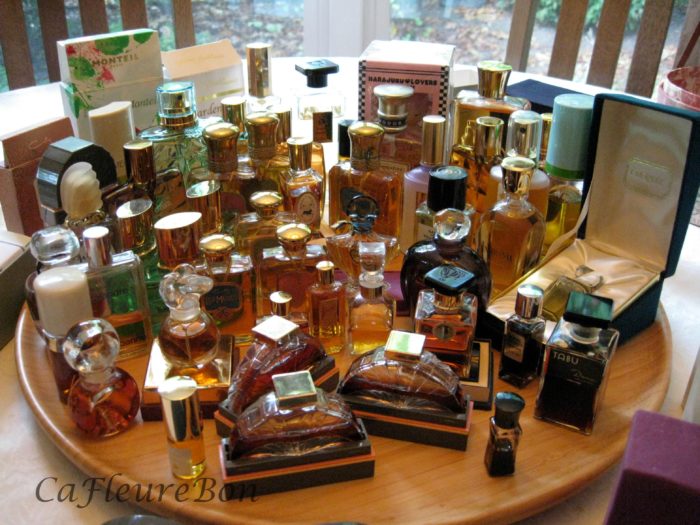 Lagerfeld KL parfums vintage – center, Jungle Gardenia vintage parfum – upper center, Coty La Rose Jacqueminot, EdP and EdT, 1980s – center and top center left, Coty Chypre, EdP and EdT, 1980s – center and top center left, Coty Les Muses, EdP and EdT, 1980s – left of center and top right of center, Shiseido Message from Orchids Orange Cattleya – hidden behind Imprevu on the right, Shiseido Message from Orchids Dendrobium – hidden behind Dior Poison and Chanel No 19 on right, Lanvin Spanish Geranium – top center in back, Tabu vintage parfum – center front right, Germaine Monteil L'eau de Monteil – back left
I admit to a bit of hoarding, stockpiling and prepping, but I've convinced myself that I am more of a collector than a hoarder.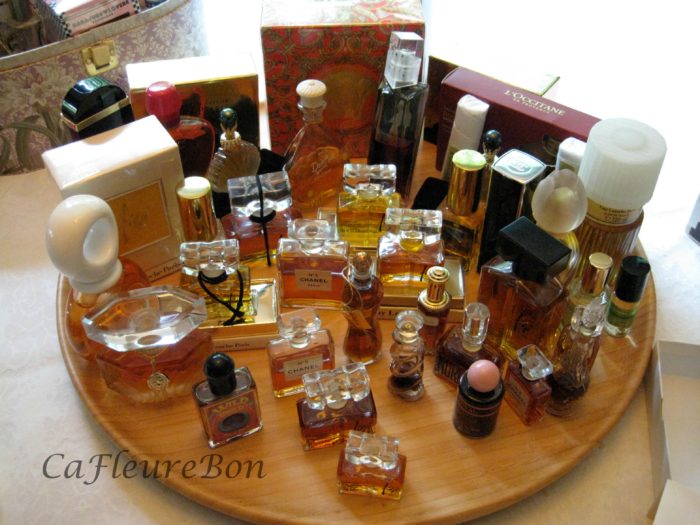 Various vintage Fidji parfums, Fidji bath oil, Fidji du Soir. Other version of Fidji are in different photos. Norell parfum vintage – center right, Lucien Lelong Sirroco parfum, vintage – right center, DSH Mata Hari – center, Opus Oils Wild Child – left front, Charles of the Ritz Ritual parfum vintage – left front, Givenchy Hot Couture – back row center right, Madam Rochas vintage parfum – center right, Chanel No. 5 vintage parfums, Royal Secret vintage parfum – far right hidden
While hoarding is prompted by a fear of "running out", collecting seems to be driven by the equally powerful fear of "missing out", by insatiable desire, obsessive curiosity, a craving for and an addiction to new olfactive experiences, the excitement of the hunt and the satisfaction of acquisition.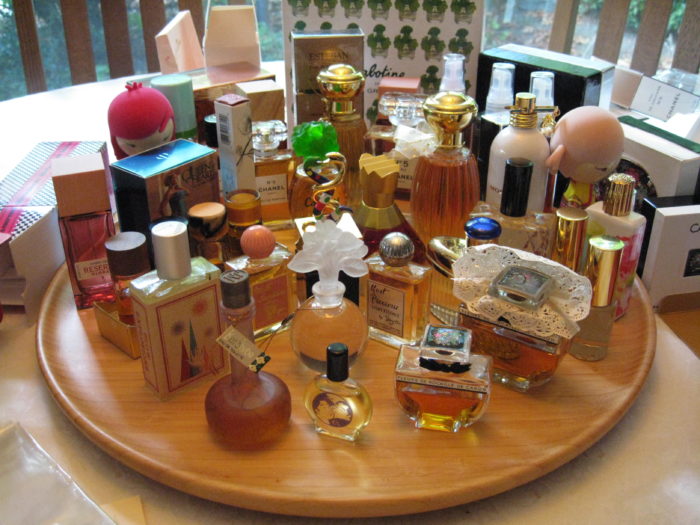 Judith Muller Bat Sheba – left front, Caron Fleurs de Rocaille, vintage – right, Annick Goutal Gardenia Passion and Songes – center and right, Montale White Oud – right top, Various Chanel no 5 perfumes,Imaginary Authors Slow Explosions – left, Niki de Saint Phalle, vintage parfum – center, Faberge vintage – left, Esteban Oriental Spice – back row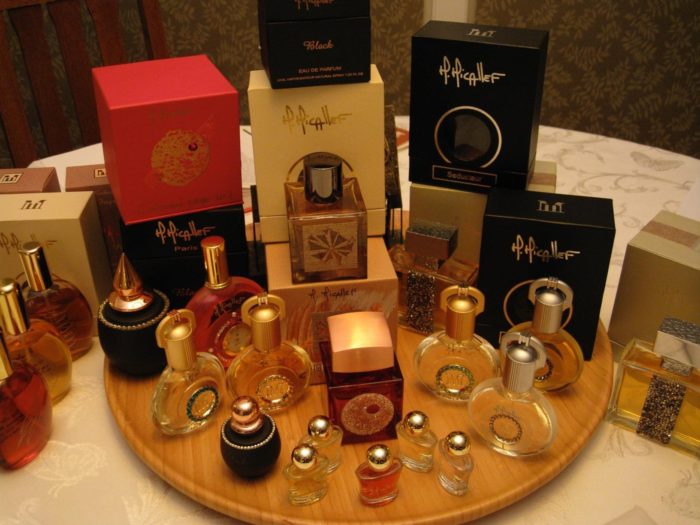 Parfums M Micallef – I love all perfumes by M Micallef
There are also social aspects involved in collecting perfume. The fear of missing out can evolve into "keeping up with the Joneses" and become a compulsive drive towards "being on trend".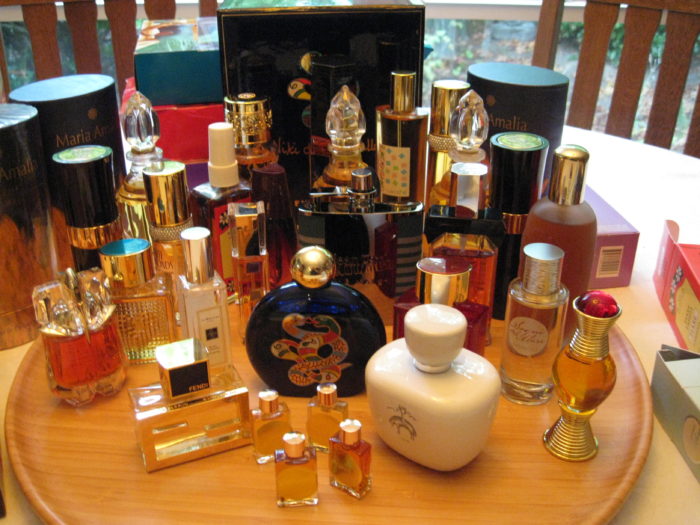 Fan de Fendi – left, Morris Maria Amalia – top, Brooks Brothers Black Fleece – right front, Clinique Aromatics Elixir vintage – right, Basile by Basile EdP vintage – right
While I admit to occasional "lemming" behaviors, instead of coveting the new and trendy, I lust after the old and discontinued.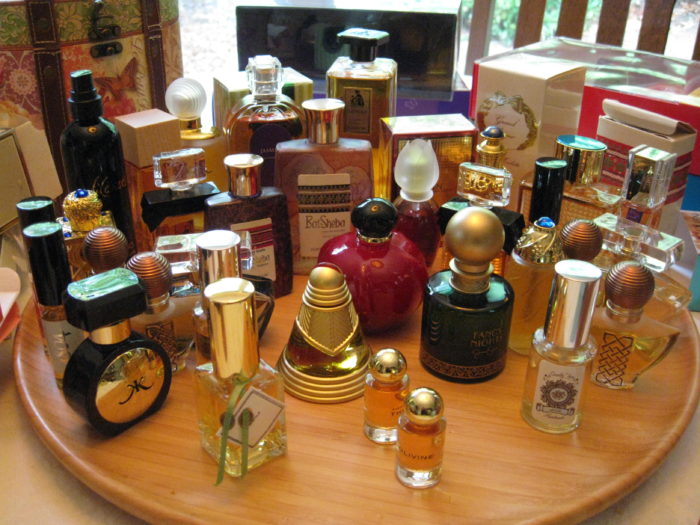 Sweet Anthem Lolita – left front, Swiss Arabian Dreams of Romancia – center, Rhumba – back left, Rasasi Amber Oud – back row center left, Molinard Jasmin – back center left, Olive Atelier, Olivine and She belongs There – center
Another societal factor that can result in large collections is the idea of fragrance as affordable luxury. A teen on an allowance, a young householder on a limited budget or a retiree on a fixed income can purchase a perfume and experience a taste of the same indulgent pleasure enjoyed by the more affluent among us.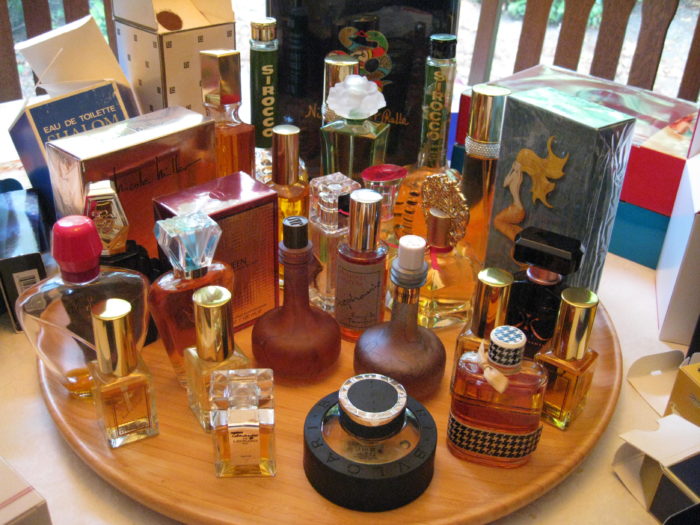 Diorissimo vintage – right front, Bulgari Black – center, Leonard Tamango parfum – left center front, Sirocco Cologne vintage – back row, Michael Storer Stephanie – right center, Adrien Arpel various soliflores, Judith Muller various – center, Queen Latifah Queen – left center, Orlane Fleurs d' Orlane – left
Brand recognition also figures into "luxurious" purchases. I have to say that I have never really given much credence to brand names and have always considered fragrance much less a luxury than a necessity, like food or medicine.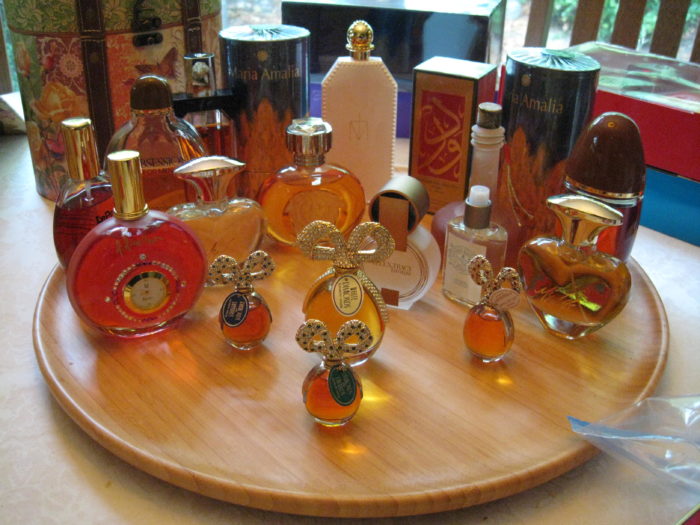 Versace Blonde EdP – center back, Madonna Truth or Dare – center back, Mary J. Blige My Life and Blossom – right and left, Various Elizabeth Taylor parfums – center
Yes, I do have a lot of perfume. I also have distinct olfactory images of each scent. Will enough ever be enough? Honestly, I don't know. I do know that fragrance remains a popular collectable because bottles of perfume are so much more than life-less things that takes up space. A collection of fragrance is a garden of experiences and memories that can be relived again and again.
Do you have a hoard or a treasure trove of perfume? Is it too much, not enough or is your collection just right? How many bottles do you own? Do you covet more?
Disclosure: I purchased 90 percent of these fragrances, others were given to me for review over the years.
Gail Gross – Sr. Contributor