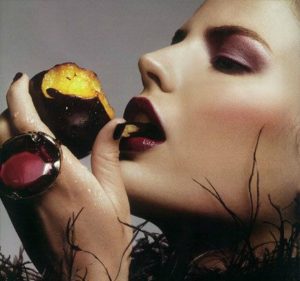 Make-up by Dick Page – Photography by Michael Thompson – Allure Magazine
Plums are ripe here in the Pacific Northwest, USA. Today I begin my annual plum extravaganza, picking, washing, pitting and preparing this year's bumper crop of fruit. Hours of work are ahead of me but at this moment, before the dawn of what will be a very hot and sunny day, before I tire of the scent of plums, I am enjoying a spritz of a gorgeous plummy fragrance, last year's Guerlain exclusive, Ne m'Oubliez Pas.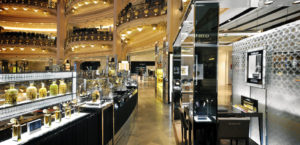 68 CHAMPS ELYSEES GUERLAIN BOUTIQUE photo Guerlain.com
In September 2015, Guerlain aficiando writer "Monsieur Guerlain" had this to say about NMOP: "For the first time ever, Guerlain releases a perfume whose availability is strictly limited to the Champs-Elysées boutique … At a time when everything is attainable online and made to reach the maximum number of consumers, Guerlain wants to make a statement about exclusivity and hard-to-come-by luxury." – monsieurguerlain.com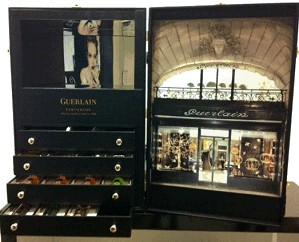 Guerlain Exclusive Fragrance Experience (photo CaFleureBon 2011)
The notion of exclusivity in fragrance has always been a problem for me. Owning a bottle that not just anyone can purchase is simply not my style. In fact, I like to imagine that I am unique, just like everyone else! And – as far as scent goes – we ARE all unique. Personal chemistry, last night's dinner, location on planet earth, atmospheric pressure, humidity and yes, even age, will help to create a personal scent profile and effectively modify whatever fragrance we apply to our skin. The more I understand olfaction the more I realize that every one of us is a "scented exclusive".
With that in mind you might be wondering why a plum pickin' anti- exclusionist is spritzing last year's Guerlain exclusive. Just how did I get a hold of that fragrance, anyway?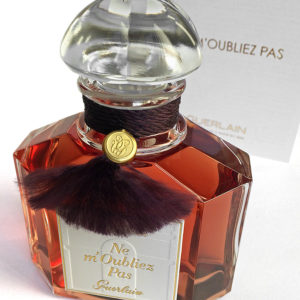 Photo of Ne m'Oubliez Pas GUERLAIN from Monsieur Guerlain monsieurguerlain.com
Last year a dear perfume pal received Ne m'Oubliez Pas as a gift. She decanted 2 ml from her treasure and sent the sample to me. Understanding my aversion to traveling and preference for purchasing online, my friend wanted me to experience this Guerlain exclusive without the hassle and expense of air travel or of "going shopping". I will remember her thoughtful, generous gesture long after every drop of "Forget Me Not" (which is Ne m'oubliez pas translated from the French, and ironically the flower has no smell) is gone.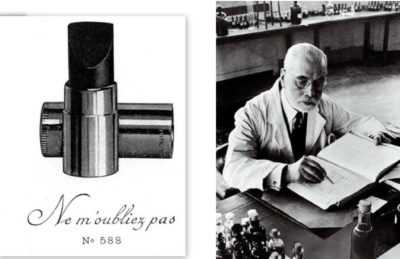 Jean Guerlain and vintage Ne m'Oubliez Pas lipstick circa 1870
Jacques Guerlain created the first Ne m'Oubliez Pas perfume in the 1920s and named it for the company's 1870 revolutionary tubed lipstick. In 2015 Thierry Wasser composed the new version of the fragrance. My first impression of NMOP is of cool, not quite ripe plums, infused with dusty, honeyed immortelle, cinnamon and the sweet, nutty mint of cardamom.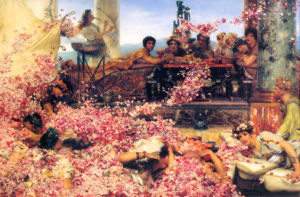 The Roses of Heliogabalus" (1888), by Sir Lawrence Alma-Tadema. "
As the fragrance retreats to the skin NMOP is rescued from the realm of gourmand desserts by a touch of cumin. The spicy rose combination that develops reminds me of advieh, a Persian culinary seasoning. Ne m'Oubliez Pas warms up as it dries down, evolving to a sparkling bouquet of roses, carnation and immortelle. The spices remain in place as the fragrance fades to a memory of vanilla, amber and oakmoss. Despite the kick of cumin, NMOP is well behaved and gentle, lasting about six hours on skin and longer on clothing.
Photo of Rochas Femme by Dawn Spencer Hurwitz for her collaboration with Michelyn, the fragrance Reveries de Paris
I love NMOP but have no desire to fly to Paris and pay 500 euros for the gorgeous 125ml bottle of extrait. The reason? As I said before, exclusivity is not my thing. Also, I already have 100 ml of MNOP's first cousin, vintage Edmond Roudnitska's masterpiece Rochas Femme PdT, pre the super-cumin reform of 1989! Not quite as pretty as Ne m'Oubliez Pas but very similar and comfortingly egalitarian.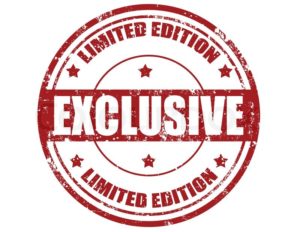 What do you think of fragrance exclusives? Be honest! There are no right answers. After all, "…there are as many Ways as there are hearts of men." – What Befell the Three by Murad Shami retold by Idries Shah, 1967.
Gail Gross – Weekly Contributor
Gail will be exploring different fragrance topics on a monthly basis