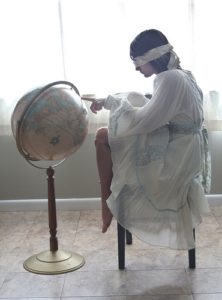 Via Tumblr
There is no question that the availability of almost anything online has forever changed the face of retail. Shopping for necessities – and luxuries – is very different from what it was twenty years ago. Window shopping the brick and mortar stores and going to the mall for entertainment are fast becoming pastimes of the past, at least out here in the suburbs. These days I no longer get into the car, endure the traffic and fight for a parking space. I shop same day delivery while checking the morning e-mail in my PJs. Admittedly online shopping has its drawbacks. We can't tap the watermelon, feel the texture of the fabric, or smell the perfume, but there is no doubt that soon all of our senses will be engaged in a virtual brave new world of online shopping experiences.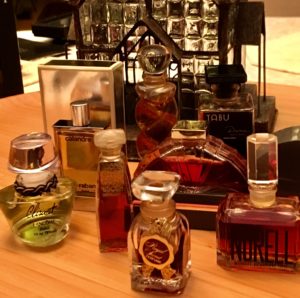 Blind Buys: Climat, Calandre, vintage Coty Emeraude, Royal Secret,KL, Norell, vintage Tabu and Sirocco.
While I have always been an advocate of trying perfumes before buying (and personally sample countless fragrances) the sheer convenience of shopping online has tipped my scale in favor of buying blind. While writing this piece I've come to realize that a good 80% of my recent perfume purchases have been blind buys.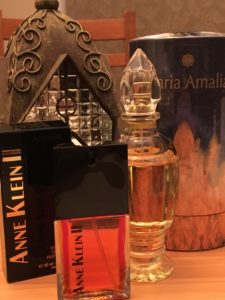 Anne Klein II (discontinued) and Maria Amalia (available and inexpensive).
Of that number well over 70% are love at first sniff, 20 plus percent quite nice and only about 5% scrubbers. Blind-buying perfumes is not for everyone, but it works for me. Here are some of the reasons why: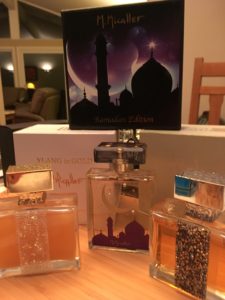 Micallef Ylang in Gold, Jewel for Her and an M. Micallef Ramadan Edition. Michelyn is a huge fan of M. Micallef and an enabler
First and foremost: I rely on the reviews and descriptions of bloggers, vloggers and Facebook groups for my blind buys. I also have several friends I consider my "scent twins" (and my colleagues at CaFleureBon's opinions carry considerable weight). Whatever perfumes my "scent twins" love I am confident I will love too. There are certain notes that resonate with me and at least two fragrance houses whose offerings never disappoint.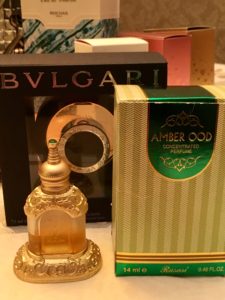 Bulgari Black and Rasasi Amber Oud.
While I truly appreciate the expense, creativity and sophistication that go into the artful, professional marketing of a fragrance, I can honestly say that while the ad campaigns and press releases may sway some of my most trusted reviewers, trends, romantic scenes and celebrity pitches do not directly influence my fragrance buys – blind or otherwise.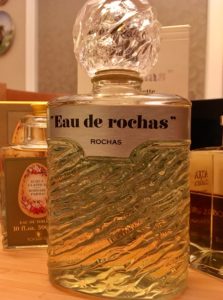 vintage Rochas Eau de Rochas
Price is another matter – especially when making a blind buy!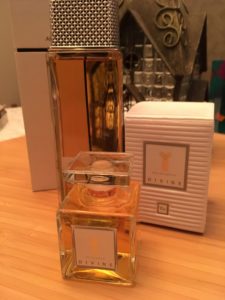 Yann Vasnier's Divine and Adam Levine for Her-two ends of the price spectrum
I have a dollar limit for blind purchases and even go so far as to consider price per ml. Sometimes I do go over my limit, especially when trying to retrieve vintage fragrance memories (not technically blind buys). Favorite perfumers can often influence me.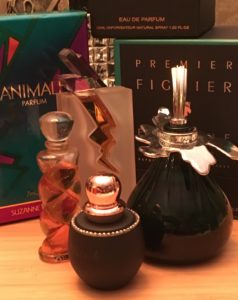 Beautiful bottles such as Micallef Ananda Black and discontinued flacon for L'Artisan Parfumeur Premier Figuier
I am also a sucker for discontinued fragrances and collectable bottles, old and new. Limited editions, however, don't tempt me I know that something else, just as limited, with show up, sooner than later. Another factor that pushes me over budget are guaranteed return policies.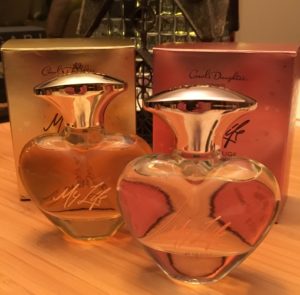 Mary J. Blige My Life and My Life Blossom from HSN
The home shopping networks offer designer, niche and even indie perfumes and return policies that include opened merchandise! My least successful blind buys have resulted from trying to smell like someone else. While not truly a blind buy, purchasing a fragrance because it smelled good on a stranger has almost always been a disappointment.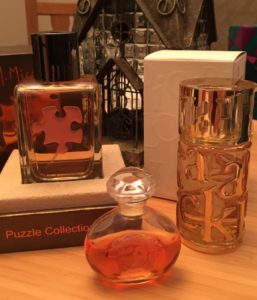 Micallef Puzzle No 2, Lolita Lempicka Elle L'aime and Versace Blonde.
Blind Buys – where do you stand? Must you sniff first?? What lures you to a fragrance purchase? Do blogs, vlogs, word-of-mouth, your scent-twin's recommendation, Facebook groups, brand loyalty, perceived value, ease of shopping and returns – or something else – tempt you to buy blind? Buying Blind – Let's talk about it!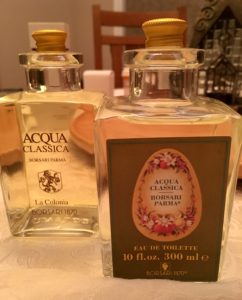 Acqua Classica Borsari Parma (she won't be running out any time soon)
Disclosure: All these fragrances were Gail's blind buys and from her collection; all photos Gail unless noted.
Gail Gross, Senior Editor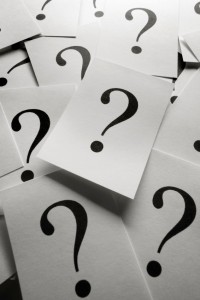 Photo: tumblr
Gail is offering a "mystery" bottle of one of her Blind Buys to a US registered reader in the USA only. Please leave a comment about your own "Blind Buys", which was a favorite and what lures you to make that un-sniffed fragrance purchase. Draw closes 11/24/2017. There is no spilled perfume
We announce the winners only on our website and on our Facebook page, so like Cafleurebon and use our RSS feed