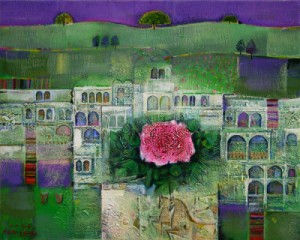 For my vacation,  I went  to Bulgaria in search of roses . My guide was a friend, a young father  named  Stefan, who had lived there  over the past ten years;he knows the companies and producers of raw materials. He  would accompany me for three days.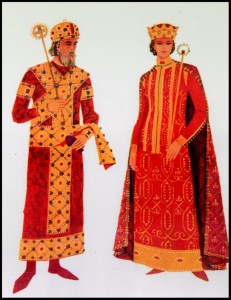 In the Valley of the Kings, I'm just a little prince ….  This is the name given to the Valley of Roses, won by a Thracian kingdom. It is located in the heart of Bulgaria.To the north, the Balkans mountains protect it, extending from Serbia to the Black Sea. To the south, the chain of Rhodope, large irregular mass, forms a geographic and climatic barrier with Greece.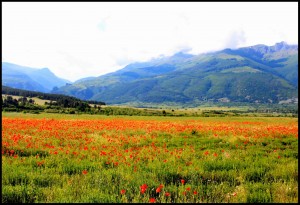 The landscapes are bigs. Spring is welcoming. Bulgarians are too.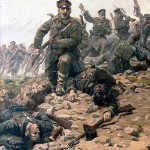 The Bayonet (Attack)', Jaroslav Veshin, 1913
They know their history … captured, subjectated, by other neighboring cultures and Bulgarian politics.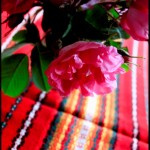 Originally from Syria, Rosa damascena was introduced in 1500 during the invasion by the Turks. The cultivated variety is the variety triginpetala, called the Kazanlak's rose. Kazanlak is the city where the flower is celebrated every first weekend of June. Here will we will depart to the next journey  on  my trip.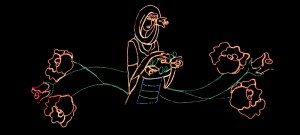 The first day, we leave the capital with wisdom, Sofia, towards Kostenetz, in south. We go to meet the distillers, looking for this rose.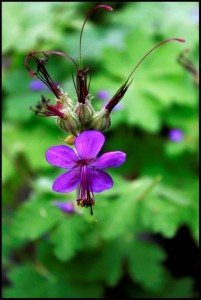 The region is famous for its unspoilt and environmentally clean nature. Dimitar, an ingenious engineer, shares his passion.We find four alambics supplied by a boiler recycled wood. Essential oils come from wild plants. They are collected in the coniferous forests.
The Zdravetz (Geranium macrorrhizum), for example, is also a symbol of Bulgaria.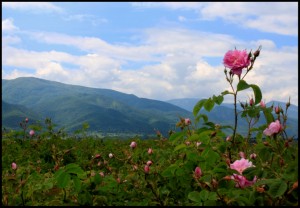 Dimitar is a point to this first visit. It  offers us a magnificent panorama, that of roses grown at high altitude and protected by the Rila mountain.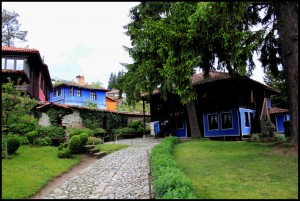 Olfactory meetings continue through Koprivshtitza, a traditional village of an old mountain, the Stara Planina.
We stop for a night. The next day, a meeting is organized with Atanas in Mirkovo and anotherwith Ivan in Kliment.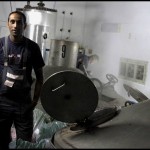 The day continues into  night. Jana welcomes us into her family distillery on the road to Kazanlak. During the campaign from May to June, teams take turns day and night to distill. At night, the odors are less volatile. When you enter in these places, you are charmed by a floral and honey smell. This fragrance is that of phenyl ethyl alcohol, which mixes with the vapors of alambics. Water-soluble, it is concentrated by cohobation in the waters of the first distillation. This is the famous floral rose water, known for its cosmetic properties.
Production of roses come from organic or conventional crops. This is the same for cultures of lavender harvested in summer. In these cases, the distillation stations are then separated.
We rest in Kazanlak.By the the third day the sun rises over the valley.We  head towards the Black Sea. In Stara Zagora, we meet Ivaylo, ayoung farmer who cultivates the melissa and red thyme with thymol.I am thinking about  a a co-distillation of lemon essential oil with melissa leaves.
I  am thinking about this for our factory in Grasse.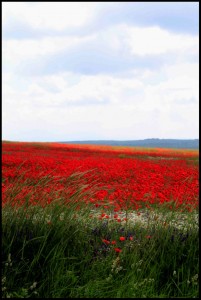 On the road to Zelenikovo, near Plovdiv, I understand the colors of the Bulgarian flag.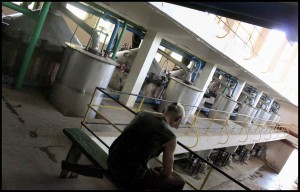 The treck ends at a more industrial facility which  produces essential oil and absolute.
Stefan returns to find his family. I continue the journey alone. My luggage is filled with samples.I have an appointment with perfumers …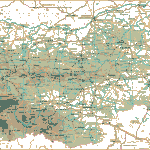 Other countries of roses I will need to explore— those in the highlands of the Taurus Mountains which is situated the town of Isparta in Turkey or those of the Dades Valley, near Kelaat M'Gouna in Morocco …
– Pierre Benard, Guest Contributor
www.osmoart.com
Osmoart, parfums,couleurs et sons….

Thanks to our friend  at Xerjoff, We pay homage to Bulgarian Roses in fine fragrance.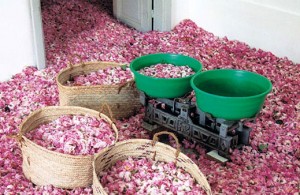 Two Winners will be eligible to enter this draw  by leaving  the  best comment on what they learned from this article. Each commentor will  also need to visit the Xerjoff site and list  at least  two other ingredients from their choice of  TWO  large samples of Shooting Stars LUA , Oesel, or Ibitra. Pease specify your choice draw closes Thursday June 30, 2011   EST
Translated from French by Editor In Chief Michelyn Camen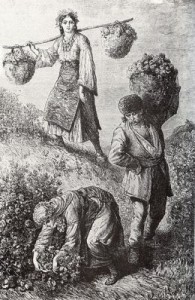 Voyage olfactif en Bulgarie.
Pour mes congés, ma passion me décide à parcourir la Bulgarie à la découverte d'une rose de mai. Pour guide…un ami, jeune papa, Stefan. Installé depuis une dizaine d'année, il connait les producteurs et les sociétés de matières premières. Il m'accompagnera pendant trois jours aux pays des cygognes. .
Voici le récit et quelques photographies de ce périple. Bonne lecture.
« Dans la vallée des rois, je ne suis qu'un petit prince…. Voici, le nom donné à la vallée des roses, conquise par un royaume thrace. Elle est située au cœur de la Bulgarie. Au nord, les monts Balkans la protègent en s'étendant de la Serbie à la mer Noire. Au sud, la chaîne du Rhodope, vaste massif irrégulier, forme une barrière géographique et climatique avec la Grèce.
Les paysages sont immenses. Le printemps est accueillant. Les bulgares le sont aussi..Ils connaissent leur histoire… meurtrie par d'autres cultures limitrophes et sa politique.
Originaire de Syrie, la Rosa damascena fut introduite vers 1500 lors de l'invasion par les turcs. La variété cultivée est la variété triginpetala, dite la rose de Kazanlak. Kazanlak est la ville où la fleur est célébrée chaque premier week-end de juin. (Photo 5). Ici, se terminera mon voyage.
Le premier jour, nous quittons avec sagesse la capitale, Sofia, en direction de Kostenetz, au sud. Nous partons à la rencontre des distillateurs, en quête de cette rose. La région est réputée pour sa nature préservée et écologiquement propre.
Dimitar, un ingénieux ingénieur, partage avec nous sa passion. Nous découvrons ses quatre alambics alimentés par une chaudière à bois recyclé. Ses huiles essentielles sont issues de végétaux sauvages. Ils sont collectés dans les forêts de résineux. Le Zdravetz (Géranium macrorrhizum), par exemple, est aussi un emblème de la Bulgarie. 
Dimitar met un point d'honneur à cette première visite. Il nous offre un majestueux panorama; celui de rosiers cultivés à haute altitude et protégés par la montagne Rila.
Les rencontres olfactives se poursuivent jusqu'à Koprivchtitza, un village traditionnel d'une vieille montagne, la Stara planina. (Photo 8). Nous faisons halte pour une nuit.
Le lendemain, une rencontre s'organise ave Atanas à Mirkovo ; une autre avec Ivan à Kliment.
Cette journée se prolonge en nocturne. Jana nous accueille dans sa distillerie familiale sur la route de Kazanlak. Pendant la campagne de mai à juin, les équipes se relaient jour et nuit pour distiller.
La nuit, les odeurs sont moins volatiles. Lorsque vous entrez dans ces lieux, vous êtes enivrés par une odeur florale et miellée. Ce parfum est celui de l'alcool phenyl ethylique qui se mêle aux vapeurs des alambics. Hydrosoluble, il se concentre par cohobation dans les eaux de la première distillation. Cet hydrolat floral est la fameuse eau de rose, connue pour ses propriétés cosmétiques.
Les productions de roses sont issues de cultures biologiques ou conventionnelles. Ceci est de même pour les cultures de la lavande récoltée en période estivale. Dans ces cas, les stations de distillation sont alors séparées.
Nous nous reposons à Kazanlak. Le troisième jour se lève sur la vallée. Nous la quittons en direction de la mer Noire. A Stara zagora, nous rencontrons Ivaylo. Un jeune agriculteur qui s'est lancé dans la culture de mélisse et de thym rouge à thymol.
J'ai une petite pensée pour notre spécialité de co-distillation d'huile essentielle de citron avec les feuilles de mélisses. J'ai une petite pensée pour nos compagnons qui la réalise dans notre usine à Grasse. Sur le parcours vers Zelenikovo, près de Plovdiv, je comprends les couleurs du drapeau bulgare.
Ce repérage se termine à une échelle plus industrielle où l'on fabrique l'essence et l'absolue. Stefan rentre et retrouve sa famille. Je continue seul le voyage. Mes bagages sont chargés d'échantillons. J'ai rendez-vous avec des parfumeurs…D'autres contrées roses sont à exlplorer, celles des hauts plateaux de la chaîne du Taurus où se situela ville d'Isparta en Turquie ou celles de la vallée du Dadès, proche de Kelaat M'Gouna au Maroc