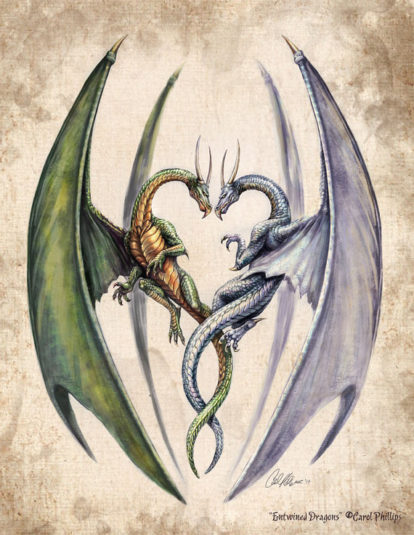 Have you ever been chased and kissed by a dragon? I have been, most happily I might add time and time again. Cartier Baiser du Dragin Extrait and Yves Saint Laurent Opium Vapeurs De Parfum Legere still have me in their thrall.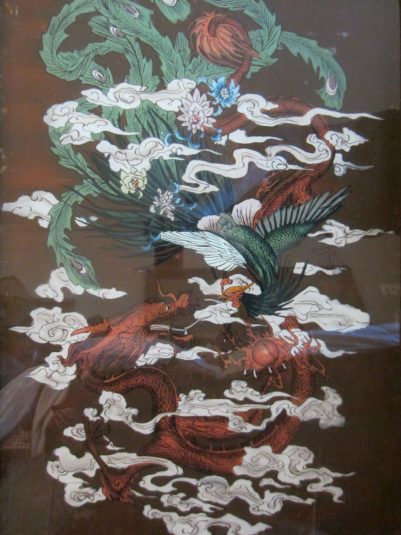 via tumblr
There are perfumes that come and go in our lives as fragrance lovers, as we constantly search for the new, the different, the "on-trend". But sometimes our old loves beckon us from the back of the cabinet, whispering "Remember me? Wear me today, you love me but you've just forgotten." These perfumes don't get a lot of air-time in the fragrance groups, and I always wonder if new perfumistas ever become privy to their haunting beauty. I have two that still manage to astonish and delight when I pull them out and spritz; two florientals that I reach for time and again. Cartier Baiser du Dragon Extrait and Yves Saint Laurent Opium Vapeurs De Parfum Legere continue to dazzle me.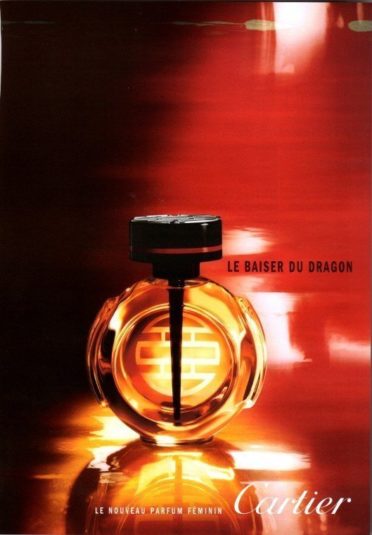 Cartier Baiser Du Dragon Extrait (Alberto Morillas) 2003: Still widely available as both an edt and edp (both of which are wonderful by the way), the Extrait, or pure parfum iteration of the Dragon's Kiss is everything I love in a floriental and perfect for both women and men. It smells mysterious and exotic, and sensual as hell. This is the scent to reach for while getting ready to go clubbing, somewhere where the heat from the crush of bodies will allow this beauty to bloom and flourish. The almond and woody notes are prominent and linger throughout the wearing, warming the florals and boosting the ambery and benzoin drydown to its ultimate buttery and silky finish. It is a textbook oriental and proof positive once again of M. Morillas' sheer genius as a perfumer. If you're wanting to find the extrait, it's only available as a 0.25 ml. mini and as a 30 ml. which is helpful when searching. Notes: Gardenia, bitter almond, neroli, amaretto, iris, jasmine, rose, cedar, musk, amber, patchouli, benzoin, caramel, vetiver, cedar, dark chocolate.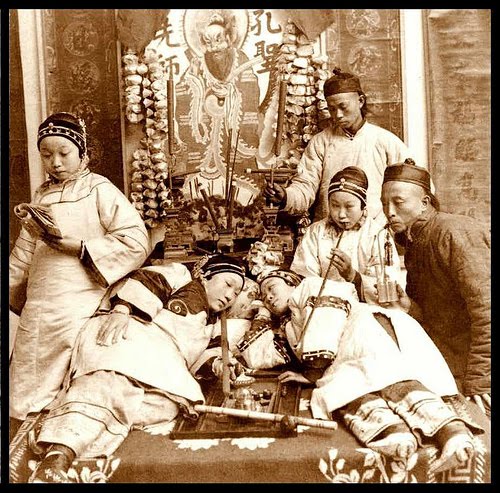 Chasing the Dragon"Opium Den" 1880s via Tmblr
Yves Saint Laurent Opium Vapeurs De Parfum Legere 2012: "Chasing the dragon" was once a Victorian Era code-phrase for smoking opium in often dark and dingy rooms created for just such an activity, but YSL's Opium Vapeurs De Parfum Legere throws open the windows and doors to allow sunlight and cool crisp air to wash away any drug-addled miasma, while it cleanses and purifies.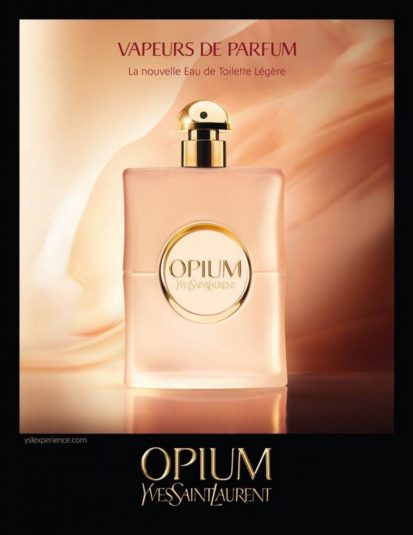 If the original Opium was a bit much for you, or felt too "outré" give Vapeurs a try, it's Opium's younger sister. An Extrait strength scent disguised an an Eau de Toilette, Vapeurs is light, bright and frolicky as a summers day in a countryside setting. The Opium DNA is still there through the jasmine and patchouli, but the maté and pepper provide a much needed zing, and the wisps of smoky incense and woody vanilla keep it from ever becoming cloying and muddied. Best of all, it's widely available at a price that won't break the bank.
Cartier Baiser du Dragon Extrait and Yves Saint Laurent Opium Vapeurs De Parfum Legere have kissed me once more.
Notes: Mandarin, petit grain, maté absolute, pink pepper, Sambac jasmine absolute, orange blossom absolute, incense, vetiver, patchouli, benzoin, vanilla.
So what are the forgotten loves lurking in the back of YOUR perfume cabinet?
Disclosure: The bottles and opinions are my own.
–Robert Herrmann, Senior Editor
-Art Direction: Michelyn Camen, Editor-in-Chief