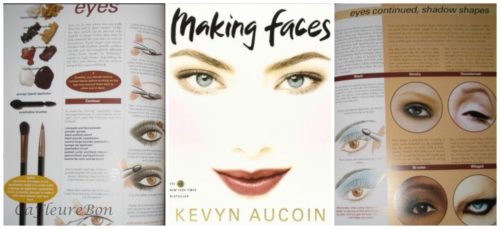 Michelyn's "Making Faces Book" by Kevyn Aucoin (BUY THIS BOOK, you'll thank me and you can pick it up for 1.99)
Long before there were the Youtube "How to videos", with impossibly young and beautiful millennials teaching us how to perfect our make-up artistry…there was Kevyn Aucoin. His book Making Faces published in 1997, (before some of the Youtube girls were born), was beauty aficiandos' guide to contouring, sculpting, application, creating smoky eyes and illustrated using his famous and award winning easy to follow techniques.
When he passed away in 2002, the Company changed ownership and his eponymous product line was revamped and expanded. I still mourn the demise of the perfect red-but-not-red lipstick called Dantique which has been discontinued. I wore it until it was a nub. His Sensual Skin Enhancer, created when Kevyn Aucoin was traveling in Japan was inspired by Geisha and Kabuki makeup and is still the best concealer on the market. I use the Contour Book The Art of Sculpting and Defining 2 almost daily and you need it… really you do.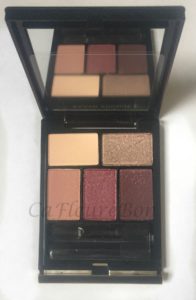 I have never purchased Kevyn Aucoin eyeshadow sets before, but after seeing a snap from Rachel of Beauty Professor on Instagram, I ordered The Essential Eyeshdow Set in Blood Roses from Barneys New York.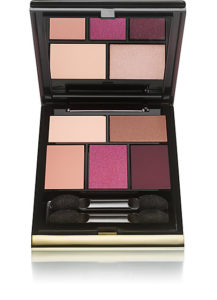 Barneys New York Photo of the Set
Fortunately I saw Rachel's photo, the colors shown online don't represent the palette in person.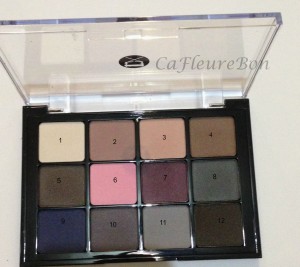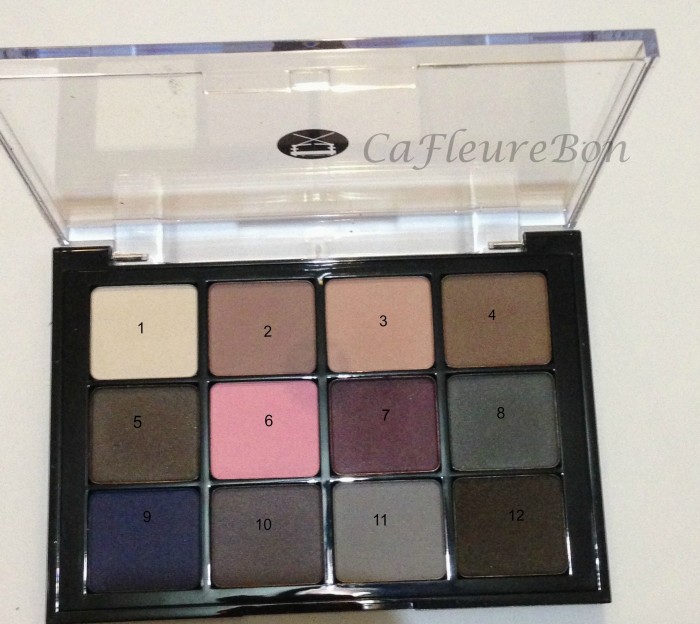 Viseart Cool Mattes
I love my Viseart (I have six) and (three) Charlotte Tilbury shadow palettes but I don't own very many plum colors, and reddish toned eyeshadows are having a moment this year (the CHANEL Candeur et Experience Quad is on backorder; it sold out within weeks) and I hadn't read much about Bloodroses so here is my review.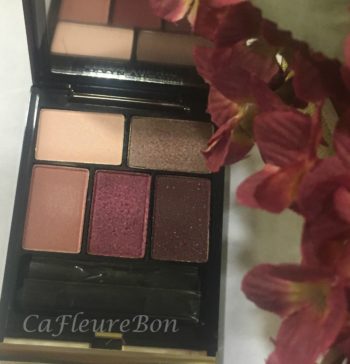 The Colours: there are five different shades in this set.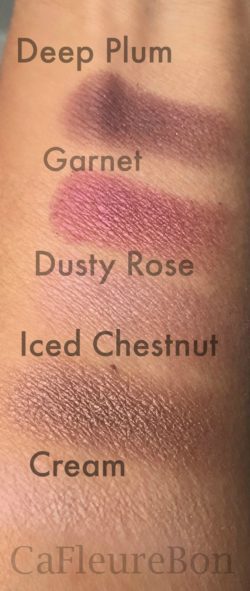 Applied Dry; photo on a cloudy morning natural light
Cream: A matte somewhat chalky pink under toned off white. Nothing new, but nice texture, finely milled and it works with the other colors in the palette
Iced Chestnut: Satin finish Taupe slight pink undertone, I must have at least six that are similar. Beautiful texture and a nice neutral transition color forthe crease, or day looks with above average pigmentation.
Dusty Rose: Light Peachy matte with a slight warm brown undertone, similar to the matte peach beige in Viseart Neutral Matte palette 1. Glides on easily.
Garnet: The photo on the website put me off, the color looked fuschia. This is my favorite of the set . It is well named. Au courant, with a reddish undertone, a medium bright burgundy wine with a shimmer finish. Again the quality is excellent and the pigmentation is well above average.
Deep Plum: A lovely warm darkish plum with some shimmer and golden glitter. No fall out and looks beautiful applied wet.
Alone the shadow colors aren't as special as they are when you work with them as a palette. The pigmentation of Garnet and Deep Plum is exceptional. I did not use primer and my eyeshadow stayed all day without creasing or fading.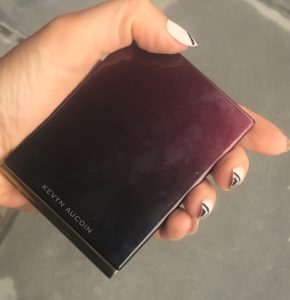 I have mixed feeling about the compact case. It is slender and travels well. I have difficulty opening it at times as you need to press the gold tone closure just so. The top of the case shows every fingerprint.
The palette includes a mirror, two double sided sponge applicators and sells for $59.00. I read somewhere it is a limited edition.
Verdict: 7.5 of 10. Works well for all ages and for over 40 people the shadows doesn't accentuate fine lines or crepey skin. The set is expensive and although the texture of the shadows are excellent, 3 of the 5 colors aren't really exceptional. If you are looking for a nice plum palette to travel with, have green or hazel eyes, then yes, buy it.
Disclosure I bought my Essential Eyeshadow Kit in Bloodroses on Barneys.com. They offered FedEx free shipping and it arrived within a few days.
Michelyn Camen, Editor in Chief
It is a dark rainy day and so my photos were taken outdoors in natural lighting. What do you think of Kevyn Aucoin makeup? Would you buy Bloodroses The Essential Eyeshadow Kit?