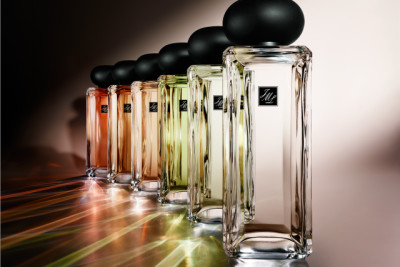 Photo: Jo Malone via WWD
In 2010, Jo Malone engaged Christine Nagel to create a collection of tea inspired fragrances that referenced British traditional teas. According to an article in Women's Wear Daily, the Company returns to the theme with a new twist. The Rare Tea Collection, a limited edition, will be Jo Malone's first foray into luxury price points and uses the concept of terroir for each fragrance referencing teas from Asia.
Each perfume is made with handpicked tea leaves sourced from countries including Japan, China and India that are infused using a method similar to that of brewing tea. Each of the collection's six perfumes spotlights an ingredient and the tea is the center only using additional ingredients to enhance sot it is not traditional in the sense of top, middle and base notes.. These are six in the collection: Silver Needle, Darjeeling, Oolong, Jade Leaf, Midnight Black and Golden Needle. Jo Malone London's Vice President of product development, Céline Roux worked alongside perfumer Serge Majoullier of Mane.
" Silver Needle Tea was created with leaves traditionally reserved for China's Imperial family and has hints of musk, mimosa and rose. The fragrance built around Midnight Black tea contains vanilla and labdanum, meant to intensify the tea's oriental characteristics. Jade Leaf Tea uses leaves from Japan's Sencha Ariake region enhanced using sesame and pomelo and the Golden Needle Tea, which is now created from a special type of black tea, picked exclusively during the last two weeks of March".
The process of sourcing the teas and creating the six perfumes took four years. Each fragrance was macerated and matured at a different rate depending on the type: infusion ranged from 10 hours for the lighter white teas to 100 hours for the smoky black teas.
A new bottle has also been designed for the limited edition collection. This is the first time Jo Malone London has created a new bottle for its perfumes in 25 years.
The fragrances will retail at $346, for a 175-ml. bottle, a luxury price point and higher then the brand's classic perfumes, which range $60 and $122. On shelves April 1, 2016
Source: WWD
Michelyn Camen Editor in Chief