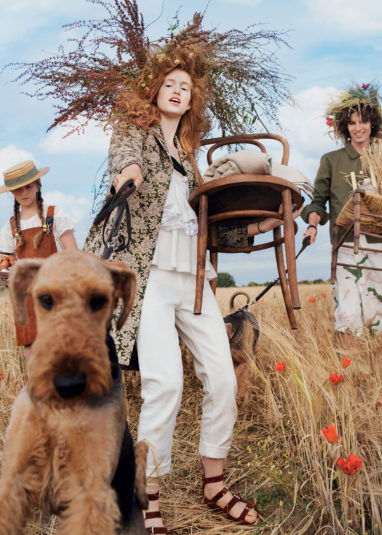 Jo Malone English Fields advertisement
Jo Malone English Fields are five new limited edition fragrances that evoke the essence of the English landscape and use cereals and grains as the main focus. "Jo Malone English Fields is unexpected territory! It's somewhere in perfumery I have never been before." – Mathilde Bijaoui of MANE, Master Perfumer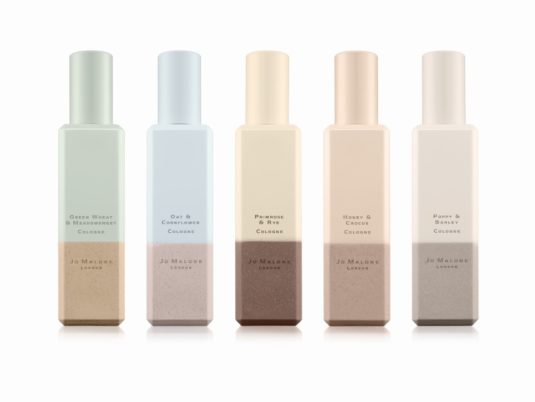 Jo Malone English Fields Greeenwheat & Meadowsweet, Oat & Cornflower, Primrose & Rye, Honey & Cornflower Poppy & Barley
Poppy & Barley: Rich red poppies dancing in the wind. Violet flowers, alive with colour. Fruity with blackcurrant. Cocooned by barley and bran. Softened with powdery notes of white musk.
Primrose & Rye: Rolling fields dotted with primroses. Swaying softly on a spring breeze. Warmed by golden corn. Brightened with mimosa. On an addictive base of rye and vanilla. Filled with sunshine.
Oat & Cornflower: Wholesome oats gathered from the field, fit for a hearty feast. Warm and delicious. Enlivened by vivid blue cornflowers and a hint of hazelnut. Complemented by an elegant vetiver base.
Honey & Crocus: Mouth-watering honey, fresh from the beehive. Blended with the bright bloom of crocuses and English lavender. Sweetened with a dash of almond milk.
Green Wheat & Meadowsweet: An English field at dawn, full of the joys of spring. Filled with young, green wheat. Crisp and fresh. Balanced with a zesty twist of grapefruit. Mingled with soft, white notes of meadowsweet.
Jo Malone English Fields Collection are available from Februarys 15 at jomalone.com and Jo Malone London boutiques nationwide
Each 30ml Cologne $70
Via Jo Malone USA
Michelyn Camen, Editor-in-Chief