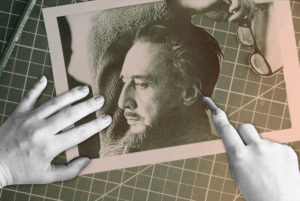 Emile Ajar aka Romain Gary photo Tablet Magazine©
"Reality is not an inspiration for literature. At its best, literature is an inspiration for reality." – Romain Gary
Emile Ajar was one of France's most acclaimed writers, winning – and refusing – le Prix Goncourt, the country's highest literary honour. His books sold millions of copies. And yet, Emile Ajar never actually existed.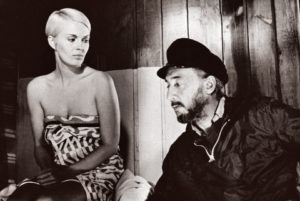 Romain Gary and Jean Seberg, photo Tablet Magazine 1961
Rather, he was the alter ego of Romain Gary – one of France's most renowned authors in his own right – a chameleon who reinvented himself numerous times: born a Russian-Polish Jew, he would emerge in different personae: a reckless French fighter pilot, polyglot diplomat, movie star husband (he married Jean Seberg), best-selling novelist and serious writer, fully-fledged member of the glitterati. Gary found in his nom de plume a means of defying categorization while thumbing his nose at l'établissement littéraire.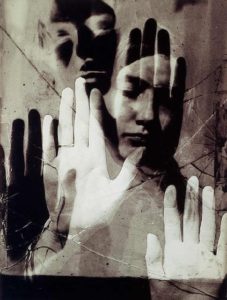 Man Ray, Dora Maar 1936
Jardins d'Ecrivains's Ajar, like its namesake, reinvents itself as it wears. Its simple list of notes winds down misleading but connected paths: a sunny, soft-edged citrus rounds a corner into powdery chypre, then slips quietly into an oriental alley.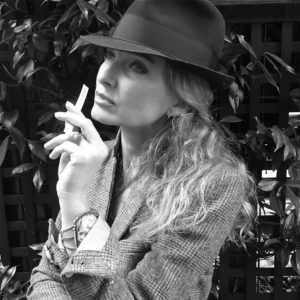 Anais Biguine of Jardins d'Ecrivains
Jardins d'Ecrivains founder and perfumer Anais Biguine has used the sly mystique of Romain Gary/Emile Ajar as inspiration for a scent that refuses typecasting. She writes: "Romain Gary achieved a clever literary subterfuge when he created Emile Ajar. Anonymity was his chance to reinvent himself. Ajar is a chameleon-like fragrance … as ambivalent and complex as human nature itself."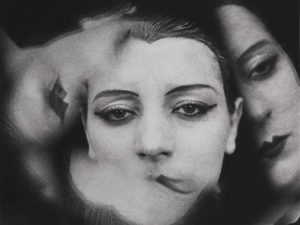 Man Ray©
The opening of Ajar is breezily feminine, as citrusy and fluffy as a lemon soufflé: pear juice and spiky bergamot mingle to produce an immediate contrast of tart and sweet, the sharper aspects of which recede quickly. But just before they do, there's a fleeting whiff of the barbershop, a passing acquaintance of bitter orange with a hint of the oakmoss that makes the perfume seem – momentarily – like a masculine fougere.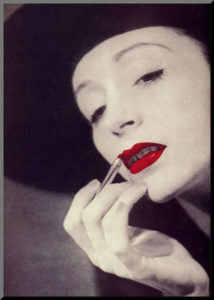 Man Ray, Red Badge of Courage©
Then, almost imperceptibly, the scent changes back to feminine. The second stage of Ajar is all about that fundamental element of obfuscation: face powder. Orchid and jasmine twine about the fading pear note to give an illusion of the starchy-sweet smell of rice powder. The talc-bready smell of orchid comes through more assertively here than it often does; while the jasmine, usually a forward flower, hides behind a silky harmony rather than calling attention to itself.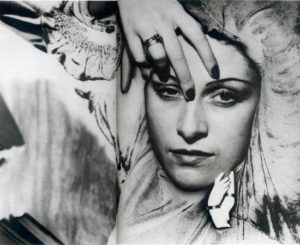 Dora Maar 1936, Man Ray©
It would be easy to think, at this point, that Ajar is really a 50s chypre throwback. Don't be fooled. In its later moments, Ajar shifts again, donning the woody cloak of a modern oriental. Light incense and sandalwood surface together, with sandalwood dominant at first, then stepping into a smoky shadow. Oakmoss accentuates the woodiness of the other base notes, and adds a subtle earthiness. Then, out of nowhere, that pear comes tumbling back, and Ajar has become a fruity floral.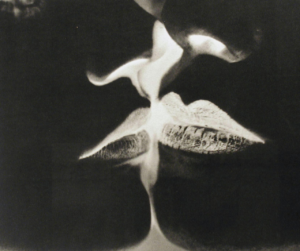 Man Ray – Negative Kiss, 1935
Ajar's changeability may leave you wondering whether it is masculine or feminine, chypre or oriental, sunny or smoky. And indeed, the answers to those questions will vary depending on the time of day, the heat, and the whims of the fragrance. It defies easy classification. For, like its eponymous inspiration, Ajar enjoys playing with our expectations and remaining a mystery.
Notes: Bergamot, Pear, Jasmine, Orchid, Sandalwood, Incense and Oakmoss
Disclaimer: sample of Ajar provided by Jardins Ecrivains – many thanks. My opinions are my own.
– Lauryn Beer, Senior Editor
Art Direction: Michelyn Camen, Editor-in-Chief, I used the Surreal/Dada art of Man Ray who was a contemporary of Romain Gary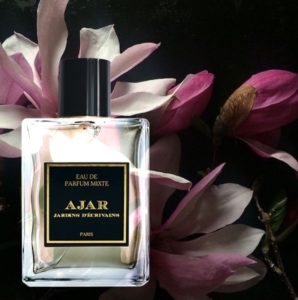 Jardins d'Ecrivains Ajar @anaisbiguine
Thanks to the generosity of Anais Biguine and Jardins d'Ecrivains,we have a 3.4 oz (100 ml) bottle of Ajar to give away to 1 registered reader worldwide. To be eligible, please leave a comment with what appeals to you about Ajar based on Lauryn's review, where you live and if you have a favorite Jardins d'Ecrivains Perfume. Draw closes 10/7/2017.
We announce the winners only on site and on our Facebook page, so Like Cafleurebon and use our RSS FEED… or your dream prize will be just spilled perfume.