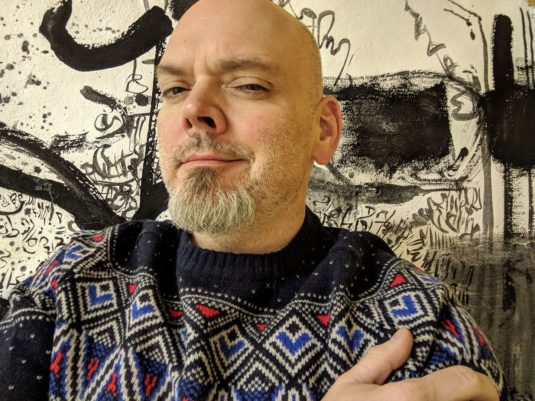 John Biebel of January Scent Project (photo John)
Perfumer and fine artist John Biebel of January Scent Project is perpetually curious. What a fine thing an inquiring mind is – and what a joy. John was recently approached by Avé Parfum, a web-based boutique specializing in niche and artisan fragrances who wished to carry his fragrance line.

January Scent Project Treebuoy
John had been working on a scented oil for a few close friends and he thought it might be a nice introduction to his commencement with Avé Parfum to offer it as an exclusive for the month of February. January Scent Project Treebuoy is an uplifting, contemplative oil perfume swirling around the magnificent fir balsam, that jammy coniferous lusciousness which makes one swoon.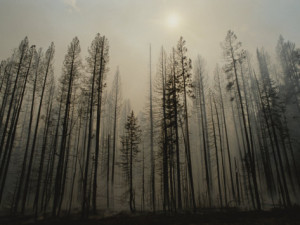 Stock Photo of Fir Trees
It isn't nice to play favorites, and choosing only one conifer is excruciating, even picking just one woody element alone.The fir balsam coeur which hails from Canada is among Nature's bounty; it inspires one to work it into a perfume because it is so complex and satisfying: sylvan, resinous, balsamic, fruity, terpenic, warming, and always jammy like forest confiture. It was love at first sniff for me, as it was for him.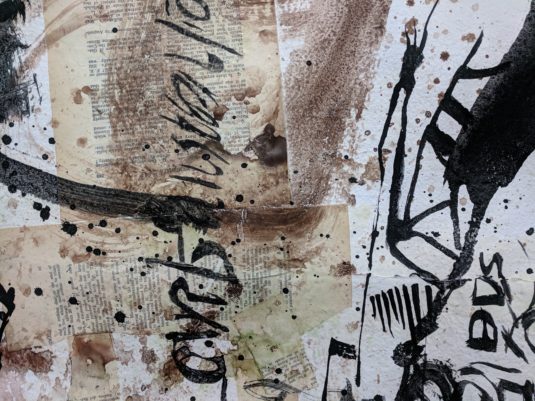 Gouache and collage painting detail 2018 John Biebel
How to best showcase January Scent Project Treebuoy without overwhelming the wearer? To offset its roundness and generosity? Its inherent succulence? Enter green mandarin, a beautiful heart note which enhances fir's balsamic verdancy – granting a juicily floral kiss, for a start. The spicy greenness of cardamom, that blue-green-violet hued anise which whets the appetite, the vanillic/leathery/almond of benzoin to soften, sooth. Geranium's rosy herbal profile as olfactory complement; a duvet of amber and musk bedecked with Himalayan cedar to envelop oneself against the wintry wind. That cedar is truly something else, a treasured component of sacred perfumery, incense – as deep as the forest primaeval and lingering after all has died down like a sanctified wraith.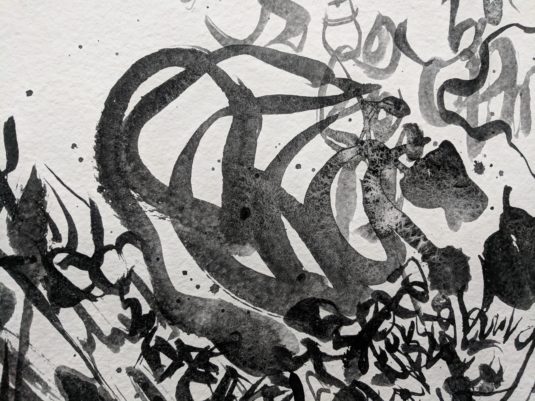 Gouache Painting Detail 3 2018 (John)
The very nature of oil perfumes is intimacy: they cling longingly to your skin, your scarves and sweaters, virtually sillage-free. That is one of their unique charms (along with portability) which makes them a pleasure for those times when a perfumed trail is undesirable; when something meditatively comforting is the perfect thing. January Scent Project Treebuoy is such a scent: it elevates the spirits and brings the forest to you, wherever you may find yourself. Respite in winter, and celebration of these days of reflection.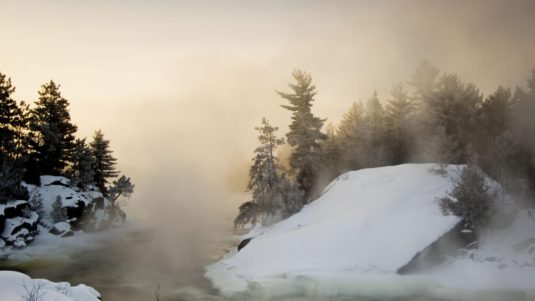 Snow covered Trees Stock Photo
"One must have a mind of winter,to regard the frost and the boughs
Of the pine-trees crusted with snow; and have been cold a long time
To behold the junipers shagged with ice, the spruces rough in the distant glitter
Of the January sun; and not to think, of any misery in the sound of the wind,
In the sound of a few leaves,which is the sound of the land
Full of the same wind,that is blowing in the same bare place
For the listener, who listens in the snow, and, nothing himself, beholds
Nothing that is not there and the nothing that is." ~ Wallace Stevens, the Snow Man
January Scent Project Treebuoy notes: fir balsam coeur, green mandarin, benzoin, cardamom, anise, geranium, musk, amber, Himalayan cedar.
Sample kindly provided by John Biebel. My nose is my own…
~ Ida Meister, Senior Editor
~ Art Direction: Michelyn Camen, Editor-in-Chief
Note: John Biebel received CaFleureBon Best of Scent 2017 –Rising Star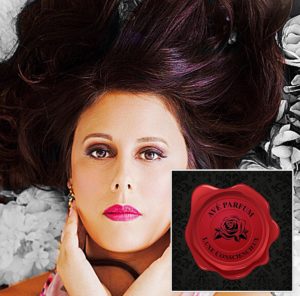 Elizabeth Rose of Avé Parfum
Thanks to the generosity of Avé Parfum who will have the exclusive of (January Scent Project Treebuoy until March 1, 2018) and John Biebel, we are offering a 10 ml bottle of January Scent Project Treebuoy to one registered reader in the USA (be sure to register or your comment will not be counted).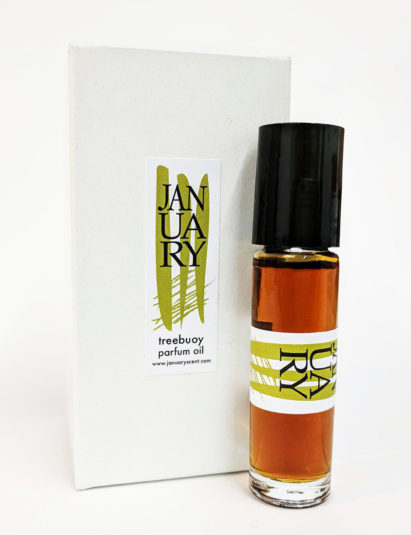 January Scent Project Treebuoy Parfum Oil
If you are a reader worldwide you can wait until March 1 and enter. To be eligible, tell us what appeals to you about January Scent Project Treebuoy based on Ida's review, your favorite January Scent Project fragrance, where you live and what you love about the woods in winter. Draw closes
We announce the winners only on site and on our Facebook page, so Like ÇaFleureBon and use our RSS blog feed…or your dream prize will be just spilled perfume.