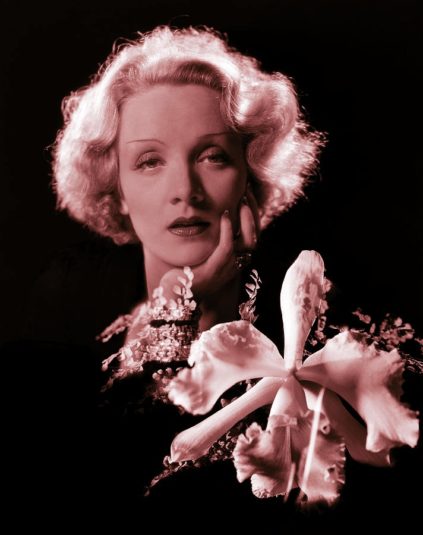 Portrait of Marlene Dietrich (Photograph by Cecil Beaton) apped by Michelyn
As a schoolgirl I loved singing old jazz standards, accompanying myself on the piano. My little green budgie would perch on the music stand, earnestly chirping as I crooned melodies in my young, childish voice, trying so hard (and of course failing) to sound like Billie Holiday. One of my favorite tunes was "You Go to My Head", the 1938 hit by J. Fred Coots and Haven Gillespie. At my young age I had no notion of double entendre and no idea of what most of the words referred to, but I knew that champagne was bubbly and the song was dark and romantic. Even though "You Go to My Head" has been recorded countless times over many years by the likes of Marlene Dietrich, Judy Garland and Frank Sinatra (even Bob Dylan had a crack at it!)
"You go to my head and you linger like a haunting refrain, and I find you spinning 'round in my brain
Like the bubbles in a glass of champagne. You go to my head like a sip of sparkling Burgundy brew…"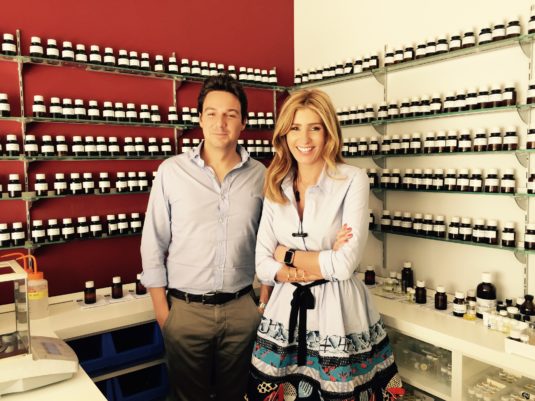 Creative Director Raina Naim of Jacques Fath Essentials and Luca Maffei of Atelier Fragranze Milano
I had forgotten about the song until my memories were jogged by the 2017 fragrance, Jacques Fath's Essentials Rosso Epicureo, created by 2x Art and Olfaction award winning perfumer Luca Maffei. In 2016, Creative Director Raina Naim introduced the Jacques Fath Essentials Collection inspired by the legendary designer Jacques Fath and the creative aesthetic, "La Joie de Vivre", the cheerful, exuberant enjoyment of life and everything beautiful that life has to offer.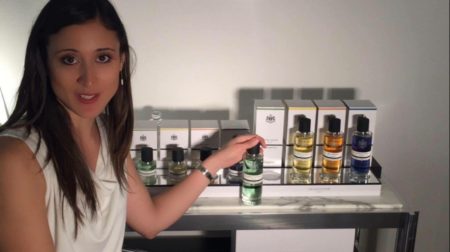 Cécile Zarokian created the first four Jacques Fath Essentials including the marvelous reconstruction of the iconic Green Water
The first four fragrances, introduced in 2016, were created in collaboration with perfumer Cécile Zarokian. Mme. Zarokian composed a much-lauded rendition of the mythical Green Water and three other beautifully crafted fragrances.
Jacques Fath Essentials Rosso Epicureo, L'Oree du Bois, Les Frivolités and Lilas Exquis (Photo courtesy of Brandusa Paulesco of Atelier Fragranze Milano)
For the second part of the collection, perfumer Luca Maffei followed a more feminine line, conveying femininity via innovative raw materials and noble ingredients that matched the violet, pink, red and gold colors chosen by Rania Naim. The new fragrances, Jacques Fath's Essentials Rosso Epicureo, L'Oree du Bois, Les Frivolités and Lilas Exquis were previewed during Esxence in Milan in 2017.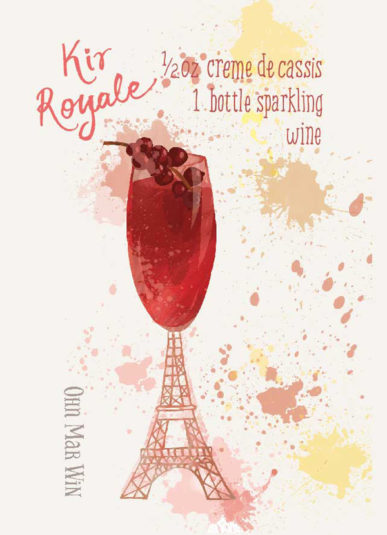 Kir Royale Illustration by Ohn Mar Win©
"Pleasure is our first and kindred good. It is the starting point for every choice…" – Epicurus
Jacques Fath Essentials Rosso Epicureo opens with a budding, fresh, buttery tuberose. But before I have a chance to get my nose completely around the flower, Rosso Epicureo adds a whiff of that "sparkling Burgundy brew". The fragrance tingles my senses with the taste and smell of Kir Royale, the blushing, effervescent pre-dinner aperitif, made popular in France in the late 1940s. Kir Royale is concocted by pouring approximately ½ oz of Crème de Cassis into a champagne flute and then topping the glass with bubbly. For Rosso Epicureo Luca Maffei created a Kir Royal accord, using blackcurrant (cassis) for the Crème de Cassis, Davana for a boozy effect and Sichuan pepper for the sparkle of champagne. The jus itself is the color of the cocktail. Ripe plum adds even more depth and fruity facets to the fragrance while bitter orange and bergamot maintain a dry edge of brut champagne.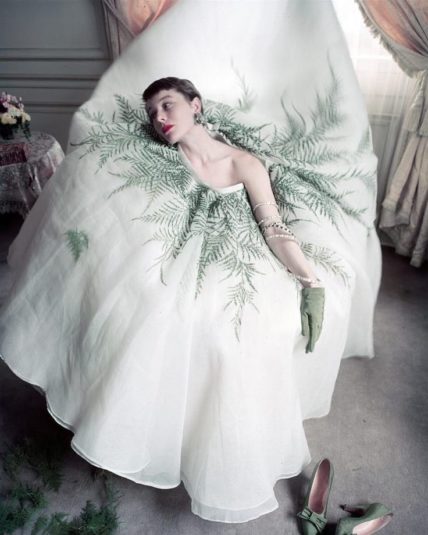 Bettina in Jacques Fath, photo by Norman Parkinson, circa 1950
After a sip of aperitif, the heart of Rosso Epicureo is revealed as an ultra feminine bouquet of lush, carnal flowers, a reprise of the aforementioned tuberose, colored with shades of Damask rose and fleshed out with honeyed orange blossom, jasmine and ylang ylang. Rosso Epicureo is everything a big white flower should be, yet never blowsy or overblown.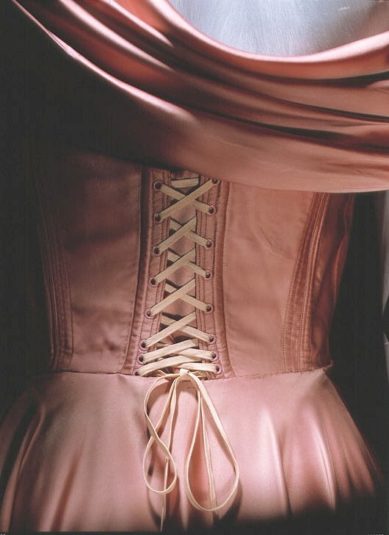 Jacques Fath rose-pink silk evening dress with corset bodice and draped neckline 1947
As time goes by, the top and heart notes of Jacques Fath Essentials Rosso Epicureo do not disappear, but instead continue through the life of the fragrance, amplified as each new facet of the perfume is revealed. Over a period of 8 hours and more both the fizzy, fruity Kir Royal and the sumptuous white flower bouquet become more complex and rich as elements of patchouli, amber and vanilla bloom into the mix. Twelve hours after application on skin (and twenty four hours plus on clothing), Jacques Fath Essentials Rosso Epicureo remains an ever-fresh tuberose, laced with magical cassis and the erotic and powdery luxury of Muscone Laevo.This perfume exemplifies Jacques Faith's ideal joyful life, remaining delightfully fresh and slightly edgy while at once celebrating the epicurean philosophy of tranquility and pleasure.
Notes: Kir Royale Accord, bitter orange, bergamot, plum, tuberose sbsolut, Rosa damascena, orange blossom, jasmin, ylang ylang patchouli, amber, vanilla, Muscone Laevo.
Disclaimer: I would like to thank Jacques Fath Essentials for the beautiful set of samples representing the entire Essentials Collection. My opinions are my own.
Gail Gross – Senior Editor
Michelyn Camen, Editor-in-Chief and Art Director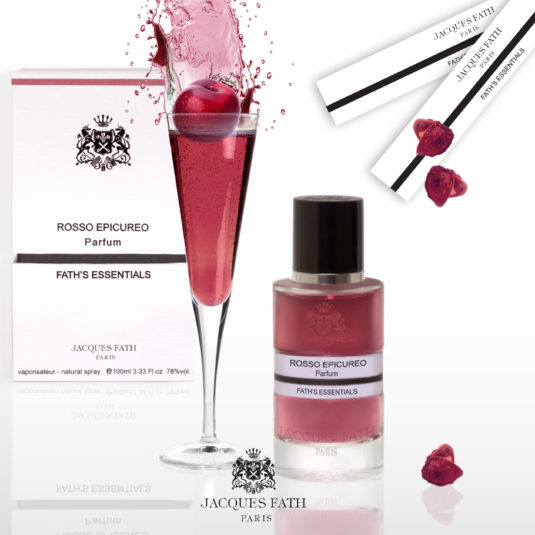 Thanks to the generosity of Jacques Fath Essentials we have one 50 ml bottle of Jacques Fath Essentials Rosso Epicureo available to one registered reader worldwide. Be sure to register or your comment will not count. To be eligible for the draw, please tell us what appeals to you about Gail's review of Rosso Epicureo, if you have tried any of the Jacques Fath Essentials Collection or if you have an old tune that you just can't get out of your head. Draw closes 2/16/2018
We announce the winners only on site and on our Facebook page, so Like Cafleurebon and use our Blog feed…or your dream prize will be just spilled perfume.