Every woman has (or should have) a little black dress, aka LBD sometimes more than one, depending on the season or level of formality. But she at least has one and it is her favorite default dress in which she can bank on looking fabulous. No matter her choice of jewelry and shoes it will simply always…fit!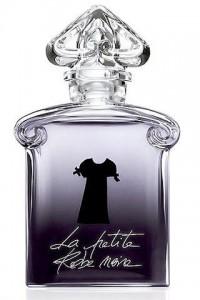 The concept of The LBD and fragrance is so sympatico that the House of Guerlain named a perfume for it… La Petite Robe Noire. The questions many perfumistas ask: Is there a Little Black Dress of fragrance? Is there a well-loved classic that all fragrance aficionados can agree upon as a Little Black Dress, or is it your Little Black Dress simply one's own signature scent? What is my LBD perfume?
The concept of the Little Black Dress, which we now take completely for granted, was popularized by the innovative Coco Chanel. She introduced the look in the Roaring Twenties as her antidote to the bold colors and busy prints which dominated the contemporary fashion. To use black as her statement color was a clear departure from the past —an act of rebellion almost–wherein hundreds of years of tradition viewed black as the traditional color of mourning. Despite the raised eyebrows of the European press and fellow designers, American Vogue embrace it and dubbed Chanel's creation "a Model T Ford" in reference to both its' simplicity and its potential for enduring success.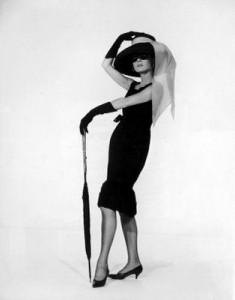 The Little Black Dress has become a symbol of chic and sophisticated simplicity. It is so important today that iconic photographs of many of our leaders of style are often shown with their favorite version. In fact, the current exhibit at
London's Victoria and Albert Museum features a collection of dresses worn by Grace Kelly which includes her black dress from the movie Rear Window. And there would be no Hollly Golightly without Audrey Hepburn's fanciful black frock by Hubert de Givenchy in Breakfast at Tiffany's.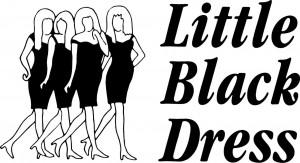 It is the everyday fashionista, however, who has demonstrated the accuracy of Vogue's Model T forecast. What woman does not have a Little Black Dress in her own closet? The mere fact that we have happily reduced it to an acronym (LBD) shows just how pervasive it is in pop culture. In fact, U.S. retailer White House / Black Market features dozens of renderings in each catalog as does French luxury retailer Anne Fontaine!
The special qualities of the beloved LBD: classic cut, flattering to the figure of the woman who wears it, versatility (ability to dress it up / dress it down), and delivers confidence to the wearer. The LBD of fragrance would be measured on much the same way: classic scent, flattering to the skin of the woman who wears it, versatility, and delivers self esteem to the wearer.
Just as we project a fantasy of style and easy elegance onto the LBD we project a similar fantasy onto our fragrance of choice. Here are some fashion muses sporting a variation of the Little Black Dress accompanied by fragrances so revered they may be many a woman's LBD of scent.

Coco Chanel (1926)
"Scheherezade is easy; a little black dress is difficult." ~Coco Chanel
Coco Chanel's seminal black dress created in 1926 was knee-length and made of crepe de chine. However, she designed many throughout the years and was often the best embodiment of her trademark style of casual elegance. Even today the House of Chanel keeps the Little Black Dress relevant by introducing up to six new designs per season. According to the book 101 Things to Buy Before You Die by Maggie Davis and Charlotte Williamson, "A Chanel LBD in an investment for life."
Chanel No. 5 by Chanel (1921)
"Chanel No. 5, to me, I still the ideal scent for a woman. She can wear it anywhere, anytime, and everybody: husbands, beaus, taxi drivers, everybody loves it. No one has gone beyond Chanel No. 5." ~Diana Vreeland
It is only fitting that as Coco Chanel practically invented the LBD that her most iconic fragrance be heralded by many as the LBD of perfumes. So many women adore Chanel No. 5 that the Company claims there is a bottle sold somewhere in the world every 30 seconds! And yet, at least in the parfum version, the fragrance is heralded by scent expert Luca Turin as a "masterpeice of modernist sculpture from 1921…and some people think perfume is not an art."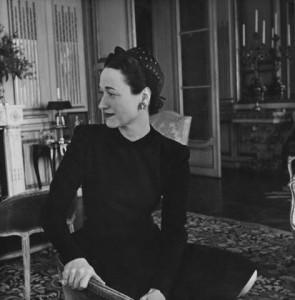 The Duchess of Windsor (1946)
"You have to wear black, aging or not, because the little black dress is right, there is nothing else to wear in its place." ~Wallis Simpson, Duchess of Windsor
This enigmatic woman chose the LBD time and time again to express her own brand of severe elegance. She did not consider herself to be a great beauty but acknowledged both the power and necessity of dressing well to elevate ones allure. Her long sleeved black dress and tiny silk sailor hat by Maud et Nano were typical of the understated look that made her the fashion icon of her day.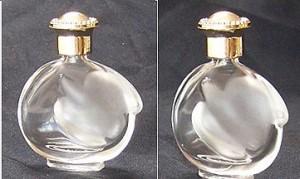 L'Air du Temps by Nina Ricci (1948)
"L'Air du Temps was created long before marketing departments took hold of the perfumery world, belonging to a time when a genius could make a scent swirl and, those who used it, fly along one it its thermals." ~Roja Dove
A first fragrance of many women above a certain age due to the proliferation of its miniatures, it raised the bar for olfactory expectations for certain generations. Unfortunately, it has been reformulated over the years but the original was the benchmark green floral. Like the Duchess of Windsor herself the fragrance is about survival and rebirth. Arriving after WWII the infamous interlocking doves on the cap of the bottle symbolize the celebration of peace. It is the understated fashion icon of fragrance
.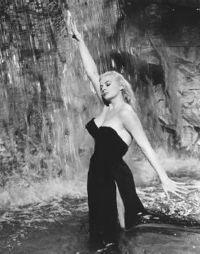 Anita Eckberg (1960)
"You should always own a black dress because no one ever remembers a black dress." ~Eleanor Roosevelt
Nowhere is this adage more appropriate than in the notorious scene where an intoxicated and intoxicating Anita Eckberg cavorts in the Trevi Fountain in Federico Fellini's dark masterpiece "La Dolce Vita". She might as well be in the nude. This Little Black Dress is ideal for Eckberg's figure as it supports her ample cleavage and cinches in her waist. The train almost gives her a mermaid effect as she wades in the water. The dress you forget but, the woman, you remember!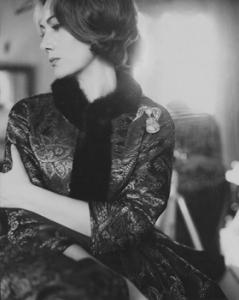 Madame Rochas by Rochas, (Madame Helene Rochas pictured above) 1961
"As the spirits of certain people hover over music, My soul, my love swims on your perfume." ~Charles Baudelaire
A voluptuous fragrance, Madame Rochas is an adlehydic chypre. Like many classics the original vintage has been reformulated and what we smell today would not be the same as the scent that entered the scene along with Jacqueline Kennedy to the White House. The original version is so soft and enveloping you do not take notice of it but, the woman, you remember.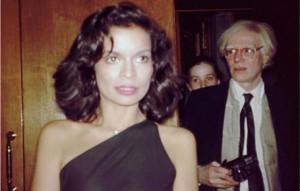 Bianca Jagger (1977)
"Isn't life a series of images that change as they repeat themselves?" ~Andy Warhol
A socialite in her own right, Bianca was catapulted to rock royalty status upon her marriage to Mick Jagger. With her striking androgynous looks and daring personality she was a natural leader in fashion. Bianca Jagger served as a muse for American designer Halston whose elegant Grecian-inspired designs became the uniform of choice for the glitterati of the late 70's. Halston was known to shy away from prints and patterns and preferred monochromatic dresses, especially red and black. The statement was always bold as this asymmetrical black dress can attest.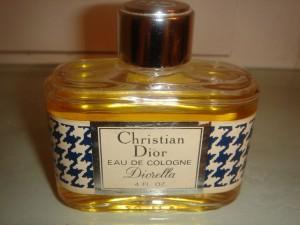 Diorella (formulated by Edmond Roudnitska) by Christian Dior (1972)
"This is why I became a perfumer: so that all of my dresses would appear by simply opening a bottle." ~Christian Dior
Happily, the House of Dior found this LBD hanging in the back of its closet, decided to dust it off, and then show it off again. And thank heavens they did! Re-launched this past Spring, (along with 3 additional Dior classics), was Diorella. It is a floral chypre like none other: an androgynous flirtation, a yin and yang of heady flowers such as jasmine and carnation balanced by vetiver, oakmoss, patchouli and musk. According to one of the greatest perfumers of the 20th Century, the legendary Edmond Roudnitska, "Diorella is my proudest creation."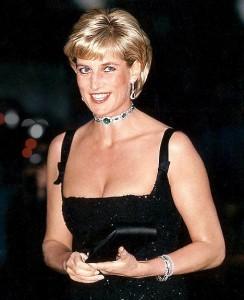 Princess Diana (1994)
"What message will I be giving out if I wear this?" ~Diana, Princess of Wales
Princess Diana's style evolved before our very eyes but each step of the way she was keenly aware of the image she projected. Diana had several black statement dresses, each unveiled at very different periods in her life. One was the black taffeta number she wore in her first public appearance as fiancé to Britain's Prince Charles, another –dubbed the "revenge dress"– was a black knee length, off the shoulder Christina Strambolian with a mini train that grabbed the headlines away from Charles as his admission of adultery was being aired on BBC. The most stunning of Diana's LBD was the Chanel she wore with her favorite emerald choker just shortly before her death. As her freedom from the Windsor grip became more real, her outfits became more sexy, modern and chic.
24, Faubourg by Hermes (1995)
"24 is best enjoyed, in my opinion, the way one would appreciate a great Sauternes swirling around the tongue." ~Luca Turin
Princess Diana was actually known to wear 24, Faubourg. It is a dazzling big scent but full of charm so as not to be overpowering…much like the personality of Diana herself. The message behind this fragrance is one of proud femininity, the love of classic cuts, all done with a touch of whimsy.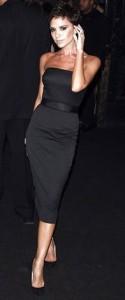 Victoria Bekham (2007)
"It was the silhouette." ~John Galliano
Victoria Beckham loves the LBD so much that it remains her constant frock in the face of ever changing hair cuts and colors! The much photographed fashion maven is often depicted in the latest Little Black Dress design whether Galliano, Gucci or her own design.
Victoria tends to sport the LBD that is tailored yet body conscious. She never seems to tire of the Little Black Dress and each incarnation seems fresh.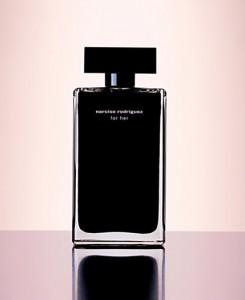 Narsico Rodriguez For Her (2003)
"The dark-veiled silhouette, that from patrolling without visible strain or vainglory a demented dreamland of fearful poetentail." ~Kathryn Hulme
An instant classic this fragranced propelled a very young nose to international preeminence. In the era of internet bloggers, Francis Kurkdjian, along with fellow creator Christine Nagel, became celebrity noses. Inspired by a musk oil that designer Narcisco Rodriguez brought back from a trip to the
Middle East, is a thoroughly modern take on oriental with a dry chypre with musk front and center. This is the type of fragrance that can make a woman feel more like a woman. Tailored…but body conscious. Plus, the bottle just screams Little Black Dress!
In the end the Little Black Dress of fragrance is/are the perfumes that fits your mood on the most occasions, your own personal default fragrance(s) that speak to you, that elevate you, and can be dressed up or down. Simply put.. just right.
– Liza Wade, Guest Contributor
Editor's Note: One of my LBDs of fragrance is Pierre Guillaume's (for Parfumerie Generale) L'Oiseau de Nuit…
What's Yours? -MC