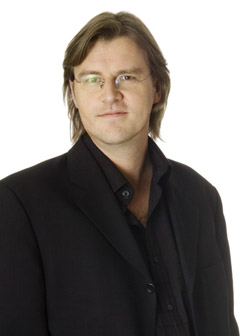 Frank Voelkl of Firmenich
Throughout the past nine years, I have had the honor to interview some of the world's most talented perfumers. I have been corresponding with Senior Perfumer Frank Voelkl of Firmenich for about a month, specifically for a CaFleureBon Profile in American Perfumery article. However after meeting Frank last week (Wednesday October 15th, the day Estee Lauder announced the acquisition of Le Labo) and spending a few hours with him, I realized that he represents much of what is good in the fragrance industry. Passion. Connecting to consumers. Olfactive Art. To my knowdedge, there really has not been a definitive interview with Frank Voelkl, one that reveals the many facets of his work and his personality. Frank was very gracious and forthcoming; he spent alot of time answering all sorts of questions. One takeaway from our visit together is that Frank puts a little bit of himself, his German heritage and personality into every fragrance he has created, (even the ones that "challenged" him due to marketing or budgetary constraints). I am beginning to detect a "Voelkl-ade" in many of his perfumes; a very distinct wood accord. His is a name to watch over the next year as he is taking on more and more artistic "parfums en niche" fragrances projects. I believe a few will be on your bureaus, in addition the ones he has already created. -Michelyn Camen, Editor in Chief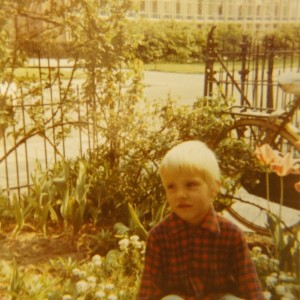 Frank Voelkl as a young boy growing up in Germany
Michelyn Camen: Where were you born and what was your childhood like?
Frank Voelkl: I was born in Bonn, Germany where I spent the first few years of my life before moving to the Netherlands and then later to Paris, France. My happiest moments were the summers I spent in Germany at my uncle's farm. It was my playground where I would explore the powerful scents that were around me. I was constantly surrounded by scents of nature… barrels of hay, the animals wandering the pastures, weeds and wildflowers, the harvest. These scents, all of the good and the bad, left an imprint on me. It was something that gave me such pleasure as a child, and something that still excites me to rediscover every time I visit him.
When did you know you would become a perfumer? What perfume did your mother wear?
FV: It was Paris where as an adolescent I discovered the world of fragrance. Paris is such a fragrant city. The streets come alive with scent. It's a place where fragrance is celebrated as art. I remember spending all my weekends at a perfumery store on the rue de Rivoli. I would spend hours smelling and uncovering scents that I wore and fell in love with. Those were the fragrances that stayed with me and became a part of my life from then on. I would even try to recognize which perfume my mom was wearing on a particular day. It was a playful game that later turned into a passion and then my profession. I still remember the scent of my mother's night cream, I believe it was Absolue de Lancome, when she would bend down to kiss me goodnight. All of these scents became an integral part of my life, shaping my olfactive memory from that point on.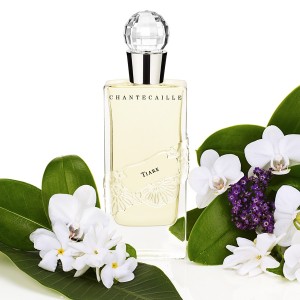 Photo: Chantecaille.com
What was the first fine fragrance you created and when?
FV: I settled in New York in 1995, where I met Sylvie De Chantecaille for whom I created my first fine fragrance, Tiare De Chantecaille. Tiare, being the national flower of Tahiti, served as a great inspiration as my wife is from Tahiti and it is a place where I go every year to resource myself and be immersed in the lush scents of this tropical paradise.

Frank Voelkl in his office at Firmenich New York Photo: Firmenich
When did you join Firmenich?
FV: I joined Firmenich on October 17th 2005, 9 years ago which also happens to be my parent's wedding aniversary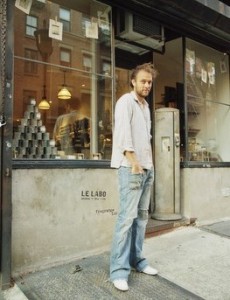 Fabrice Penot of Le Labo Photo:Le Labo
Many of our readers associate your name with Le Labo. How did the relationship begin?
FV: I met Fabrice Penot, co-founder of Le Labo in 2002 when I was with Symrise. We worked together for a few years developing a dialogue on fragrance based on our passion for creating strong emotions. I am part of a small group of perfumers who develop fragrances with Fabrice and Eddie Roschi. Our friendship and work relationship goes back many years in which we learned to understand and trust each other based on many common values and a passion for "true" perfumery. It is a somewhat exclusive relationship that I don't have with anybody else to that extent. That is when we started working on a scent that would later become Santal 33 for Le Labo.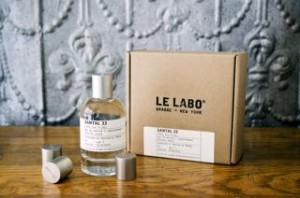 Le Labo Santal 33
There seems to be a cult following for Le Labo's Santal 33. What makes it so different and compelling? What was its inspiration?
FV: Santal 33 started as a candle, but I loved it so much I would wear it as a perfume. It had such a mesmerizing presence that never went unnoticed, so Fabrice eventually decided to launch it as a fine fragrance. To me, Santal 33 is my masterpiece on "perfect imperfection." It completely embodies what I try to achieve as a perfumer, which is purposely overlooking details and the urge to polish every feature to create something that has facets of imperfections that might come off as too much, but all come together to produce something beautiful that has profound meaning
It was launched in 2011, all without any advertising or promotion; more and more people would learn about it and become addicted. It has become a little bit the talk of the town where clients would come to me to compliment me on the scent and others start asking for fragrances to be created, inspired by it. Due to its incredible strength, strong signature and unique identity it has become very "visible" in the streets of NYC.
I have tested a number of fragrances that could be scent twins to Santal. How do Olfactive artists address others copying their work?
FV: There is no copyright in perfumery so in theory anybody could copy anything. The reality is that the fragrance industry is quite small and composed by people who keep meeting each other and work together at different times and in different positions throughout their careers so it's not a smart move to copy each other.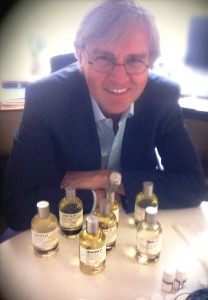 Frank Voelkl and his Le Labo Perfumes: Photo: Michelyn Camen
How does one capture a city with an ingredient?
FV: It starts out with a discussion with Fabrice Penot. We somehow brainstorm until we find that magic ingredient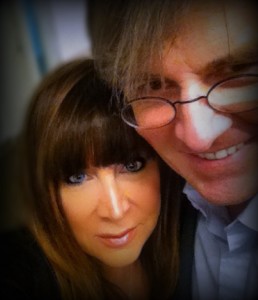 Michelyn Camen, smelling wonderful (while looking mysterious and clearly smitten) and Perfumer Frank Voelkl: Photo M.C.
It is difficult for me to choose a favorite from Le Labo, but lately I have been smitten by Benjoin 19, The Moscow City Exclusive.
FV: Benjoin19 suits you; it is about sensual warmth with a bit of mystery.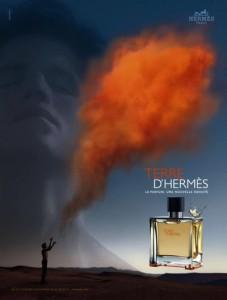 Terre D'Hermes Ad
The fragrance you wished you had created?
FV: Terre d'Hermes by Jean Claude Ellena. There is a very unique blend of precious woods that make this fragrance so comfortable to wear without ever growing tired of it.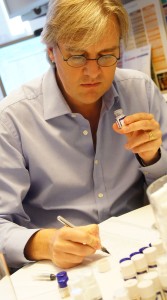 Frank Voelkl Photo Firmenich
Describe yourself in about 100 words:
FV: I am a devoted father of three children, (ages 21, 16 and 9 years old) and for me, family comes first. I'm a soft spoken person who knows how to listen and prefers to speak only to voice a true opinion. I'm a Perfectionist and very demanding of myself and also demanding of my environment. Respect is one of my core values. That doesn't mean that I'm afraid to express what I truly think but I always try to communicate in a way that's not offensive. After all, before discovering my passion for fragrance, my initial career choice was to become a diplomat.
What is the most rewarding aspect of your job?
FV: I'm grateful that because of my passion I can create fragrances that make a difference in people's lives that trigger emotions, and make someone feel good about themselves, which to me is the primary purpose of a fragrance.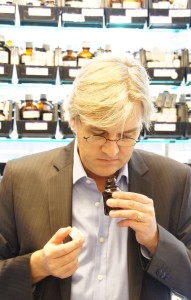 Frank Voelkl Photo Firmenich
What are the challenges of being an American perfumer? In what ways does our culture reflect the fragrances that are being created?
FV: Aside from my involvement in the European and Latin American perfumery market, my primary focus is on the American market which is one that has evolved tremendously in the last 30 years. The 80's were loud and American consumers drenched themselves in everything from Dior Poison to Giorgio Beverly Hills, and then there were the 90's where Pleasures and CK One dominated as a form of transparency. Today it has become a market where consumers mostly wear fragrances in a "respectful" way trying not to interfere too much with the space of their surroundings. Fragrance is not inherent to American culture in the same way it is to the European or the Middle Eastern culture. For that reason, it needs to be adapted to the evolving needs of American consumers. The challenge, as a perfumer, is to find fragrance structures that will create a strong emotion and a signal in coherence with the brand. It requires having the right level of presence that will create a form of addiction for yourself, but also allows your environment to be able to relate without getting overwhelmed. The choice of precious ingredients that have a strong personality and a unique character, along with their balanced association, allow me to create fragrances that have true soul and reason to be.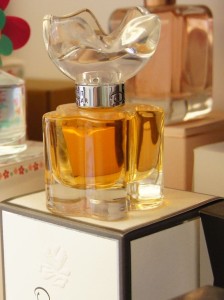 Frank created Oscar de La Renta Esprit d'Oscar (RIP Oscar de La Renta who passed away at age 82 October 21, 2014) Photo: Firmenich
Do you think that The Fragrance Industry is doing a good job of connecting to the American Consumer? What are the major issues in the market today?
FV: There are a few. One is the blurring lines of the Mass and Prestige Market. The moment I heard the term "Masstige" for the first time, I knew that consumers could get lost in the fragrance world, potentially not finding the right answers to what they were looking for. The recent growth in the Niche and Indie market allows fragrance lovers to explore new territories, searching for an olfactive statement that offers a true point of difference and creates a strong emotional connection for them.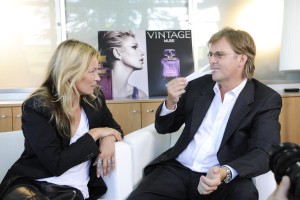 Frank Voelkl with Kate Moss (Vintage Muse) Photo: Firmenich
Your thoughts on celebrity scents as you have composed quite a few!!!
FV: Back to the challenges; this is the other side of the spectrum, there is the noteworthy Celebrity fragrance market which is a mostly American phenomenon. It has to be considered a phenomenon because the fragrance acts as a carrier that connects the consumer to a personality. Consumers are motivated primarily by obtaining a "piece" of the celebrity and what they represent. They buy into that first, and the fragrance has to embody that. This market is built upon someone else instead of the Niche and Indie market, which focuses on the consumer itself.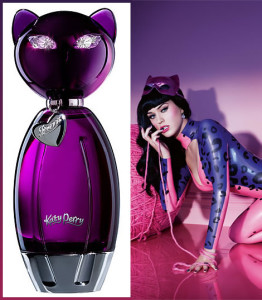 Purr and Katy Perry
Was Katy Perry involved in Purr's creative process?
FV: I met Katy Perry a few times during the fragrance development and she had brought one of her favorite perfumes to show me what kind of fragrance she liked. So definitely a "piece of her" went into Purr. Actually the design of the bottle was created by her.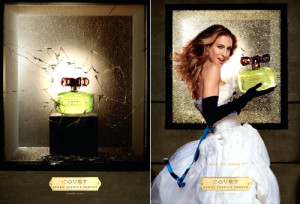 Frank Voelkl composed Covet, a Fougere for Women Ad with Sara Jessica Parker 2007
You have signed niche fragrances but also many commercial perfumes. What are the challenges of creating a really good mainstream fragrance with a limited budget? Is there one that you are particularly proud of?
FV: Covet by Sarah Jessica Parker is a fragrance I'm particularly proud of even though its commercial success was limited. It's a Fougere for Women using classic Fougere ingredients like Lavender and Geranium. It is certainly innovative and was probably ahead of its time when it launched. The initial accord was one that SJP fell in love with when it was first shown to her, She has a true passion for fragrance.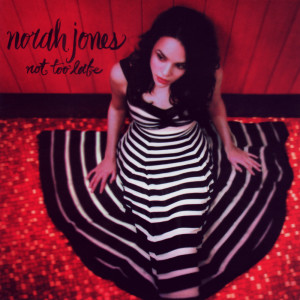 Nora Jones Not Too Late
Who are your two favorite American Artists? How does their work relate back to your creative process?
FV: I have such a diverse taste in art, but I am very much inspired by the spirit of American artists in general as they all tend to be great pioneers and artistic innovators. To me, fragrance creation is best compared to the art of creating a sculpture, where you create shapes by adding or removing pieces at different angles. One of my favorite musicians is Nora Jones. The smooth, sensuality of her tone is inspiring. She effortlessly commands a stylistic and emotional range. To me, fragrance is like a melody that has continuous movement, a Leitmotiv that continues to reappear while you wear it, where the various fragrance notes move at different speeds and create a certain tension that at the end trigger a profound emotion.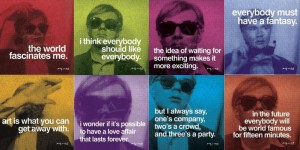 Andy Warhol
As a perfumer, I also like to think in colors, using different shades in my palette to create brightness and luminosity or a mysterious darkness. I like to add contrast in my fragrance creations and express myself with a certain level of abstraction. One of my favorite American artists is Andy Warhol. I find there are many parallels to how I create with how Warhol transforms a person through the use of color and contrast to create a completely different perspective.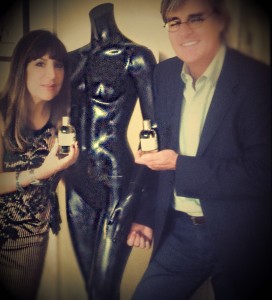 Michelyn, Ebony and Frank (Le Labo-ized ) Photo: Michelyn Camen
Tell us about Ebony!
FV: She's a black Mannequin in my office and not only my coat hanger. I have her there for around 8 years now and without her, my office would feel very empty..!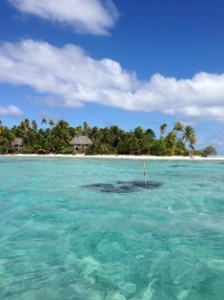 Ninamu French Polynesia, Photo: Frank Voelkl
Passions outside of perfumery?
FV: Traveling, discovering the world and different, mostly exotic cultures has always been important to me. I find staying too long at the same place tiring. One of my latest passions is scuba diving; I love to experience the sensation of diving deep down and being immersed by the silence that reigns in the powerful ocean. French Polynesia is my favorite place for it.
What are your favorite restaurants in New York and in Germany?
FV: GERMANY: Petersberg Restaurant, on the Rhine river with a view on the "Siebengebirge" (=seven mountains on the Rhine Valley) NEW YORK: John's Pizzeria on Bleeker Street , I've been going there for almost 20 years.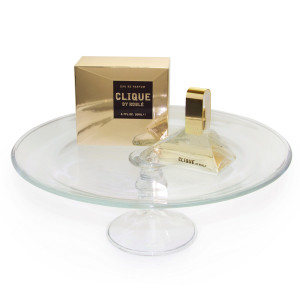 Photo: Brands With A Purpose
Speaking of cuisine, tell us about collaborating with Roblé Ali of Bravo's Roble & Co on the new Clique by Roble fragrance?
FV: The development of Clique by Roble, the first fragrance by a chef was a wonderful experience. At our kick off session with my friend Bart Schmidt of Brands with Purpose and Chef Roble Ali, who shared with me some of his favorite and most popular recipes that I then translated into fragrance accords. Clique is a sophisticated floral oriental fragrance that uses these accords in a subtle way to create its signature and some level of addiction.
What's next?
FV: I have several projects in the works, as always. There is one in particular that is very exciting that will launch in 2015. I cannot disclose much about it but I can say that it is a niche perfume.

Thanks to our friends at Le Labo we have a draw for EITHER 15 ml of Santal 33 which will be personalized for the winner OR a sampler set of Le Labo perfumes composed by Frank Voelkl (Santal 33, Ylang 49, Iris 39, Musc 25 (Los Angeles), Baie Rose 26 (Chicago), Limette 37(San Francisco) and Benjoin 19 (Russia) for one Cafleurebon reader in the USA, CANADA or EU. To be eligible, please leave a comment with what you found fascinating, learned about Frank Voelkl and your favorite fragrance he composed. (He will be reading your comments by the way). Draw closes October 24, 2014
We announce the winners only on site and our Facebook page, so like CaFleureBon and use our RSS option…or your dream prize will just be spilled perfume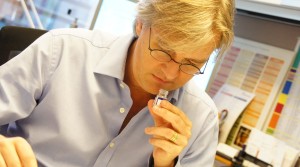 Official List of Perfumes by Frank Voelkl (all fragrances link to Michael Edwards Fragrances of the World)