Sarah McCartney of 4160 Tuesdays; Photo Phoenix Magazine
If you haven't already come across the weird and wonderful world of 4160 Tuesdays, I suggest you get ready for a grand adventure. Delving into the mind of British Perfumer Sarah McCartney is a little like peeping down the rabbit hole; a kaleidoscopic array of fragrances await you, all jewel-bright colours and fantastical titles.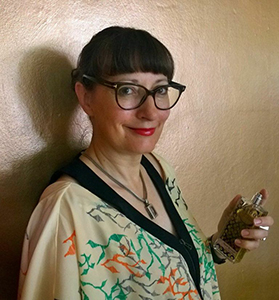 Sarah McCartney
Of course in reality Ms McCartney works from a perfectly ordinary studio in west London. She is a self taught perfumer and one who seems to work as entirely outside of the usual perimeters of the niche perfume industry as IFRA will allow. After spending years as head writer for The Lush Times, Sarah took a break to write a novel about a problem solving perfumer.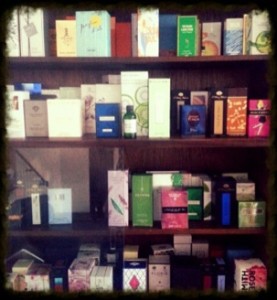 The Wall of Scent at 4160 Tuesdays Studio
She wanted to scent the characters in her book and after becoming frustrated at the total lack of suitable fragrance, she decided to do it herself. 4160 is the number of Tuesdays we will live through if we make it to~80 years old. Ms. McCartney believes we should be making the most of them. She also offers fragrance and blending courses for those wishing to create their own bespoke fragrance, as well as informative lectures on the Art of perfume using her enviable collection of vintage and classic fragrances, aptly named The Wall of Scent.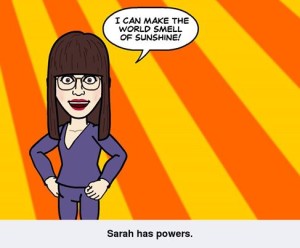 Illustration from Sara McCartney's Facebook Page
My firm favourite from the collection is Sunshine & Pancakes, an incredibly comforting and simple concoction of sandalwood, jasmine, honey and lemon. The whole scent has beautiful light and warmth, beginning with the citrus zing of sunbeams and gently wafting jasmine through an open window. It warms into honeyed woods and afternoon tea on the patio; never too heavy and aglow with the joy that only comes when one is totally relaxed. I like to wear this scent like a woolly blanket on dark days, to remind me of more golden times.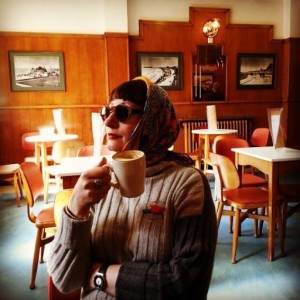 Portrait of Sarah McCartney (courtesy of Sarah's Facebook Wall)
In this interview, I asked Sarah about her particular style of scent making as well as questions I had about her creative process and she responded as ever with wit and charisma…..
Susie Baird: It strikes me that the most poignant aspect of your work and the thing that sets you apart from the majority of other niche perfumers is your approach. It seems that your creative process and the ideas leading up to the making of a scent are almost more creatively important to you than the finished product itself. Would that be a fair statement?
Sara McCartney: That is a very fairish statement. I love the whole process, but it's different for each scent. I spent 40 years slogging away at work, saving up ideas, collecting observations, learning new skills. With perfume I've found that I can squeeze all my creative efforts and my nerdy side into this one thing I'm really enjoying, I've got a stash of ideas, memories, phrases, songs, feelings – things I've gleaned and filed. I'm calling on that now. For me it's not about making the perfect perfume, it's about storytelling using scent as well as words.
Tell me about how you choose the names for your fragrances. They all have rather wondrous and enticing titles…
SMc: It happens differently for each one. Sometimes they name themselves. The scent can come first, or the name. It varies. The one I'm planning now, it's called Meet Me on the Corner, named after a song by the Newcastle rock-rock band, Lindisfarne. It's about a time when you had to arrange where to meet people in advance, then actually be there when you said. "I'll be there, I promise I'll be there," they sing. A perfume from when phones could only be found attached to wires.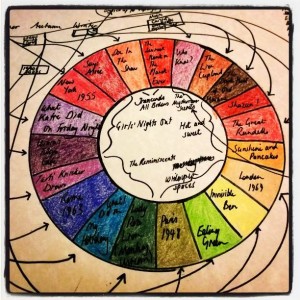 4160 Tuesdays Circle of Self Expression
There are so many 4160Tuesdays creations to choose from so what advice would you give to someone embarking on an exploration of your scents?
SMc: I'm going to introduce you to the Circle of Scented Self-Expression. I had such a great time designing my own infographic.~No one outside the industry has a clue what a fougere is (and lots inside disagree anyway) and as for ambers? Kill me now. So for the Circle of Scented Self-Expression – that is supposed to be funny, by the way, not pretentious – I described all our perfumes in familiar language, not over the top romantic, mysterious, jargon-laden perfume speak. If in doubt, start with The Sexiest Scent on the Planet Ever, Tart's Knicker Drawer, or Invisible Ben. Then work sideways.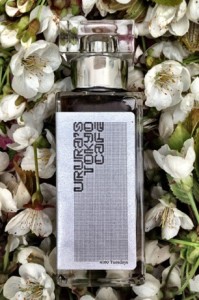 What is the one perfume out of the collection that you go back to time and again?
SMc: When they're all lined up, I find I reach for a favourite – it's Urura's Tokyo Café.~ One day there will be another. I've got it planned; I've got some blackcurrant bud absolute arriving and some karo karounde, the white flower to end all white flowers. It's probably going to be called "Mine and No One Else's" because it's going to be stupidly expensive and I'd be too embarrassed to tell anyone how much it would cost them.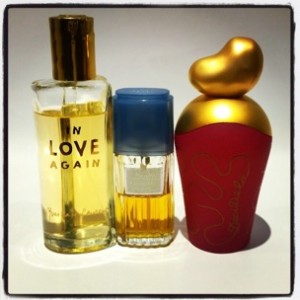 Vintage In Love Again, Diorella and Deci Dela from Sarah's collection
If you could only choose three classic perfumes from your famous Wall of Scent, which would you choose?
SMc: Edmond Roudnistka's Diorella for Christian Dior (1972) Nina Ricci Deci Dela (1994) by Jean Guichard, Yves St. Laurent In Love Again (1980) by Jean Claude Ellena. Fruity chypres. Can't get enough of them. Mostly red fruits, peaches and plums, blackcurrants and citrus fruits – blood orange, pink grapefruit, cedrat. My ideal scents are so complete you really can't put your finger on what's in them: balanced and beautiful, with boots on.
–Susie Baird, Contributor and Editor of Epiphany.
Disclosure: I purchased purchased my samples of 4160 Tuesdays scents from Les Senteurs
Editor's Note: Sarah McCartney is one of the innovative Artisan Perfumers that are on the forefront of NEW Britian fragrances. Fruity Chypres? Sarah, we are going to be BFF in Fragrance. In the USA, 4160 Tuesdays is available at Luckyscent You can follow @4160Tuesdays on Instagram and I am @cafleurebon -Michelyn Camen, Editor in Chief
Thanks to Sarah McCartney we have a draw for a set of samples including Sunshine and Pancakes, The Sexiest Scent on the Planet Ever, Tart's Knicker Drawer, Invisible Ben and Urura's Tokyo Café for one lucky EU or USA reader. To be eligible, please leave a comment with what you learned about Sarah McCartney of 2160 Tuesdays, if you have a favorite from the line and where you live. Please give a warm welcome to Susie who has joined CaFleureBon as a Contibutor. Draw ends 11/17/2014
We announce the winners only on site and our Facebook page, so like CaFleureBon and use our RSS option…or your dream prize will just be spilled perfume.