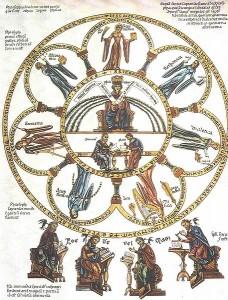 In the 5th century AD, Martianus Capella defined the seven Liberal Arts as: grammar, dialectic, rhetoric, geometry, arithmetic, astronomy, and music.
Today, the Seven Arts are known as the "fine arts" with architecture, sculpture, painting, music, dance and literature and film most often cited. All are visual and performing arts. It was Octavian Coifan, the fragrance specialist, critic, writer and founder of 1000 Fragrances that first cited Perfumery as the 'Eighth Art'…neither visual, nor three dimensional, but intensely experiential.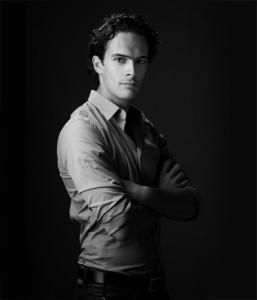 The nonconformist nose and chemist, Pierre Guillaume, celebrates the 8th year of his lauded line of Parfumerie Generale fragrances by creating a second brand with eight fragrances and honors Octavian Coifan by naming the new line "Huitième Art Parfums" (Eighth Art Perfumes).
Pierre Guillaume endeavors to evolve the Art (and science) of Perfumery to the next level. Huitième Art Parfums is an evolution that heralds the 21st century as an age of both artistic and technological discovery…'Phyto- Perfumery' in this exclusive interview for Ca Fleure Bon.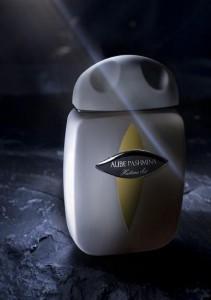 Any new perfume from Pierre Guillaume is always regarded with great anticipation, but in this case because there is also an entirely new range with a new name, the anticipation is heightened by a bit of mystery. Why did you decide to create a new brand in addition to your already successful Parfumerie Generale? In what way will they differ?
PG: I was motivated by the opportunity to exercise my creativity in a wider arena. Huitième Art gives me a chance to explore another aspect of my work without betraying my PG fans. It's also a way of making sure that I retain some artistic balance and don't get locked into a particular style at this early stage… Managing two different esthetics implies a perfect understanding of how they work. I know what I want artistically for PG and HAP – they are designed, constructed and interpreted in different ways.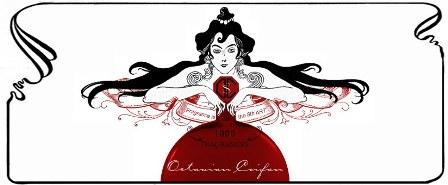 Did you collaborate with the perfume critic Octavian Coifan in the concept of perfume being an Eighth Art. Did Octavian also collaborate with you in other aspects of these perfumes beyond the overall concept?
PG: I didn't collaborate with Octavian, I just agreed with his concept that perfumery is the eighth artistic discipline. By calling our new brand « Huitième Art », we are giving weight to his notion via an industrial process, so that it can be shared, disseminated and hopefully, institutionalized… In this way, Octavian will remain the « founding father » of this principle. He is the Muse as far as the name goes, but he has not yet smelled the perfumes, which have been created in strictly confidential conditions. And then there was a combination of circumstances: 8 eaux de parfum, 8 years after the introduction of PG's first fragrances, which were shown at the 8th Pitti Fragranze tradeshow….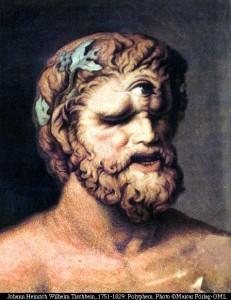 In neurophysiology, "cyclopean perception" is a term used to describe how the brain integrates two separate flat images, one from each eye, in order to produce a single image with three dimensional depth. Your new Cyclops bottles seem to promise a similar integration. Can you talk about two perspectives in perfume making that are integrated to produce depth in your new perfumes?
PG: With HAP I didn't use the pyramid system in which olfactory levels are superimposed and which is determined by evaporation rates, but focused instead on harmonising 2 or 3 olfactory spheres…the material responds to the "accord"….the "accord" highlights the material.
Did you coin the term 'phyto-perfumery'?
PG: I think so. It is supposed to summarize the spirit of this first series of perfumes: we've tried to capture the innate nature of the plants expressed in these fragrances, their radiance, their soul.
Why did you decide to break free from the traditional olfactory pyramid in these new perfumes?
PG: I want to simplify the analytical approach… these fragrances are created on the basis of two or three accords or original materials; they need to be experienced in their entirety. You can appreciate them better by distancing yourself from them to some extent, just as you need to stand back from a painting to observe it properly… I want the same approach for this line. I keep my technical subterfuges to myself, and the spectator experiences only the emotion aroused by them.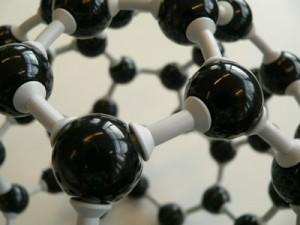 Please describe the difference in methods and in results in creating odorant molecules with the biotechnology of phytoperfumery that derives from natural plant materials as opposed to using completely synthetic sources?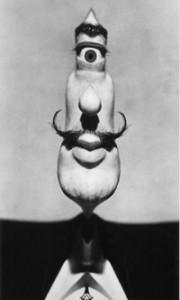 PG: It's more complicated than that. The idea is to reconcile nature and technique and to show that the two types of ingredients – synthetic and natural – complement each other. We use synthetic resources but combine them with natural extracts to restore the innate nature, radiance and life of the materials used: I call this « olfactory photography ».
You have written: "New extraction and olfactory photography methods allowing for living matter to be analysed and captured now give a say to common or exotic plants, roots, flowers, wood or simply fruit, until now totally mute to the perfumer." Are these methods able to derive extracts from lilies of the valley and gardenias, flowers that up until now have been recreated primarily from synthetic materials?
PG: Unfortunately I don't fully understand these technologies – this expertise comes from external companies with whom we share knowledge: to date we have worked on extracts of pear, blackcurrant, mango, ginseng, kigelia and hamamelis. I know that other trials are underway…These extracts are only useful when combined with other odorant molecules.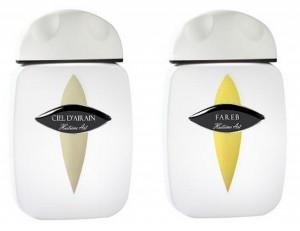 Your new perfumes feature many unique and unfamiliar plant materials, for instance pear, mango bark, olive twigs, African red orris (Kegelia Africana) and Zebrano wood. Are these examples of materials derived from new extraction methods?
PG: HAP perfumes consist of « perfumery accords » for example in Fareb, Bois D'Immortelle which is a composition of original ingredients such as Ginseng extract, which can be described as absolute: a dark brown gum suggesting roasted coffee with hints of wood, spice, tar and cedar.
In the fragrance CIEL D'AIRAIN, we were seeking to develop a new wood, Pear tree, as L'Artisan Parfumeur and Diptyque did with the fig tree about fifteen years ago. Fresh fruit extracts combined with phenoxyethyl isobutyrate, (an apple-fragranced chemical compound) allow us to express the character of the fruit, leaves and wood of the pear tree with striking realism.
Will you also continue to create new Parfumerie Generale perfumes as well Huitieme Art perfumes and continue to grow both brands simultaneously?
PG: Absolutely. We have so many plans…We're currently working on the 2011 launches for both brands. The new PG perfumes will be « very PG ».
Editor's Note: My thanks to Pierre for giving us this early look into his new direction.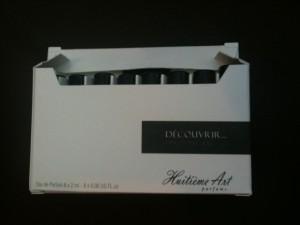 A lucky Ca Fleure Bon reader will also get to discover the "Huitième Art Parfums" line. Thanks To Pierre, we are giving away The Decouvrir Kit, which contains a 2ml spray of each fragrance. We will draw from among all comments on this article and the reviews from Managing Editor Mark Behnke. Mark will be reviewing four of the fragrances on 9/30 and the remaining four on 10/4. The draw will take place on Wednesday October 6 at 11:59 PM EST.
To be eligible all comments must be left onsite
–Michelyn Camen, Editor-in-Chief
Special acknowledgement to Kathryn Downing