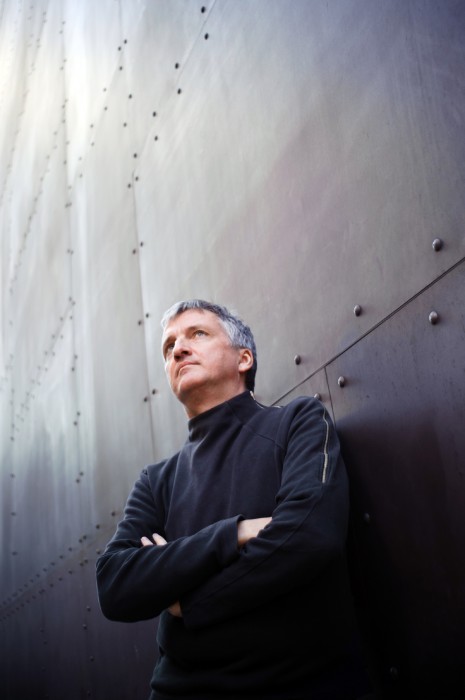 Where were you born? Please tell us about your childhood…
Ralf Schwieger: I was born in Germany in the rural region of Westphalia one might know from the opening sequence of Voltaire's Candide… Centuries later it's the same: nothing really exciting, a region with cold winters and lots of rainfall, although that I love.
I grew up near the forest, surrounded by greenery, perhaps the reason I like mossy, woody and green notes?!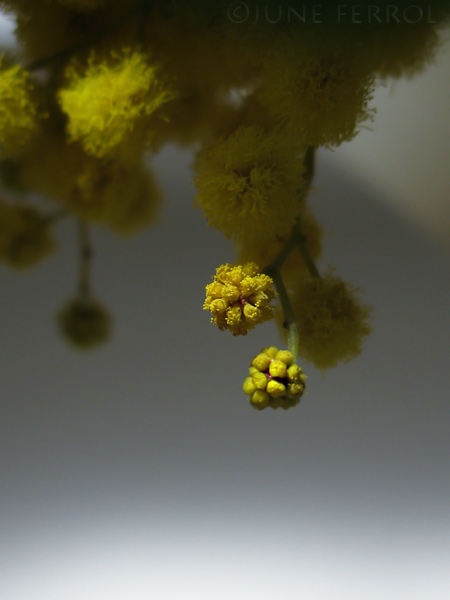 What was your first olfactive memory?
RS: Quite a difficult question, scent-wise. I don't remember anything interesting, I recall flavors better: the red currant in the garden, grilled chicken, creamsicle-like ice cream and all these other crazy sweet things you eat as a child.
But there was the absence of smell: approaching freshly fallen snow on a tree with my nose and mouth trying to smell and feeling the purity and vulnerability of it…Even your breath destroys the crystals… anyhow, I love when olfactive and tactile sensation are in unison, smelling mimosa is only the real thing when your nose touches the fluffy blossoms!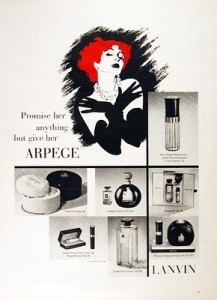 My mother used to wear Arpège, this I remember well.

At what age did you begin to study perfume and where? What was your first fragrance as a nose?
RS: I started rather late, thirty years old, at Roure's perfumery school in Grasse after having finished my chemistry training in Berlin (which was oriented towards fragrance chemistry); so this was my second training: I had to start over again and I felt humbled by the experience.
My first fragrance for an established label (and other than low cost imitations for small markets, the way you normally start as a junior perfumer in a big company) was 'Golden Moments' by Priscilla Presley (Muehlens), a flanker for a then successful brand in Germany.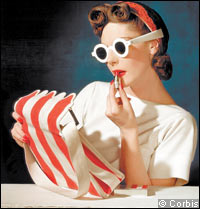 Can you tell us about the creation of Lipstick Rose for Editions Fredric Malle in 2000? It is hard to believe that it is been twelve years.
RS: Frédéric Malle had been working for Roure (which eventually became Givaudan-Roure, then Givaudan) prior to my arrival there; when he created his 'Editions de Parfums' he wished to include a perfumer from his old company. He liked my lipstick idea (and if I remember correctly, his wife was a fan) and we worked on the fragrance for some time in order to highlight the powerful violet/rose accord with some animal notes and an aldehydic facet in the fashion of White Linen. The development was much fun and I was pleased to be included in such an illustrious group of perfumers including Edmond Roudnitska – having just started my career a couple of years earlier.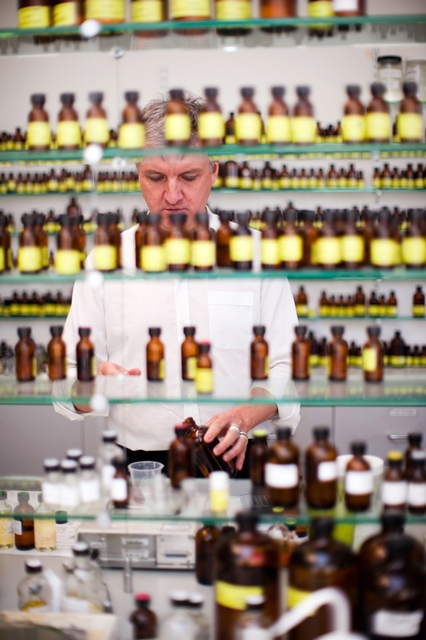 In what ways have you grown as a perfumer over the past decade, how has your approach to olfaction changed.
RS: I might have grown a perfumer belly – most of the time I am sitting at my desk and not smelling flowers outside!
It is difficult to sum up all the influences but raw materials now seem like old acquaintances to me: I have my favorites, those I hardly ever meet and the ones I do not really care for – but I always try to stay curious during the encounter.

Is it more difficult to be a perfumer in 2012 than it was in 2000? What are the challenges especially light of the EU regulations.
RS: My biggest regret is to have less and less money to indulge in costly raw materials, the challenge is not an availability but an affordability issue. The EU regulations are not that challenging for new creations as there are still many roads yet unexplored but to recreate an already existing scent without the proper ingredients is sometimes very difficult. Just add financial constraints and you understand that some people cannot recognize their well loved classic fragrance after an 'actualization' or whatever euphemism is used to disguise a formula change.
Which raw material has been the most problematic in creating a fragrance? Which fragrance was the most challenging?
RS: Musk can make a fragrance too opaque (ask Jean-Claude Ellena!), synthetic sandalwood notes may convey too much of a fatty note and 'modern' amber notes are often a little dry and harsh – but all that can be controlled. It's similar to cooking, you need your basic ingredients but the right dosage of modifiers as salt and spices are important.
Floral fragrances are still a challenge for me, especially when used without the help of the easing fruit notes or the contrast of a woody background.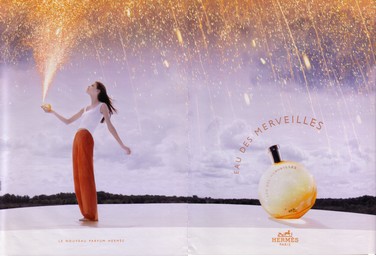 Some consider Eau des Merveilles for Hermes to be a "benchmark' scent in your career . What was its inspiration and please explain the development of its composition from concept to your final achievement?

RS: This started with an accord I worked with Véronique Gautier before she took over the perfume division of Hermès (and later hired Jean-Claude Ellena). She is one of the last remaining decision makers in the fragrance business who doesn't rely on consumer testing but rather on their gut feeling and aesthetic ideal… as in the old days.
The main idea behind Eau des Merveilles is ambergris, the fabled ingredient coming from the sea, a complex ambery note with salty aspects.
We focused on:
– the salty skin sensation, like what is left on your skin after a bath in the ocean
– diffusion, leaving a trail or "sillage"
– long-lastingness on skin as well as fabric and fur
One important aspect of Eau des Merveilles is the absence of any traditional floral-rosy note; it is essentially an amber-woody scent with a sparkling start.

Was real ambergris used?
RS: No, the woody-amber accord with the salty aspect was created to pay homage to the authentic but elusive ambergris.
When did you meet Sylvie Ganter, co-founder of Atelier Cologne?
RS: I met Sylvie when she was trying to assemble people who could help realize her dream of a modern cologne type freshness which lasts.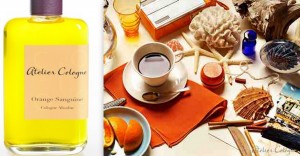 Sylvie Ganter has mentioned that you have been the pivotal perfumer to Atelier Cologne and the introduction of both nontraditional notes and sillage in Cologne. Beginning with Orange Sanguine and recently with Ambre Nue, what was the creative process for all three.
RS: My first collaboration with Sylvie was on Orange Sanguine. We both share the love of colognes rich in citrus notes, one of my favorites over the years was Eau d'Hadrien by Annick Goutal. With Orange Sanguine I wanted to explore the sensation of fresh orange juice combined with the orange peel note readily available but not long lasting. Orange Sanguine is definitely easy to like!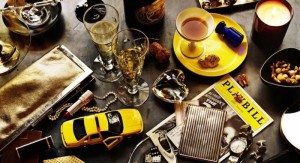 Vanilla Insensee received a CaFleureBon Best of 2011 award
Vanille Insensée was an attempt to create a fresh vanilla which is not sweet but a little dark. I wanted to avoid the creamsicle effect which is lurking behind the vanilla/citrus accord. I personally like the overdose of moss in this fragrance. Ambre Nue is a smooth amber note contrasted by an intense combination of mandarin and tagete.

The creative process is easy and effortless: Sylvie comes up with a concept or an olfactive direction which I try to illustrate, we evaluate together, she likes and discards ideas, we agree and disagree but always come up with a note we feel happy with. Sylvie is very enthusiastic when she loves something and that always gives me a boost to go one step further.

Which perfume do you wish you had created?

RS: I recently rediscovered New West Skinscent for Her by Aramis/Lauder, created by Mane perfumer Yves Tanguy. I remember having smelled it around 1990 in Berlin and it was the first time I asked a lady what she was wearing… I was slightly embarrassed.
This really is a unique scent–it might have been too modern for its time. It was an early over dosage of Calone, the marine/ozonic chemical which a little later became popular in scents like L'Eau d'Issey or Kenzo pour homme or Escape for men. But it is not Calone which is the secret to its uniqueness, it is only a facet, there is another ingredient even more important… The fragrance is rich and full of ideas und I would definitely recommend it as a "skinscent for him" as well!
You refer to a 'dynamic triangle' that is the foundation of your perfumery. Please explain what this is.
RS: Although I consider my serious perfumistic exploits "art," I have to sell them within an industrial setting. This is definitely a challenge but sometimes helps overcome indecision and blockage.
Modern day commercial perfumery is not a fairytale; it is a highly competitive environment with an outcome that is so mediocre that one might question whether it is worth all the competition. This industrial setting is the current foundation of perfumery and very much its ruin too.
I definitely see some perfumes as works of "art" (as opposed to the "craft" of copying and twisting existing market types) and I guess that's your opinion too. And this is exactly the problem in modern day perfumery, you aspire to do art but you have to do it in an industrial setting, meaning you have to sell it, it's an industry which seeks to make a profit.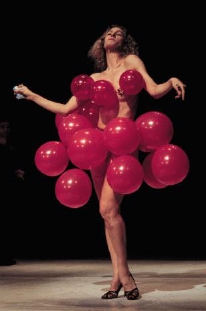 Photo © Jochen Viehoff


What aspect of culture has had the most profound effect on your work?
RS: I have quite a curious and open mind. I like to explore the universe. Anything might have an effect on me…insects… jewelry… contemporary dance…the art of cooking.
Favorite food?
RS: I am fond of Asian cuisine, especially Japanese… and I am not talking about sushi! I love French and Austrian patisserie. I really like sophisticated vegetarian cuisine which is unfortunately difficult to come by, it is so much easier to get interesting flavor out of animal products (I don't like easy!). Anyway, I love to eat and cook, I find fragrance creation and cooking closely related.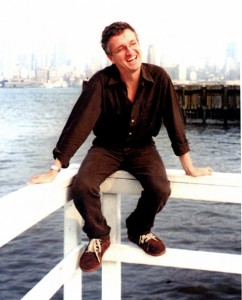 Favorite place to vacation?
RS: The seaside. This is one of the reasons I like living in New York City!
When did you move to New York City?
RS: This is my second time in New York City, I came back in 2008 but already stayed here in the early 2000's – it seems I come back with each new president!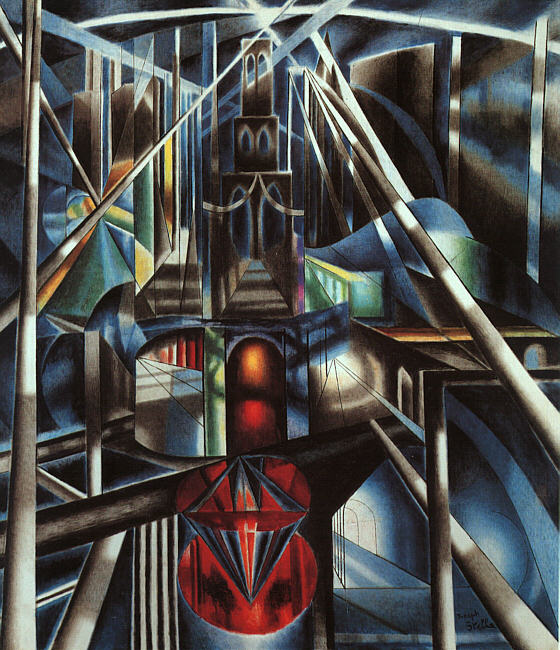 Painting: Joseph Stella

Has living in New York City influenced your perfumes? If so in what way.
RS: Modern American commercial perfumery has a style: fruity/floral as well as clean and sexy come to mind, that certainly has influenced my approach. For new creations I still try to do something I perceive as modern or unheard of. New York City is the city of few limits, I would like to use that as a motto for creation.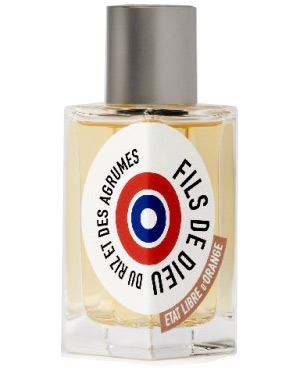 You seem to be taking on more diverse projects, most recently Fils de Dieu for Etat Libre d'Orange , a company known for its irreverent and bold marketing. How did you meet Etienne de Swardt (the founder)? What was the challenge in creating this fragrance with its seemingly incongruous notes of castoreum and rice.
RS: I met Etienne through Nathalie Feisthauer who worked on Eau des Merveilles with me; she created the fabulous 'Putain des Palaces' for him.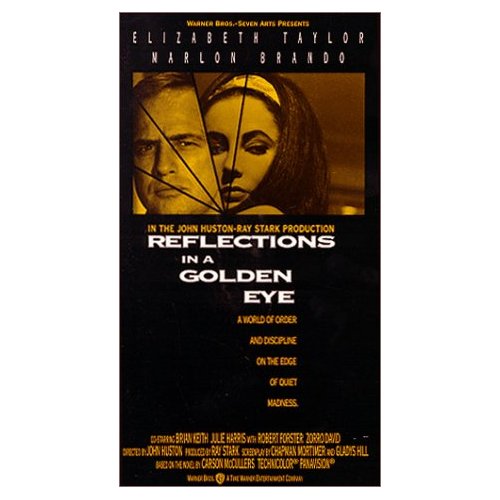 For 'Fils de Dieu/Philippine Houseboy' Etienne gave me two films to watch: 'Reflections in a Golden Eye' by John Huston and 'The Masseur' by Brillante Mendoza. The fragrance thus was inspired by Asian cuisine (hence the rice), a Philippine massage parlor (castoreum!) and the body lotions coming with it (musk) all that enveloped in a tone of sepia just like in the Huston movie. The fragrance is quite fresh and not that difficult, I personally like to wear it very much.
Pina Photograph: Laurent Philippe

If you could capture elements of nature in a fragrance what would they be?
RS: The scent of silk… the effect of rain on hot asphalt… some "illegal" scents… and bad smells!
If you weren't a perfumer, you would be…?
RS: A scientist, a sculptor, a dancer, a singer, a cook…
Is there less differentiation today between high end niche and mainstream fragrances than a decade ago.
RS: There are so many niche fragrances around, I cannot keep track. It is often dangerous to dismiss a fragrance because its initial top note seems familiar or bland but I have the impression that even many niche fragrances perpetuate the ever familiar routines. Some new mainstream scents are surprisingly well made: I am thinking of some recent launches by Coty under the Chloé or Bottega Veneta brands (of course developed by a master, Michel Almairac).
Personally, I am overwhelmed by so many new perfumes that are entering the market over the past few years. Do you think this influx of hundreds and hundreds of new perfumes will continue and what do you think the market will look like in five years
RS: Many perfumes enter the market and stay only for a season, much like a spring/summer collection in fashion.
The niche market is still developing and will be in full bloom only in years to come. There might be more independent perfumers and it seems that perfumers are leaving the fragrance companies to work directly with the brands, starting with Hermès, now LVMH (Dior, Louis Vuitton etc.), emulating the successful business model of Chanel. Who's next?.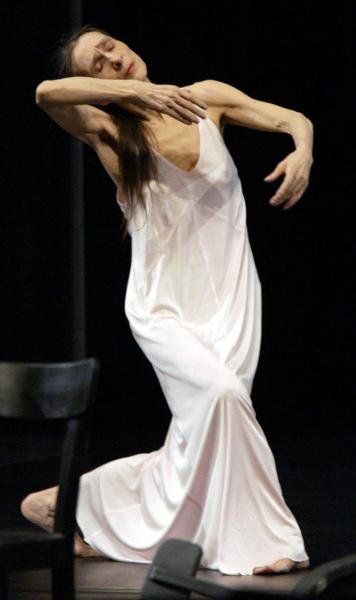 Pina Bausch photograph: Bernd Thissen

I know one of your favorite artists is the German dancer and choreographer Pina Bausch. She danced in the style of collaborative modern dance called tanztheatre. What would a perfume created for Pina Bausch smell like. How would you choreograph such a scent?
RS: Yes, I greatly admire her 'Tanztheater'. Sadly she died three years ago but her company still tours with the existing 'pieces' as she called them. I would have loved to collaborate on a fragrance with her; such a scent should convey a sense of wonder and peace: although her creations often deal with the battle of the sexes I always had a sense of awe watching them. A kind of wholesome calm envelopes me, making me look back on my life – and the battles, content. Rapture, almost. I love her.

You recently served on the FiFi 2012 Indie Committee. How would you define an indie fragrance? Can a fragrance be sold at Neiman Marcus and still be considered indie? It's a question that has definitely come up and points to the changes in the marketplace and how and where fragrance is sold.
RS: There is a whole range of perfumes summed up under the 'Indie' or 'Niche' category. There are the authentic independent brands like Mandy Aftel's Aftelier, fragrances composed by a self-taught perfumer in her own laboratory. On the other hand there are many smaller brands with an interesting concept but traditional marketing and developed by the usual fragrance houses. Then you have the small big brands like 'Tom Ford' with lots of money behind.
During a recent discussion in the 'Indie Committee' we thought of dividing the whole continuum in three categories to make a more accurate assumption – but the boundaries are not easy to define.
As a perfumer at Mane, we realize your work is highly confidential. Is there a glimpse into a fragrance you are working on now you can share with us
RS: Actually I am working on another fragrance for Etat Libre d'Orange: based on myrrh in honor of an ancient orgiastic rite… soon to be revealed …
–Michelyn Camen, Editor in Chief
Ralf Schwieger will be making a guest appearance at MinNewYork with Etienne de Swardt, March 15, 2012 to launch Fils de Dieu for Etat Libre D'Orange. There will be a cocktail reception from 6-8 pm For more information and to RSVP, please email info@min.com
To celebrate the launch, we have an amazing draw sponsored by MinNewYork. CaFleureBon readers will have the opportunity to win twenty four 2ml samples and there is one grand prize of a 50ml bottle. To be eligible, please leave a comment and your favorite quote from this interview. The draw closes March 15, 2012
We announce the winners only on site and on our Facebook page, so Like Cafleurebon and use our RSS option…or your dream prize will be just spilt perfume.
Editor's Note: Portions of this interview appeared when I first interviewed Ralf for Fragrantica 2009, and it has been very exciting to follow his career over the past 3 years; filmaker Wim Wenders recently completed a 3-D documentary about Pina Bausch which is remarkable.