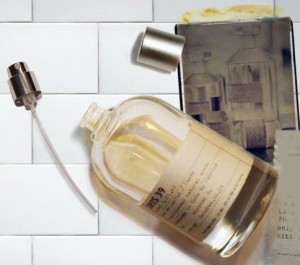 Mention Le Labo to a perfumisto and expect a hush, followed by a sigh.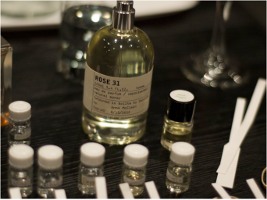 Their avant-garde, strikingly modern olfactive fragrances are created by many of the world's top perfumers, (including Mark Buxton, Anne Menardo, Maurice Roucel, Michel Almairac, Albert Morillas, Daphne Bugey and Frank Voekl). Co-founder Fabrice Penot claims to be revolutionizing the industry since establishing Le Labo Fragrances in 2006 with partner Eddie Roschi (both formerly of Giorgio Armani fragrances). If you are new to uber-niche perfumery, Le Labo fragrances are known for blending the essential oils with alcohol and water at the time of purchase and providing customized labels for the bottles; if you are a fragrance fanatic you grind your teeth every time a Le Labo City Exclusive not within a hundred miles of your town is introduced.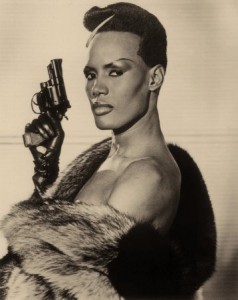 In a recent email Fabrice Penot threw down the Neroli 36 scented gauntlet; after over a year of refusing an interview, he wrote to me "it's not the answers, it's the questions". Fabrice, cheri, you are challenged to a dual. Let's see how you do.
(Note: all lower case letters in his answers are his 'style' so I did not capitalize them.)
What is your favorite 4 letter word?

My interview with Maurice Roucel drew the highest amount of comments in our history. Was it the talents of M. Roucel or your draw of Le Labo Jasmin 17 and Labdanum 18?
FP: I didn't know… that's cool. Maurice is one of my favorite human beings… and trust me, they are not many. I am glad your readers were able to taste a sample of his rare soul.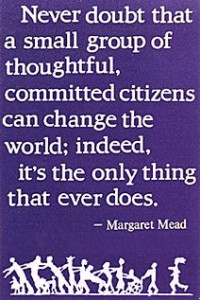 You quote Margaret Meade, the famous anthropologist, as the footnote to your emails "Never doubt that a small group of thoughtful and committed citizens can change the world, and make it smell better. Indeed, it's the only thing that ever has"- Margareth Mead (by le labo). How is le Labo changing the world?
FP: This is of course second degree… as it is hard to imagine a less efficient way of changing the world than making perfume… but still, with Le Labo, we are trying to make the life of the people who wear our perfumes more beautiful … and doing NO HARM creating these perfumes…if you can bring a little edge of confidence, of smile, of well being with your creations, i am pretty sure that you are changing something on the big picture.
this is not what we do: our original intention is truly to bring beauty to the lives of people through what we know, our craft, meaning perfume creation. Then if we succeed, eventually commercial success will follow. But it is a consequence, not an obsession .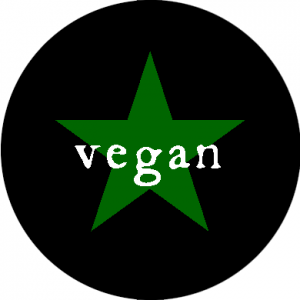 And for the DO NO HARM part, we don't market it at all but our creations are all vegan… It is something to intend to create beauty but if it is at the expense of someone else, i don't see the point.
If you could change genders and be a woman who would you be?
FP: my girlfriend so i could experience being the mom of our 2 amazing kids (and yes, eventually sleeping with myself … ;)!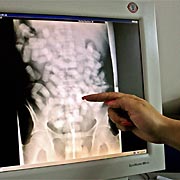 I am one of many perfumistas that are really frustrated by City Exclusives.
Why do you cause us such pain? I have to hire scent mules to smuggle Vanille 44 in from Paris. They swallow it whole and well, it's a dirty job and messy work getting the bottles clean.
FP: i know… why are we part of this generation that can have everything all the time from anywhere and can't handle a frustration from our consuming power ?
your mules are going to be able to take some digestive rest: we'll do in November a City exclusive month when you'll be able to buy any city exclusive in our store, corner and online . ( limited number of bottles though). Then, as it is already the case today, once you have a bottle you can always refill in our stores ( with 20% off since it is refill )
Which famous revolutionary do you admire the most?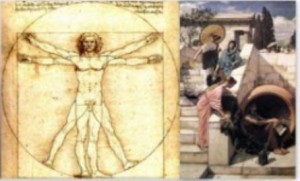 FP: I have 2: Leonardo Da Vinci and Diogenes
On your website, a few years ago it said we don't want to be sold in Macy's. They have some nice fragrances in Macy's. Isn't the purpose of a good revolution to bring the best to all? You sound like an elitist not a revolutionary.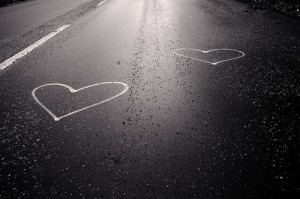 i believe that the way you connect with a perfume is a very important moment of your relationship with it… the way you try it, the quality of the environment around you, the number of stimuli around while you experience the scent. This is what i don't connect with at Macy's in that case: the idea to sell a maximum of bottles, with the maximum of noise, in a minimum of square feet has an impact of the customer experience. Come on, they are asking you to fall in love in the middle of the highway…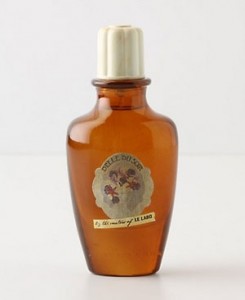 You were surprised that your fragrances created for Anthropologie was nominated for a FIFI and now are finalists for Anthropologie "By the Creators of Le Labo" Eau de Parfum collection and for the candle collection; side by with The Gap, BB& W, Banana Republic, and Victoria Secrets. You used a four letter word in fact when I wrote you about it because you were suprised.
What was your strategy in this Partnership???? (PS SURPRISE: As of April 8, 2011 the above is a top five FiFi finalist: Specialty Brand Women's Fragrance of the Year)

FP: i was surprised because i did not know we filled an application for it. with le labo we don't but our friends at Anthropologie did.
This was a great partnership that we did because the woman in charge of beauty at Anthropologie, Melissa Green is a true visionary. What she is doing there in terms of selection is a real alternative to what you can find in the traditional channels and we wanted to support that. Also, there is a fit with our brands in terms of esthetic and we were excited by the idea of creating with a much smaller price point that what we usually play with in terms of ingredients… and it turned out with this line we really cherish and which happens to be a pretty big commercial success too .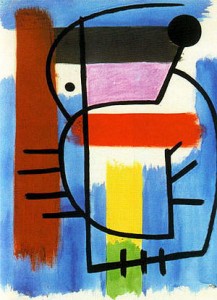 Joan Miro, 1931 A Seated Woman
What is an example of a brief oh let's say for Iris 39?
FP: the sexiest human being at a publishing house party of Saint Germain des Prés in May 26th 1931 at 11.30pm…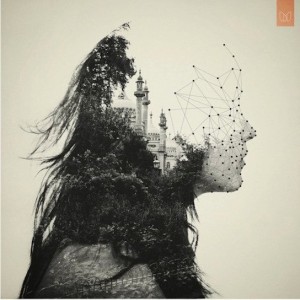 W
hat ingredients wo uld use in a fragrance for CaFleureBon 22 (our birthdate)?
FP: the headspace of your keyboard.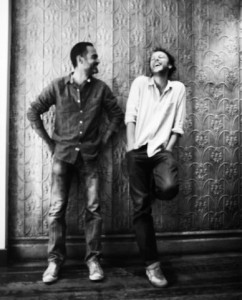 booboo I I am not so happy with that so touche. Describe how you are UNLIKE your partner Edouard Roschi in 50 words
FP: in 40 words…
good looking, young, smart, generous , liberal, courteous, inspiring, educated, lovable, rich, tanned, anosmic, honest, brave, spiritual, reliable, open-minded, determined, caring, loyal, flexible, candid , kind, mature, punctual, trusting, funny, optimistic, responsible, respectful, affectionate, thoughtful, forgiving, involved, ingenious, unforgettable, charming, bold, and humble.
That would make you a VERY unlikeable guy…
When I asked you if I can video you in your office you said you don't go to the office. Where do you go?
FP: it was to find another way to tell you that i don't want to be taped without sounding too self conscious.Most of the time i go to the office. Unless it is raining outside.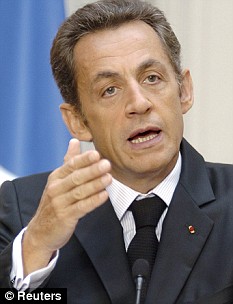 Nicolas Sarkozy, President of France
What are you wafting today from Le Labo?
FP: our next one… and 6 persons already stopped me today and it is only 3pm! ok, they were a group of french tourists in soho asking their way to the Hollister store but still… i told them it shut down btw… with their euros, they feel like in Tijuana on Broadway come on…
Do you wear any garments to sleep?
FP: just white te nnis socks
What is your best physical feature? Your best emotional quality?
FP: I don't know… emotional… might be my natural empathy for people and other living things.
Describe your first kiss
FP: gosh i was bad… i remember more the moments after than the kiss itself; i left the girl on a sidewalk on my mountain bike and i was flying… going so fast, with a smile on my face, with the optimism of someone who would have just been told he will never get sick…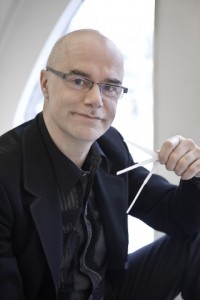 Once you have a fragrance in mind do you also immediately say "ah I know which nose"? Or do they bid like all the other fragrance houses? And why not Bertrand Duchaufour…he is busy, but one more project will not be too much if it is challenging?
FP: Yes we know which nose pretty much right away… we don't pitch fragrance houses: we give the exclusivity to the perfumer we think is the best for the project . As for Bertrand you are right. I know him well from my past life at Armani and i know he is an amazing artist… I just lost the connection with him with the time but would love to reconnect. Will you?
No problem, he's on speed dial. Has a musical composition, work of art or literature inspired a fragrance from Le Labo, or you personally?
FP: personally maybe… all Cioran, Romanian philosopher, which i will quote here:
" In a world without melancholy, nightingales would belch"
That might answer the Macy's question too…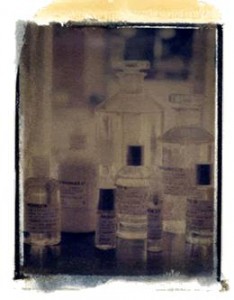 For those of our readers who aren't familiar with your fragrances please explain why each fragrance has a name of a key raw material and number. For example Ambrette 9 has the least amount of ingredients…does that mean it's not as complex as Vetiver 46 (created by our friend Mark Buxton)
FB: our perfumes are named that way: name of the main ingredient (weight in the formula) and the number of other ingredients all together. Which explains why most of our perfumes don't smell like their name because some underrepresented ingredients in the formula can overpower the main one by their natural strengh ( like birchwood in P24)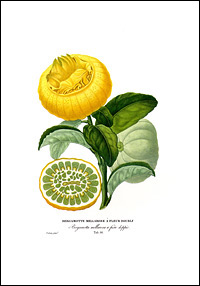 I
read that bergamot treats acne and skin conditions… have you done any studies on whether bergomote 22 can help those afflicted?
FP: let's say that if i had Bergamote 22 has a teenager, it might have helped treat the shyness i had because of all these breakouts, giving me an edge with girls i couldn't imagine having… but treat the acne itself, not sure.
All your fragrances are hand blended and bottled in an apothecary style bottle. Is anyone on your staff a frustrated pharmacist?
FP: yes we had… but she left to fulfill her dream and become a drug dealer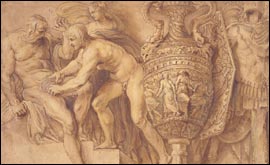 The Castration of Uranus: Peter Paul Rubens
I know many men who wear Jasmin 17 and Labadanum 18. I find it odd you of all people label them as femme . Very emasculating
FP: I agree… does not make any sense… we'll take the "femme" out ! let's free these men… a beautiful scent has no gender.
seriously, we are actually planning to stop "naming" the genders of our perfumes… these were just to indicate a certain sensibility and help the discovery of the scents in our stores… but they have all been created with no gender in mid in the first place.
Man with loincloth: Egon Shiele
I am always surprised at the appeal of Cumin to die hard perfumistas, is there a Cumin xxxx in your futre, with the distinct odor of unwashed skin?
FP: well Rose 31 is already packed of cumin so i think we'll stop there with this ingredient… which i love indeed for its dirty sweaty side… makes me feel less lonely to see that more and more people connect with dirty notes. they smell like life to me.
You must give us a sneak sniff on what you are doing next… or you will be send you to the Tower of London, and you have to be locked up with Vanessa Musson's Mr. Bonkers, where as a condition of your release you need to IMMEDIATELY make available Poivre 23
FP: so you want to know more about our crown jewel… well, Santal 33 is coming in May 2011, created with Frank Voelkl. Can't tell you too much right now… I want to prevent myself to brag about it… it will just talk by itself in a few weeks…to you too.
–Michelyn Camen, Editor-In Chief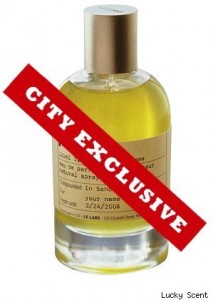 Thanks to Fabrice, its reader's choice.SORRY I TRIED but no city exclusives, but so what? that's why we have friends in fragrance around the world. To be eligible, choose BOTH your scent and write a love letter to Le Labo AND your favorite question and answer from this interview. The draw is random BUT either whine in your comment about the entire idea of city exclusives not being available except by scent mules or once a year, or write a love letter, either way it counts twice. Draw ends April 14, 2011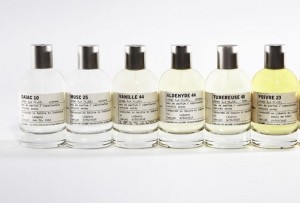 Aldehyde 44 Dallas One of the reasons why there are dozens of perfumistas moving to Dallas! It's Yann Vasnier's fault. Notes of Narcissus, neroli, jasmin sambac, tuberose, vanilla absolute, ambrettolide, muscs, and aldehydes.

Gaiac 10 Tokyo Notes Created by nose Anne Menardo. Olibanum, gaiac wood, cedar absolute, musc

Musc 25 Los Angeles Sexy skin scent. Created by Frank Voekel. Notes of Aldehyde, ambergris, musk, lily of the valley, patchouli, rose absolute, cedar, and vetiver.

Poivre 23 London La nez is Nathalie Lorsen: Spicy and chic. Notes of cistus, Labdanum, Incense, Patchouli Indonesia, Gaiaic wood, Pepper bourbon, Australian sandalwood, vanilla absolute, styrax, and resin.

Tuberose 40 New York – Created by legendary perfumer Alberto Morillas.This fragrance is not just a big blaring white-flowers soliflores but is alive with contradictions, namely citrus and oakmoss. Notes include Ambrette absolute, bergamote, cedar, jasmin absolute, orange blossom absolute, mimosa absolute, oak moss absolute, petit grain, centifolis rose, and absolute tuberose.

Vanilla 44 Paris (My favorite of the Exclusives also by M. Morillas) That distinctive vanillic powdery aroma that is everywhere…Paris smells like no other city in the world. And of course it has the most ingredients; after all, Paris the home of classic perfumery. Notes of natural bergamot, incense, mandarine, gaiac, vanille bourbon, muscenone, pipol, and hedione.

Baie Rose 23

Chicago

–

Created in 2010 by Frank Voekl as an 'eude' to prohibition.Jazz. Hot. The notes include pimento berries, ambrox, clove, pepper, rose, musk, cedar and aldehyde. PS: Rose is not the color; the name means Pink Pepper.