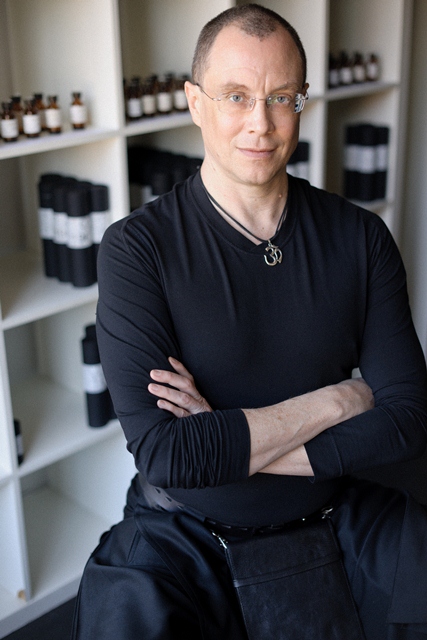 Photo:Courtesy Christopher Brosius
If you are a certain age and lived in New York City in the late 90s, you might remember that Demeter, which was co-founded by Christopher Brosius, was sold at Henri Bendel (their display was right next to Jean LaPorte for L'Artisan Parfumeur).The concept was radical -perfume that smelled like Dirt and Rubber? Demeter Snow and Sugar Cane won two Fragrance Foundation awards for Best Fragrance in "Nouveau Niche" -2000 and 2001 respectively (taking their place in FiFi history alongside more 'conventional' perfumes such as Dior Dune, Narciso Rodriguez 'For Her' and Calvin Klein Eternity).
After I interviewed Christopher Brosius in 2008 I wanted to know more about one of the world's most creative and outspoken perfumers. I wanted to follow up on some of his answers, thought of questions I hadn't asked and hoped for another opportunity.
You were raised on a farm in rural Pennsylvania, what was your childhood like and when did you realize you had an olfactory gift?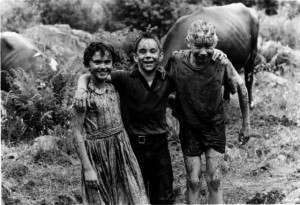 My Life as a Dog (Swedish: Mitt liv som hund) is a 1985 Swedish drama film directed by Lasse Hallström, based on a novel by Reidar Jönsson
CB: Have you ever seen Lasse Halstrom's "My Life As a Dog"? My childhood was very much like the small Swedish town in that film but in English.
I realized I had an olfactory gift during a conversation with Michael Edwards shortly after I won my first two Fragrance Foundation Awards in 2000.
Did your mother wear perfume?
CB: No. She had a few very old bottles of Prince Matchabelli perfumes on her dresser but never wore them. Women didn't wear perfume were I came from – I suppose it was considered a vanity. or cheap – I'm not sure. My aunt was the exception. But she was an Avon Lady and wearing perfume was part of the job so she did. And she wore a LOT of it. My siblings and I knew instantly that she was in the house or had been there when we came home from school. This was very exciting.
Let's look at the future; what will the olfactive landscape look like in five years.
CB: You know I really could care less. I focus on my own work and what interests me and what interests my clients. I do certainly hope the olfactory landscape of the future is a good deal less boring and offensive than it is now…
It must get tedious when every interviewer asks you why you hate perfume. So what do you love about perfume?
CB: I love how perfume can make people feel. I love to see how people can react to it and what they have to say about it. I love that this is such an individual experience and can never perceived by two people in just the same way. That's magical to me.
Being a city girl I don't remember ever smelling a dandelion Yet, I am quite convinced that I am a Dandelion is part of my memories, not yours. I was hoping you can explain this?
CB: All olfactory perception is always and absolutely correct. There's no arguing with what people experience when they smell something. But this always speaks far more of the person smelling than it does of what they smell.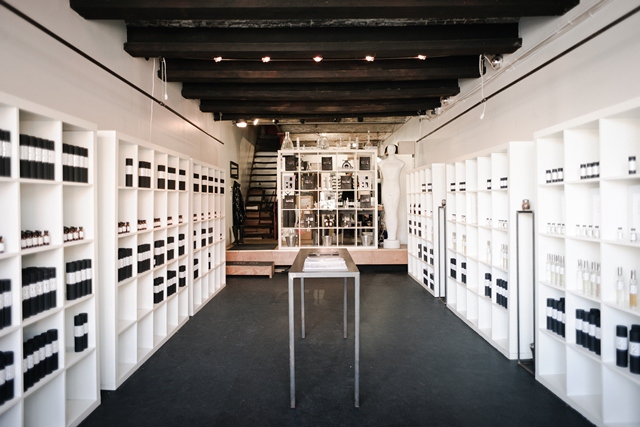 In the late 90s and early 2000s Williamsburg, Brooklyn was a place for emerging artists. Is that why you opened your studio there?
CB: I never had the intention of opening a shop here. It just happened. But I am looking to move out of this neighborhood as soon as possible.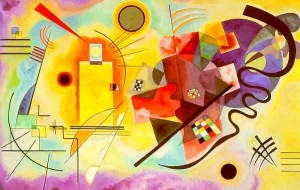 Painting: Kadinsky Synestheisa
When did you realize you were a synaesthetic. Can you explain what that means and how it affects the way you create fragrance.
CB: Synesthesia happens when one type of sensory input is interpreted simultaneously by one or more of the other senses. This can be a very strange experience. I realized I was synesthetic in 2005 or 2006 when I read Richard Cytowic's "The Man Who Tasted Shapes". Prior to that I had no idea that not everyone else perceived the world in just the same way. But the book also said this is a common experience among synesthetic people. We don't realize there is anything unusual about how our brains work. I have frequently used part of my synesthesia while I'm composing perfume though all along. I often know when a perfume is done because it assumes the "correct" shape, color, texture and sometimes sound.
I once read a statement where you said men don't wear fragrance as well as women, and Americans either wear the wrong fragrance or too much of it. Do you still believe this to be true?
CB: They're learning. Over the past several years, it's largely been men who are the most offensive with their fragrance in public. But then they're going through the same process now that women were going through during the 80's and 90's. Suddenly wearing fragrance is something men think they should do but they have no clue how to do it. So they're learning.
Should a fragrance smell good to be considered Art.
CB: "It's not what man knows but what he feels that concerns art. All else is science."- Bernard Berenson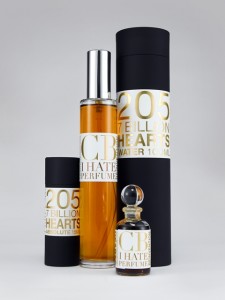 What is a water pefume and how does it differ from your absolutes.
CB: Alcohol is the traditional vehicle for perfume. it's cheap and it's easy. But it's not terribly good for the perfume or the skin so I've stopped using it. The skin needs oil and water to hold a scent. My absolutes are a concentrated oil-based version similar to classic perfumes – these are used in small quantities very specifically. The water perfumes are a spray version of the same scent but a lighter concentration suitable for wearing over larger areas. Strangely both last about the same time when worn. Water perfumes are very complicated and rather expensive to make but I think they work much better – certainly for my perfumes.
Cumming (and Second Cumming) for actor Alan Cumming raised the bar for celebrity scents…totally original, all profits went to charity and very much an expression of Alan Cumming. Is there anyone else you would consider creating a fragrance for?
CB: I hadn't really thought about it. But I wouldn't want to make a perfume for anyone I wouldn't want to have dinner with fairly often.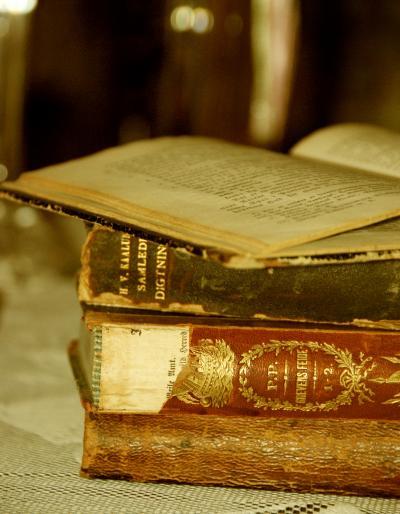 As the creator of In the Library, do you own a kindle or use an iPad to read books?
CB: I have a huge library and buy books all the time. But I also have been reading voraciously on my iPad. I don't see digital files replacing the printed page but I do think the two will begin to evolve more independently. And I would never give up printed books. I would never do without the feel or the smell of them. And I have yet to read a printed book that ran out of battery power halfway through…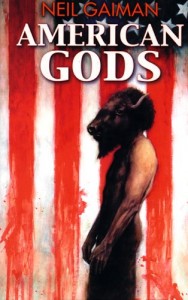 American Gods is a Hugo and Nebula Award-winning novel celebrating its 10th anniversary this year.
What are you reading now?
CB: A Brief History of Time by Stephen Hawking & American Gods by Neil Gaiman
On your website you say that people who smell like everyone else "disgust you". Certain fragrances that are appalling on me are heaven on a friend. Don't we have a unique fragrance print?
CB: There are a good many perfumes that are engineered to smell as exactly alike as possible on everyone who wears them – no matter what their makers may say. Yes I find that disgusting. As for a unique fragrance print, that for me is splitting hairs. As far as I'm concerned, all people are unique.
What natural ingredient do you find the most difficult to work with?
CB: Absolutes and CO2 & SCO2 extracts are usually the most difficult. Finding just the right method to dissolve and prepare them is very, very tricky. It's a matter of the right solvent in the right proportions and when certain standard solvents are automatically rejected for various reasons, it can be very very difficult to find ways to render solid materials into a liquid state. This can drive me and my chief assistant – who has a degree in organic chemistry – absolutely mad.
You admire Jean Claude Ellena and Hermes, is there any other perfumes that smells good these days?
CB: I've always like the Hermes perfumes and I like those from Serge Lutens. I also tend to like the perfumes that Jean LaPorte himself has created.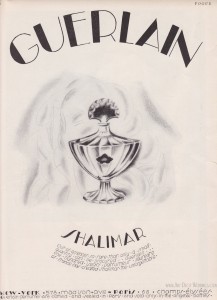 Your latest fragrance 7 Billion Hearts isn't like any vanilla perfume I have ever smelled. What inspired it?
CB: That perfume was actually inspired by a whiff I had several years ago of an original bottle of Shalimar which dated back to the early 20's. it was gorgeous and I thought well this is how a vanilla perfume should smell.
Favorite restaurant in Brooklyn?
CB: I am growing very fond of Café Colette which opened a couple of years ago. It's very close to my studio and the food is usually very well prepared. Usually though when I am going out to dinner, it is to the houses of friends or to restaurants in Manhattan.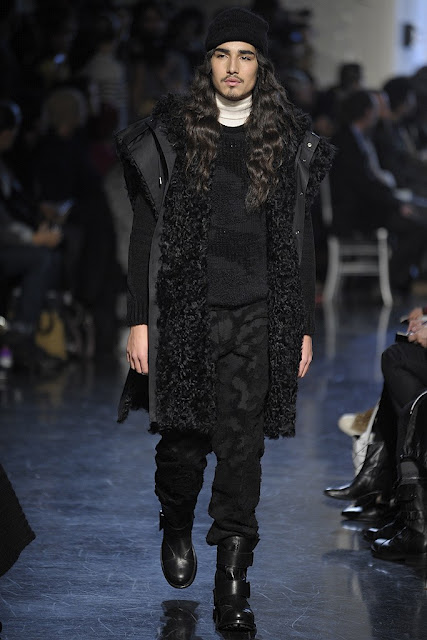 Jean Paul Gaultier Fall 2012
Favorite Fashion Designer?
CB: I like Rick Owens and Kris Van Assche a lot. And I find Gareth Pugh fascinating. But I absolutely love to see what M Gaultier is doing next. He is the end of fashion.
When I first interviewed you in 2008, you mentioned "it was high time you did something else", do you still feel that way?
CB: Yes it is. And I am. This is going to be a very exciting year. I was just about to begin back in 2008 but then we had the "global financial crisis" and I thought it might be more prudent to conserve resources and postpone what was not immediately essential. I came through that period very well and am now again ready to begin some new things.
–Michelyn Camen, Editor In Chief
For a draw we are offering 2ml each of CB I Hate Perfume CB/405 "Where we are there is no here" and CB #205 7 Billion Hearts to one commenter please leave your favorite quote(s) from the interview . Draw closes Wednesday April 4, 2012
We announce draw winners only on site and on our Facebook page, so
Like Cafleurebon
and use our RSS option…or your dream prize will be just spilt perfume