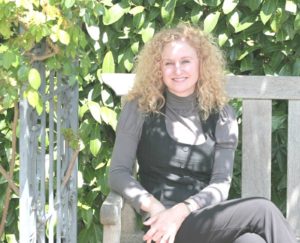 Ineke Rühland photo Ineke
"For the wanderers who follow their own compass" ~ Ineke Rühland, perfumer
Perfumes created by Ineke Rühland are always worth the wait. You may well recall Ineke from one of ÇaFleureBon's early Profiles in American Perfumery and in the recent ART of Artisan Perfumes -The Pioneers interview, she is a delightful and pensive human being who charmed my husband at the first Elements Showcase in NYC before I could meet her myself. I've purchased many of her perfumes and written about them over the years with nary a shred of buyer's, or writer's remorse.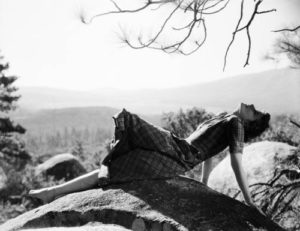 Katherine Hepburn in the mountains near Big Sur, California
It's only by chance that I have the opportunity to review Ineke's new and wondrous Idyllwild, which is classified by our perfumer as an Aromatic Fougère. Unlike so many folk, I've never been to California or the Big Sur, and certainly not Idyllwild itself. Nonetheless, I was renamed Nature Girl by my mother ever since I could toddle and am a lifelong hiker and sylvan acolyte. Nolo contendere. I require the forest and conifers the way I need fresh air and triple meter – and have been known to walk 20-30 or so miles barefoot in order to avail myself of them; Idyllwild felt made to order.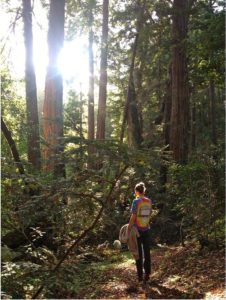 Photo: Courtesy of Alice Lane for Vogue.com@
"A visit to Idyllwild, a small mountain town in California with the prettiest of names, was the starting point in this scent composition. Distillations of Douglas Fir and Ponderosa Pine contribute an aromatic freshness to the fragrance. .A road trip further afield in California brings more elements to the table. Wildcrafted sagebrush from Big Sur and Monterey cypress oil capture the aromas that waft through open windows as you drive along the coast. Rhubarb tea provides an unexpectedly tart freshness. Cypriol and oud contribute a campfire smoke note. A unique combination of musks create a compelling drydown that needs to be experienced." ~ Ineke, on Idyllwild.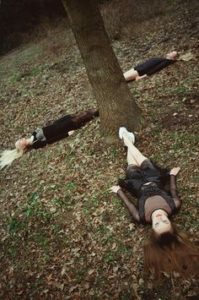 Michael Pudelka for Numero France May 2015©
Idyllwild is (for me) the road familiar but not yet taken – the promise of crushed sagebrush and lavender between my grateful fingertips. It's enlivened by the unforeseen tangy tonicity of grapefruit wed to an astringent, bracingly refreshing rhubarb accord.The heart is literally and figuratively opened with expansivity, courtesy of a fruity/jammy fir and profoundly balsamic resinous cypress, with the latter's delicately smoky aspect swirling like a vision half-glimpsed, wraithlike.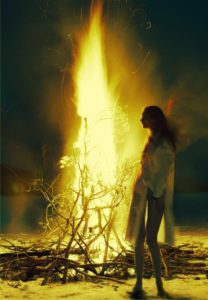 In Belief and Doubt: Marie Piovesan by Boe Marion @
The pillar of the pyramid embraces a green facet of cardamom unroasted, radiantly cordial amidst pine and nagarmotha -aka-cypriol: boldly beautiful and deeply satisfying to any forest lover. Ineke exercises such admirable restraint in her employment of both oud and cypriol, as either one may be easily overdosed (as is often the case these days, it seems) and bludgeon the wearer instead of intimating the communion of the campfire, as she so clearly intended. Her treatment of these materials is masterful. As for her particularly carefully chosen cocktail of musks, I can only surmise – whatever exists has me hooked. All basenotes are so expertly interwoven that they keep their sheen and burnish everything else in this composition.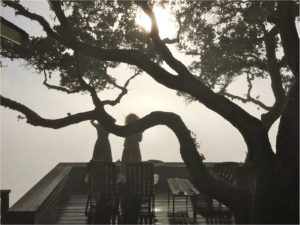 Photo: Courtesy of Alice Lane for Vogue.com@
It's no surprise that I'm fond of the fougère in its many incarnations. Idyllwild stands out in its exquisite originality coupled with wearability: its longevity is singular, the drydown every whit as comely as Ineke promises, and haunting. It fits that the iconoclastic, artistic, and mystic (yes, Timothy Leary – you're included!) have found this area inspirational and called it home. Coming from one who has made California her home for many years, there is veracity to Idyllwild which affects me deeply. In case you hadn't noticed, color me smitten.
Idyllwild Notes: Top: rhubarb tea, grapefruit, lavender; Middle: Big Sur sagebrush, cypress, fir needle;Base: cardamom, woods, oud, musk
Many thanks to Ineke for my sample! My nose is my own…
~ Ida Meister, Senior Editor
Art Direction: Michelyn Camen, Editor-in-Chief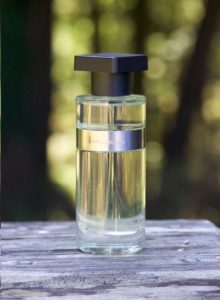 Thanks to the largesse of Ineke Rühland, we have a draw for one registered reader in the U.S.A. You can register here. To be eligible for the draw, please leave a comment regarding what appeals to you about Ida's review, your favorite INeKE perfume, or your own personal experiences in hiking or in nature. Draw closes September 8, 2017
Available at stores mid-September at Twisted Lily, and Idyllwild is now available to preorder for $95 www.ineke.com until September 15. The A-I fragrances will be sold at $110 thereafter.
We announce the winners only on site and on our Facebook page, so Like ÇaFleureBon and use our RSS feed… or your dream prize will be just spilled perfume.